The chief prosecutor in the area of the French Alps where three Britons were gunned down said today that the causes and origins of their deaths lay in the UK.
Annecy's chief prosecutor Eric Maillaud made the comments as he travelled to Britain as investigators continue to probe the mystery killings of the Al-Hilli family.
Maillaud and examining magistrate Michel Mollin, another senior member of the inquiry team, met officers from Surrey Police at Woking police station to discuss the case.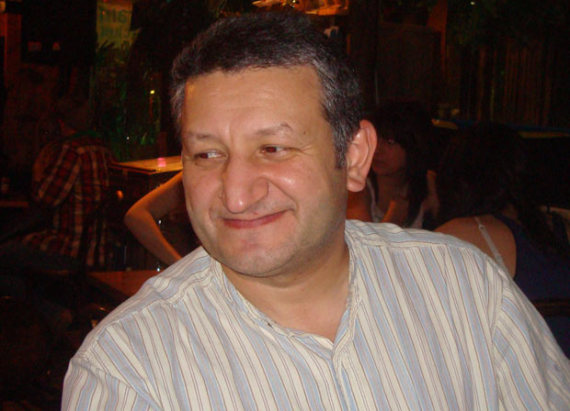 Saad al-Hilli, whose was murdered in the attack alongside his wife and mother-in-law

Engineer Saad al-Hilli, his wife and mother-in-law were brutally murdered in a remote spot close to Lake Annecy a week ago.
On Wednesday the families of those killed said they were "heartbroken" by their deaths but "touched by the expressions of sympathy from people all over the world".
Ahmed Al-Saffar, the brother of Mrs al-Hilli's dead mother, said: "The victim's family and I are heartbroken by this shocking crime and we have been touched by the expressions of sympathy from people all over the world. Members of the media survey the murder scene near Chevaline in the Haute-Savoie region of south-eastern France
Local paper Le Dauphine raised four key questions about the crime scene, after the area was reopened earlier this week.
Libération reported that marks in asphalt of the car park and on the slope suggested al-Hilli tried to manoeuvre, reverse and hastily drive away, with his doors locked.
Questions were raised by Le Dauphine about the scene stumbled upon by the English cyclist, a former RAF man, who found seven-year-old Zainab al-Hilli lying in the road, beaten round the head, shot in the shoulder and left for dead.
"The English cyclist who discovered the scene had to break the window of the car to cut off the engine. So how is it that the 7-year-old girl was found outside the vehicle, with the doors locked?
"And why was the body of the rider Sylvain Mollier found lying near the car, which is several feet from the road he would have taken? Was the killer hidden? Or did he threaten him?"
Crucially the paper asked why the shooters had not bothered to "clean up" and why two children had been left alive.
"Did they panic after they had to eliminate a troublesome witness [the cyclist] and flee hastily? Did they run out of ammunition?"
In the comments on Libération, locals speculated that target had been the British RAF cyclist, "who might be on Her Majesty's Secret Service", with the French cyclist killed in a case of mistaken identity, and the British family innocent bystanders.
SEE ALSO:
Loading Slideshow
Crime coordinator Capt. Laurent Dourel, left, Annecy prosecutor Eric Maillaud, second left, and French Gendarmes Col. Bertrand Francois, third left, and Lt. Col. Benoit Vinneman atttend a news conference in Annecy, French Alps, on Thursday, Sept. 6, 2012. (AP Photo/Lionel Cironneau)

Annecy prosecutor Eric Maillaud answers a question during a news conference in Annecy, France, on Thursday, Sept. 6, 2012. (AP Photo/Lionel Cironneau)

A gendarme blocks access to the site where people were shot to death near Chevaline, French Alps, on Thursday, Sept. 6, 2012. (AP Photo/Laurent Cipriani)

A Gendarme's car heads to a killing site near Chevaline, the French Alps, on Wednesday, Sept.5, 2012. (AP Photo/Alexis Moro)

Gendarmerie Col. François, left, and Annecy prosecutor Eric Maillaud answer reporter near a killing site, near Chevaline, the French Alps, on Wednesday, Sept. 5, 2012. (AP Photo/Alexis Moro)

Gendarmes block access to a killing site near Chevaline, the French Alps, on Wednesday, Sept. 5, 2012. (AP Photo/Alexis Moro)

Gendarmes blocks access to site where people were shot to death near Chevaline, the French Alps, on Thursday, Sept. 6, 2012. (AP Photo/Laurent Cipriani)