Question: what do JK Rowling, Ian McEwan, Sophie Kinsella, Jamie Oliver, Anthony Horowitz and Tom Clancy have in common?
Answer: they all have new books out this Autumn, and they all feature in the massive bundle of books we're offering you the chance to win in association with Waterstones.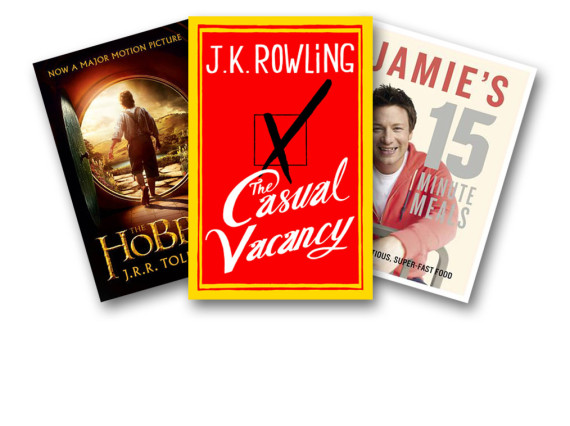 We've got 20 of the titles that everyone will be talking about between now and Christmas, from exciting new works of fiction to classics set for movie remakes to the best new cookery and kid's books.
To see exactly what we mean about the quality and variety on offer, check out the slideshow below.
And to enter, simply visit the HuffPost UK Culture Facebook page, like us and click on the 'WIN STUFF!' tab.
Autumn Book Collection Competition
A big novel about a small town, The Casual Vacancy is J.K. Rowling's first novel for adults.

McEwan's mastery dazzles us in this superbly deft and witty story of betrayal and intrigue, love, and the invented self...

Following the record-breaking success of "30-Minute Meals", Britain's most-popular cookbook of all time, Jamie Oliver brings us the even-better 15-Minute Meals...

Dodger is a tosher - a sewer scavenger living in the squalor of Dickensian London. Everyone who is nobody knows Dodger. Anyone who is anybody doesn't. But when he rescues a young girl from a beating, suddenly everybody wants to know him. And "Dodger's" tale of skulduggery, dark plans and even darker deeds begins...

Illustrated with gorgeous photographs to instruct and delight "Nigellissima" is accompanied by a major new BBC TV series...

The classic bestseller behind this year's biggest movie, this film tie-in edition features the complete story of Bilbo Baggins' adventures in Middle-earth, with adrawings and maps by J.R.R. Tolkien...

Master of explosive international intrigue Tom Clancy brings together his greatest characters and a new generation to fight the war on terror...

Six shots. Five dead. A heartland city thrown into terror. But within hours the cops have it solved. A slam-dunk case. Apart from one thing. The accused gunman refuses to talk except for a single phrase: Get Jack Reacher for me. Reacher lives off the grid. He's not looking for trouble. But sometimes trouble looks for him. What could connect the ex-military cop to this psychopathic killer?...

It is November 1890 and London is gripped by a merciless winter. Sherlock Holmes and Dr Watson are enjoying tea by the fire when an agitated gentleman arrives unannounced at 221b Baker Street. He begs Holmes for help, telling the unnerving story of a scar-faced man with piercing eyes who has stalked him in recent weeks. Intrigued by the man's tale, Holmes and Watson find themselves swiftly drawn into a series of puzzling and sinister events, stretching from the gas-lit streets of London to the teeming criminal underworld of Boston...

Now the subject of a major new film from director Baz Luhrmann (Romeo+Juliet, Moulin Rouge!), starring Leonardo DiCaprio and Carey Mulligan, "The Great Gatsby" is F. Scott Fitzgerald's brilliant fable of the hedonistic excess and tragic reality of 1920s America...

Marian Keyes, the No. 1 bestselling author of "Rachel's Holiday", is back with her stunning new novel "The Mystery of Mercy Close" and the return of the legendary and beloved Walsh sisters...

What's your road, man - holyboy road, madman road, rainbow road, guppy road, any road? It's an anywhere road for anybody anyhow'. Sal Paradise, young and innocent, joins the slightly crazed Dean Moriarty on a breathless, exuberant ride back and forth across the United States. Their hedonistic search for release or fulfilment through drink, sex, drugs and jazz becomes an exploration of personal freedom, a test of the limits of the American Dream. A brilliant blend of fiction and autobiography, Jack Kerouac's exhilarating novel defined the new 'Beat' generation and became the bible of the counter culture...

A couple of glasses of bubbly with the girls at a charity do and Poppy's life has gone into meltdown. Not only has she lost her engagement ring, but in the panic that followed, she's lost her phone too. As she paces shakily round the hotel foyer she spots an abandoned phone in a bin. Finders keepers! Now she can leave a number with the hotel staff. It was meant to be! Except the phone's owner, businessman Sam Roxton, doesn't agree. He wants his phone back, and doesn't appreciate Poppy reading all his messages and wading into his personal life. As Poppy juggles wedding preparations, phone messages and hiding her left hand from Magnus and his parents, can things get any more tangled?...

As Evelyn Waugh wrote, 'The gardens of Blandings Castle are that original garden from which we are all exiled'. This omnibus contains "Something Fresh", "Summer Lightning" and three short stories...

Harry Bosch is facing the end of the line. He's been put on the DROP - Deferred Retirement Option Plan - and given three years before his retirement is enforced. Seeing the end of the mission coming, he's anxious for cases. He doesn't have to wait long...

Doctor Who Screenwriter Ben Aaronovitch's superbly entertaining supernatural crime series has, with its witty one-liners and wonderfully erudite take on London, won a legion of fans in double quick time...

Winter of the World is the second novel in Ken Follett's uniquely ambitious and deeply satisfying trilogy 'The Century'. On its own or read in sequence with Fall of Giants, this is a magnificent, spellbinding epic of global conflict and personal drama...

Shifting between the 1930s, the 1960s and the present, The Secret Keeper is a spellbinding story of mysteries and secrets, theatre and thievery, murder and enduring love...

A search for missing documents in an international mining company becomes a voyage into dangerous waters...

From the No.1 internationally bestselling author comes the third heart-stopping adventure exploring the incredible history, legends and hidden secrets of Carcassonne and the Languedoc...