A student in the US has been hospitalised after he was admitted with dangerously high alcohol levels in his system, following an "alcohol enema".
The undergraduate, who has been named as 20-year-old Alexander Broughton, was at a party thrown by the Phi Kappa Alpha fraternity over the weekend, the Tennessean reported.
The incident is not believed to have been part of an initiation as Broughton was not in his first year of university.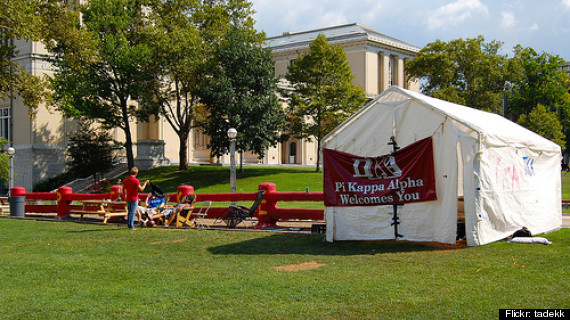 A welcome tent belonging to the Phi Kappa Alpha fraternity
Pike, which is more than a century old, and prides itself on "developing high moral character", is now facing permanent suspension at the university.
The international organisation said it had placed the Tennessee chapter under "immediate administrative suspension". A spokesperson for the fraternity said:
"The International Fraternity in no way condones this behavior and while this is disappointing and saddening to have learned of the inexcusable actions of these students, our thoughts and prayers are with them and their families during this difficult time"
Broughton was in critical condition and unresponsive when he arrived at a medical centre in Knoxville. The student had a 0.4 blood alcohol content level, which is five times the legal limit in the States and considered to be a lethal amount.
Tennessee University released a statement saying: released the following statement about the incident:
"University officials are currently conducting an investigation into allegations involving the Pi Kappa Alpha fraternity chapter and incidents that occurred over the weekend. Due to the gravity of the allegations, interim sanctions have already been imposed upon the chapter and will remain in effect until the investigation is concluded and final reports are available."
It has not yet been confirmed whether Broughton received the enema voluntarily or if he was assaulted.
SUBSCRIBE TO & FOLLOW UK DAILY BRIEF