If you're going to climb Mount Everest, you might as well tell people about it. But live-Tweeting the whole climb? That's quite an effort when you're trying to avoid falling to your death 24 hours a day.
Take Nobukazu Kuriki, a Japanese solo climber currently taking on the world's highest peak.
More than 88,000 people in Japan (and about 500 in English) are following his every move on Twitter since he left Japan in August and is now making his attack on the summit. He has set himself the goal of climbing the highest peak of every continent in the world - and Everest is the only one left.
On September 5 he posted that he could see Everest for the first time:
@kurikiyama_EN

Nobukazu Kuriki
And on 11 September Kuriki described the environment as:
@kurikiyama_EN

Nobukazu Kuriki
Since then Kuriki has slowly made his way up the mountain - and tweeted the highlights as he went. Among the more everyday, is the fact that he had flown a radio control helicopter at 5550m - the first time in the world any RC copter had been flown at that height.
@kurikiyama_EN

Nobukazu Kuriki
Wonderful!!Multi-Kuri-copter flew at 5550m more!It's the first time in the world by this altitudey of radio control helicopter.
And when, on 16 September, Kuriki began his climb towards the first camp of four that mountaineers have to move between to acclimatise themselves, he also found time to post about a fly he found at 5,400m: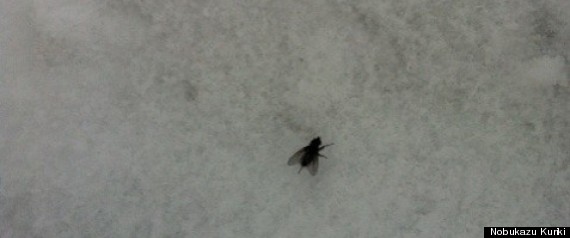 @kurikiyama_EN

Nobukazu Kuriki
But as the climb has gone on, his Tweets have become more bleak. By 3 October he reached Camp 2, but said he was already worried about how much his body could "bear":
@kurikiyama_EN

Nobukazu Kuriki
Safely arrived at C2.The strong wind called jet stream is blowing on the upper part.Now,my condition is good.
@kurikiyama_EN

Nobukazu Kuriki
But it worries and be mystery about how much level of the ability of my body could bear.Before me,can see the West Everest,l'm stressing.
And he also tweeted this photo of a precarious crossing at a crevasse.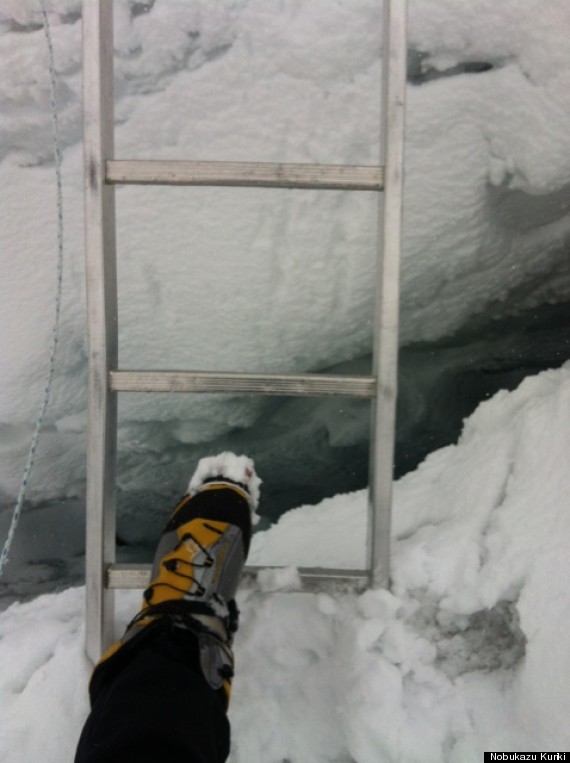 @kurikiyama_EN

Nobukazu Kuriki
Mt.Everest is the largest crevasse zone in the world.Without a ladder,I'll jump.
http://t.co/R2an6YbO
He also posted this picture of the Himalayas at sunset: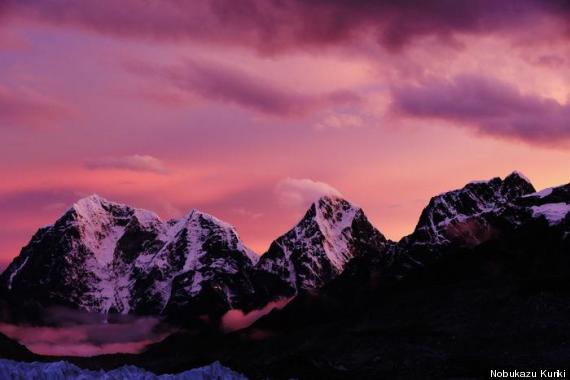 On 9 October he reported a snowstorm at the Camp, and said he was preparing to ascend the mountain. However he wasn't able to reach it until 14 October. Now Kuriki is safely at Camp 3, heading to Camp 4 and his assault on the mountain.
@kurikiyama_EN

Nobukazu Kuriki
From Kuriki office:He's climbing to camp4(8000m)at 15:00 JST on Tue,Oct 16.After contact of his arrival safely,we'll announce you quickly.
But he will have to be careful. Another climber who live tweeted her own (ultimately successful) climb of Everest earlier this year, Sandra Lenuc, ended in horror and near tragedy.
@sandraclimbing

Sandra Leduc
Khumbu Icefall is SCARY. 1 ladder covered in blood from sherpa who died a few days ago. Major avalanche thru it today. Only 4 more x to go.
@sandraclimbing

Sandra Leduc
Lots of dead or dying bodies. Thought I was in a morgue.
Eventually she reached the top - and posted about her success.
@sandraclimbing

Sandra Leduc
On 26 May 2012 at 5:39am I summited the highest mountain in the world.
We hope Kuriki does the same - whenever he finally makes it.