Moby-Dick, the novel by Herman Melville considered one of the greatest in American literature, has be honoured with its own Google doodle.
The design shows Ishmael and his fellow whalers sailing in front of the eponymous giant sperm whale whose spout of water makes up the 'l' in the company's logo.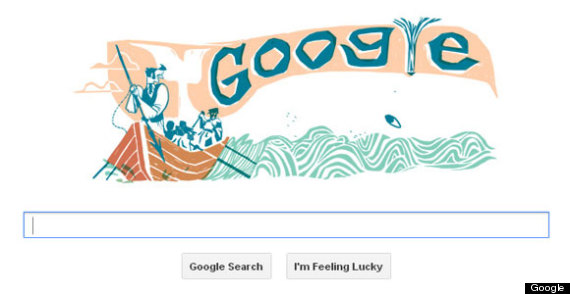 The masterpiece of American Romanticism traces the story of Ishmael, a sailor who joins the whaling ship Pequod under the rule of Captain Ahab, a megalomaniac in relentless pursuit of the sea creature that bit off his leg.
Part of the enduring appeal of the novel is its rich symbolism, and at a push you could see Google as the whale its self - a giant being doggedly pursued by lesser mortals in the battle to rule the oceans of the internet.
Alternatively it could just be the latest modern tribute to a story that looms large in the American psyche, a bit like this song from rapper MC Lars:
As Ishmael might say: call it what you like.
Elsewhere this week in Culture...
SEE ALSO -
SUBSCRIBE TO & FOLLOW UK DAILY BRIEF