A Christian Dior mascara advert featuring actress Natalie Portman has been banned for exaggerating the effect of the product on her lashes.
The magazine ad showed a picture of the Oscar-winning actress with the text: "Lash-multiplying effect volume and care mascara. The miracle of a nano brush for an unrivalled lash creator effect. It delivers spectacular volume-multiplying effect, lash by lash."
The Advertising Standards Authority (ASA) investigated the ad after rival brand L'Oreal complained that it misleadingly exaggerated the likely effects of the product.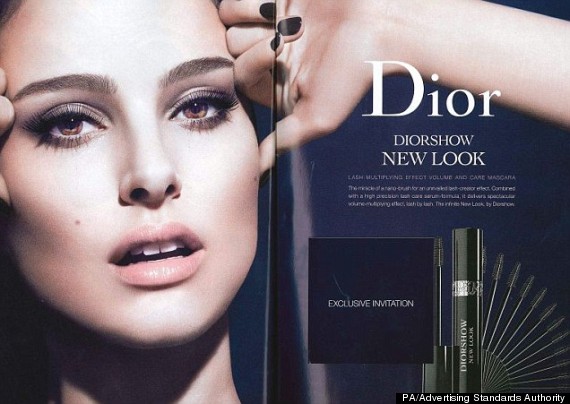 The advert was banned by the Advertising Standards Authority

Defending the campaign, Dior said it had not received any complaints from consumers and believed this meant that the ad did not exceed likely expectations of the mascara.
But it said Portman's natural lashes were digitally retouched in post-production using Photoshop software, explaining that the retouching was "nearly exclusively in relation to her upper lashes and was primarily used to separate/increase the length and curve of a number of her lashes and to replace/fill a number of missing or damaged lashes".
A "minimal amount" of retouching also took place to increase the thickness and volume of a number of her natural lashes. The advert, which featured actress Natalie Portman, was deemed 'misleading'
The ASA said Dior provided some before and after photos showing a model's natural eyelashes and the effects of the product on her lashes, but it had not seen evidence of the mascara's effects on Portman's lashes where there had not been any post-production retouching.
It said:
"We were concerned that we had not seen evidence that the visual representation of the product's effects on Natalie Portman's lashes, as featured in the ad, could be achieved through use of the product only, particularly as we understood that post-production retouching on the lash area had taken place.

"Because we considered that we had not seen sufficient evidence to show that the post-production retouching on Natalie Portman's lashes in the ad did not exaggerate the likely effects of the product, we concluded the ad was likely to mislead."
SEE ALSO:
It ruled that the ad must not appear again in its current form.
It's not the first time the ASA has given a makeup ad the axe for misleading consumers. In 2011, Julia Roberts' Lancome ad and Christy Turlington's ad for Maybelline's "Eraser" foundation were both pulled for excessive use of airbrushing, and earlier this year L'Oreal was reprimanded for having "misleadingly exaggerated" the quality of Rachel Weisz's complexion in a print ad for anti-wrinkle cream.
See more adverts that got the axe:
The ASA claims a complainant stated that the ads made the models appear "vulnerable" due to their positions.

The ASA claims a complainant stated that the ads made the models appear "vulnerable" due to their positions.

The ASA said it "inappropriately depicted a young girl in a sexualised manner."

The ASA banned these Ryanair ads in February 2012, deeming them too "sexually suggestive" to run in newspapers.

Banned in November 2011 for showing an "underweight" model and sending an "irresponsible" message.

Banned in November 2011 for its potential to "sexualise a child."

Banned in February 2012, for "misleadingly exaggerated the performance of the product," i.e. smoothing over Rachel Weisz's skin with technology, not makeup.

Banned in November 2011 for showing ''objectified women'' and images that are ''sexually suggestive'' and likely to be seen by children.

Banned in November 2011 for being "sexually suggestive, indecent, provocative."

Banned in November 2011 for its setting, on a rail road track, being "irresponsible."

Banned in July 2011 for "excessive retouching."

Two world leaders making out? That's bound to get banned.

Again, American Apparel gets in hot water when they apparently use underage models (girls younger than 16) on their website. Britain's ASA accused the store of "sexualizing" underage models.

Banned in July 2011 for "excessive retouching."

Two of Universal Studios' posters for "Wanted," starring Angelina Jolie, were banned because of her seductive pose with a gun. The ASA felt it glamorized violence.

Banned in February 2011 for suggesting "the injection of opiates into the body."

Some of American Apparel ads (including the one above) were banned by Britain's ASA for gratuitous nudity; a few more were deemed "exploitative" for sexualizing young women. (American Apparel photo)

In 2012, Lara Stone posed with a group of male models in this Calvin Klein ad. It was promptly banned by Australia's Advertising Standards Bureau after they found it to be "suggestive of violence and rape."

This ad was pulled in Italy in 2011 after the mayor of Venice found it inappropriate.

The British Advertising Standards Authority (ASA) banned this ad after they declared it misleading because Georgia May Jagger is wearing false eyelashes -- even though there's a small disclaimer at the bottom that says, "show with lash inserts."

This was banned in France.

The video of this ad was banned from taxis and the print versions were banned from the facade of Atwood's Madison Avenue store after being found to be too racy.

The Advertising Standards Authority banned this ad because they felt the ad used excessive "post-production retouching" in order to exaggerate the real effects of the mascara being advertised.

In 2004, this Tom Ford Gucci ad campaign became controversial as women saw the girl's shaved pubic hair as degrading and wrong.

Eva's 2008 commercial for Calvin Klein's "Secret Obsession" fragrance was banned, due to the fact that it featured a major wardrobe malfunction.

Kutcher's online ad for PopChips was banned after it was considered racist by the Indian-American community.

A PETA ad, featuring hot women and supposed-to-be "sexy" veggies, was banned from the Super Bowl ad lineup in 2010 for being "too much" for TV.

We don't think we really need to explain why this ad was banned...

This ad was banned after a complaint from Liberal Democrat Jo Swinson who claimed the ad was "misleadingly exaggerated" in that is makes Weisz look far younger than she actually is and presents a bad image for women.

Oh American Apparel, how you love to push the envelope. Here's another one that was banned because the ad is supposed to be promoting socks but it seems more to be exploiting the girl instead.

This Taylor Swift mascara ad was banned by the National Advertising Division of the COuncil of Better Business Bureaus Claims (NAD) after they found the product depiction to be dishonest with it's claims that the mascara will make lashes have "2X more volume" and be "20 percent lighter."

Like Kim's, Paris Hilton's 2005 Carl's Jr. commercial was considered too racy, as well.