Jo Hedwig Teeuwisse's hauntingly beautiful photos remind us of the soldiers and civilians who suffered during World War 2 on the very streets that we walk down every day.
Teeuwisse sources original photos from World War 2, and after researching where they were taken, takes a modern day equivalent from the exact spot the original was shot.
By layering the two on top of each other Teeuwisse creates the ghostly images that show World War 2 figures on the streets of today.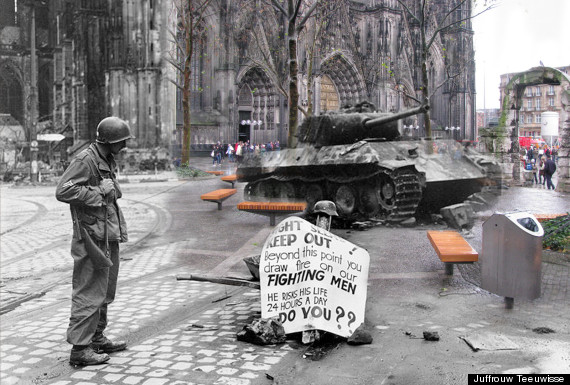 Teeuwisse also works as a historical consultant for film and television
Teeuwisse told the Huffington Post: "I have always been interested in history.
"The original war photos are usually very dramatic and it is tempting to leave it intact as much as possible, but sometimes you can make the emphasis bigger and the story more dramatic by only leaving a shadow of the original photo linger on the 'now' photo.
"I hope that my photos make people think about how history is part of our life and is everywhere around us, that the freedom we take for granted was fiercely fought over in the streets where we do our shopping, go to work or even on the steps leading to our homes."
More of Teeuwisse's work can be seen here and here
Loading Slideshow
Auschwitz I, January 27th 1945

Russian soldiers with prisoners of Block 19, the quarantine blockhouse in the medical section of the camp

Dom Cathedral, Cologne, March 1945

Shortly after the Panther was knocked out, a sign was posted near it reading: "SIGHT SEERS KEEP OUT! Beyond this point you draw fire on our FIGHTING MEN. He risks his life 24 hours a day. DO YOU?".

Cherbourg, Avenue de Paris

Place Marie Ravenel à Cherbourg

Rue Armand Levéel à Cherbourg

At la Madeleine, Sainte Marie du Mont, Utah Beach area.

A group of U.S. Fire Engineering leaving the chapel.

Rue des Fossés Plissons à Domfront, Orne

German soldiers surrendering

Acireale, Sicily, 1943

Soldiers take up position on a street corner in Sicily

Rue Dom Pedro, Cherbourg

Civilians and American soldiers tear down the sign indicating the headquarters of the Todt organisation.

Cherbourg

American troops in the centre of Cherbourg pass under a balcony strewn with English, American and French flags.

Cherbourg

Captain WH Hooper, who commands the Company of the 314th IR of the 79th IUS D and some of his men surround a column of German prisoners. The column will take a southerly direction to join the POW camps located on the plateau of the Mountain Roule, near the farm of Fieffe.

Holland, 1945

Dutch civilians await the arrival of their liberators

Dam Square Amsterdam 1945

SS recruitment office

The Hague, May 1945

German soldiers walking back to Germany after their surrender, passing a man with a Dutch flag.

No. 11 Ten Hage Straat Eindhoven, September 18th 1944,

Neude in Utrecht, May 7th 1945,

Frankrijkstraat Eindhoven, September 18th 1944,

Allied soldiers walking towards centre of Eindhoven,

Trévières Street Octave Mirbeau, France

A group of civilians and GI's in front of the notary office. The entrance is decorated with French and allied flags.

Rue Armand Levéel to Cherbourg, 26 June 1944,

German soldier lying dead on a sidewalk in front of the old café Etasse,

Grandcamp-Maisy (Calvados) dans la cour de l'église, rue du Commandant Philippe Kieffer.

Flanked by units of a 9th Air force, citizens of a village behind the front lines in Normandy celebrate their traditional Bastille Day for the first time in over four years. Here they honor their war dead of 1914-1918 and 1939-1944.