And now, ladies and gentlemen, we give you: Mervin the Metropolitan Police horse, who moves traffic cones with his mouth...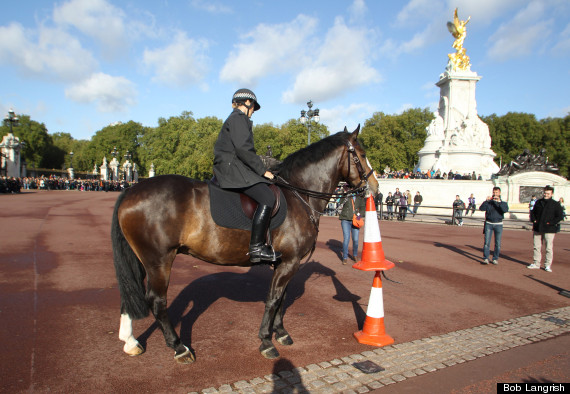 We should add that this is no pointless talent. Marvellous Merv - as we've just decided to call him - helps clear the cones away outside Buckingham Palace after the Changing the Guard ceremony every day.
Guided by mounted PC Karen Howells, he picks up each cone with his teeth in turn then stacks them nearly on top of one another. "He loves people and I think he likes showing off," PC Howells told the Daily Mail. "He always likes to have something in his mouth."
This picture was taken by equestrian photographer Bob Langrish, as part of a set to illustrate a day in the life of a police horse for Your Horse magazine.
In the market for a few more amusing pictures? Feast your eyes on our slideshow:
Funny Pictures Of The Week
We're loving the new-look Kraftwerk.

Mitt Romney tries to win over yet another undecided voter.

It's Halloween! The dead have risen! Surprisingly, they're Chelsea fans.

Ed waited anxiously for Mr & Mrs Miliband to return home from parent-teachers evening.

The world's most powerful pizza delivery man.

Something tells us Uggie's heart isn't in it anymore :(.

Jennifer Lopez performs her new single 'I'm Just A Mime, Stuck In A Box'.

Finally, Boris feels the embarrassment the rest of us have been feeling for four years.

"Don't even THINK about it, sonny."

Halloween revellers hang out in America...

...and in Edinburgh zoo.

Bond still couldn't get over his new camera-phone gadget from Q.

A frightening likeness, we think you'll agree.

Once again, Nick Clegg finds himself on 'greeting foreigners' duty.

There's always one.

Joe Biden makes an entrance...

...but Barack Obama remains unimpressed.

Francois Hollande does little to dispel those affair rumours.

Who let that old man near a firework?!

Ed Miliband, man of the people. The people who play football in suits, that is.

One footman remains unimpressed by the Queen's toast "To one".

Sue Pollard's valiant efforts to be named Spectacle Wearer Of The Year didn't go unnoticed by the judges.

Prince Charles, still endlessly fascinated by normal people.

Mitt Romney's aide is convinced that if he pulls this tie, one of the windows will open.

No one is more surprised by Obama's laidback attitude than the woman in the background.

Londoners were a little disappointed by the new James Bond.