Israel launched fresh air strikes on Gaza on Thursday as tensions escalated with rockets reportedly being launched from the area into Tel Aviv for the first time in two decades.
The BBC reported fresh strikes hitting Gaza with the Middle East Bureau Chief tweeting he could hear "kids crying in flats next door from fear."
Militant group Islamic Jihad claimed responsibility for a rocket attack fired at Israel's biggest city Tel Aviv.
According to the Israeli Defence Force the two missiles did not hit the area, instead reports indicate they landed in the sea.
But following the attack Israeli Defence Minister Ehud Barak spoke out against the "escalation," warning it would "exact a price that the other side will have to pay."
According to Reuters Islamic Jihad said in a statement they had fired a Fajr 5 rocket, saying they had "widened the range of the battle to reach Tel Aviv and what is coming will be greater."
Hamas' prime minister, Ismail Haniyeh, said those in Gaza would "fend off the aggression."
"We here in Gaza will remain steadfast and unshaken," he said.
30,000 Israeli army reservists are on stand by to be called up in preparation for a ground assault.
According to Israel 274 missiles have been fired into Israel since yesterday.
It comes after Israel killed the leader of the Hamas military wing in a surgical missile strike in Gaza that could result in a fresh war in the region.
Ahmed Jabari, 46, the head of the Islamist group's military arm, the Izz ad-Din al-Qassam, died as he travelled by car with another senior Hamas leader in the Palestinian city.
David Cameron spoke to the Israeli prime minister Benjamin Netanyahu on Thursday evening and called on Israel to do all it could to avoid civilian casualties, a Downing Street spokesperson said.
"He called on Mr Netanyahu to do all he could to avoid civilian casualties and emphasised that both sides needed to avoid a spiral of violence that would be in no-one's interest, particularly at a time of instability in the region," they said.
Fifteen palestinians have died in the last two days since the Israeli attack. Earlier on Thursday three Israelis were killed by rockets coming from Gaza.
SEE ALSO:
GRAPHIC WARNING: Israel And Gaza Tensions
23/11/2012 05:31 GMT
Clinton Warned Netanyahu: Don't Punish Palestinians For U.N. Bid
From Haaretz:
U.S. Secretary of State Hillary Clinton warned Prime Minister Benjamin Netanyahu during her talks in Israel this week not to take any extreme actions in response to the Palestinian move in the United Nations for recognition as a non-member state. Clinton said such steps against the Palestinian Authority could bring about its collapse. The Palestinians are planning to ask the United Nations General Assembly to vote on upgrading its status from non-member entity on the symbolic date of November 29.

The day after the cease-fire with Hamas took effect, Israel is preparing for the next crisis with the Palestinians, which is scheduled for six days from now. November 29th is the anniversary of the United Nations vote on accepting the Partition Plan in 1947, which led to the founding of the Jewish Sate. It is also the United Nations' International Day of Solidarity with the Palestinian People.
Read more here.
23/11/2012 03:50 GMT
Report: U.S. Urges Israel Not To Build In E-1 Areas
From the Jerusalem Post:
Washington is urging Israel not to allow construction in the area known as E-1 between Jerusalem and Ma'aleh Adumim as a possible response to the Palestinian bid for statehood recognition next week at the UN, The Jerusalem Post has learned.

Building in E-1, which would create contiguity between Jerusalem and Ma'aleh Adumim to the northeast beyond the Green Line, is something various Israeli governments have long wanted to do, but which US opposition has prevented.
Read more here.
23/11/2012 00:01 GMT
Life In Gaza's Courtyards
The New York Times' Jodi Rudoren chronicles displays of pride and sacrifice:
Inside a courtyard, there are faded remnants of "Congratulations from the uncles," from the April wedding of a son of Ahmed al-Jabari, the commander of the Qassam Brigades, the military wing of Hamas, whose assassination last week was the beginning of the latest round of intense battle between Israel and the Gaza Strip.

On the wall outside, the colorful Arabic script reads "Welcome hajji, Abu Muhammad," a reference to Mr. Jabari's return from a pilgrimage to Mecca last month. Nearby, the freshest paint pronounces a message from the troops: "Rest in peace. The mission has been accomplished."
Read the full story at the New York Times.
22/11/2012 23:19 GMT
PHOTO: Egypt Tunnel Into Gaza
Egypt Tunnel into Gaza:
An underground tunnel connecting through which I got into Gaza from Egypt. Israel has repeatedly targeted the tunnel network, trying to hinder flow of goods and weapons into the strip. (Photo by Mosa'ab Elshamy via Flickr)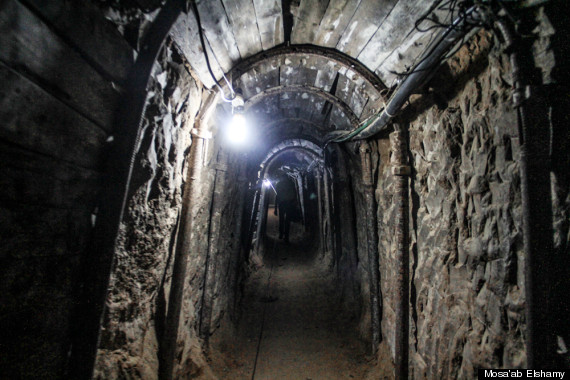 22/11/2012 22:55 GMT
Soldiers Show Frustration Via Viral Facebook Photo
16 soldiers spelled out 'loser' with their bodies to critique Netanyahu and show frustration at not going into battle.
22/11/2012 22:29 GMT
Who Brokered The Ceasefire
The Economist discusses how the ceasefire was achieved and whether it could lead to lasting peace in the region.
Among others coming and going were the UN secretary-general, the American secretary of state and the foreign ministers of Turkey and Germany. But the real bargaining took place behind closed doors at the headquarters of General Muhammad Shehata, Egypt's intelligence chief. There, in separate rooms, the Egyptians haggled with a legal adviser to the Israeli prime minister, and with representatives from Hamas, the Palestinian Islamist group that runs Gaza, and a smaller, more radical Palestinian faction, Islamic Jihad.
22/11/2012 21:22 GMT
Israeli Arab Arrested for Tel Aviv Bus Bombing
From the Associated Press:
JERUSALEM (AP) — Israel's army spokeswoman says an Israeli Arab who is a member of Hamas has been arrested for Wednesday's bus bombing in Tel Aviv.

The bombing injured 27 people near Israel's military headquarters and threatened to scuttle efforts to broker a cease-fire to end fighting between Israel and Gaza.

Israeli military spokeswoman Lt. Col. Avital Leibovich reported Thursday on Twitter that authorities had arrested the man who planted the bomb on the bus and identified him as an Arab Israeli from the village of Taybeh. She said he was a member of Hamas.
22/11/2012 20:41 GMT
Arrest Made In Tel Aviv Bus Bombing
22/11/2012 20:38 GMT
A Palestinian Boy A Palestinian boy and militants of the Izzedine Al-Qassam Brigades, the armed wing of Hamas, attend funerals of five Hamas militants in Mugharka village, central Gaza Strip, Thursday, Nov. 22, 2012. Five Hamas militants were killed in an Israeli air strike yesterday, Palestinian health officials said. (AP Photo/Adel Hana)
22/11/2012 20:28 GMT
Israel-Gaza Conflict Winners And Losers
While the cease-fire agreement between Israel and Gaza on Wednesday brought an end to the rockets and airstrikes, the political fallout is just beginning. The Associated Press offers a breakdown of who won and who lost as a result of the truce agreement:
Read the full story on HuffPost World.
SUBSCRIBE AND FOLLOW
Get top stories and blog posts emailed to me each day. Newsletters may offer personalized content or advertisements.
Learn more