Muddy ploughed fields, crisp clear mornings and all the birds of Oxfordshire and Gloucestershire - a profound love affair with the English countryside fuelled writer Edward Thomas to produce a staggering 140 poems in the three years of his short-lived career.
Described by Poet Laureate Ted Hughes as "the father of us all", Thomas was killed in 1917 at the Battle of Arras in the First World War, leaving the shadow of a great poet who may have been greater still given the time to flourish.
Bafta-winning playwright Nick Dear brings the fractious story of Edward Thomas to the Almedia stage in The Dark Earth and the Light Sky.
Fresh from the thundering success of Laura Wade's Posh, Pip Carter steps into Thomas' walking shoes, bringing us a man who doubted his abilities to the point of persecution, caught in a triangular relationship between his doting wife and the platonic friendship with American poet Robert Frost (Shaun Dooley).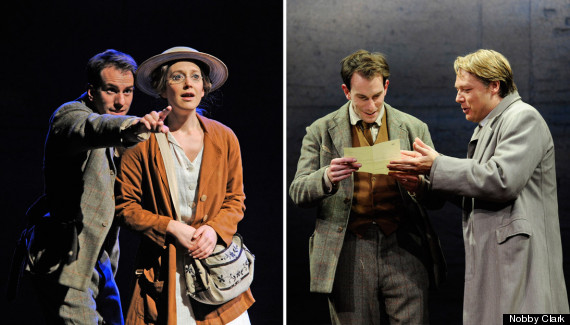 Left: Pip Carter (Edward Thomas) and Hattie Morahan (Helen Thomas). Right: Pip Carter (Edward Thomas) and Shaun Dooley (Robert Frost)
As a repressed and frustrated writer who can only find peace on the solitary country road, Carter gives a measured performance of British stoicism and self-deprecating english charm, punctuated with the jagged edge of Thomas' bouts of depression.
Aside from a scene in which Carter toys with a live revolver in one hand whilst holding his sleeping baby in the other, the play shows few glimpses of the depressive poet. There are sulks and barbed comments, but less drama than expected from a man with a suicidal past.
Instead, the drama comes from the gripping presence of Hattie Morahan as Edward's plain-speaking wife, Helen.
Batting off the emotional neglect of her husband with determined vigour, Morahan offers an engaging emotional range. Monologues to the audience are filled with nostalgic weariness and dialogue with characters reveal a simmering indignation, taking form in many ways, such as dancing spontaneously to gain her husband's attention.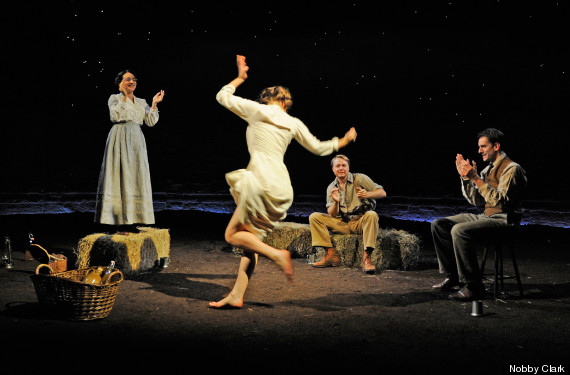 Pandora Colin (Eleanor), Hattie Morahan (Helen), Shaun Dooley (Robert) and Pip Carter (Edward)
A perfectly pitched scene sees Helen meeting Frost eleven years after Edward's death. Having suffered greatly in grief, Helen has also been ostracised because of her scandalous warts and all biography of her late husband. Morahan's outpouring of desperate fury is electric as she confronts Frost and defends her writing, declaring "that was how it was", repeating the phrase incessantly - a fitting dedication to the name of her book: As It Was.
Morahan has helped break the monopoly held by the National Theatre and Royal Court over the Evening Standard theatre awards, with a shortlisted best actress nomination for the Young Vic's A Doll's House.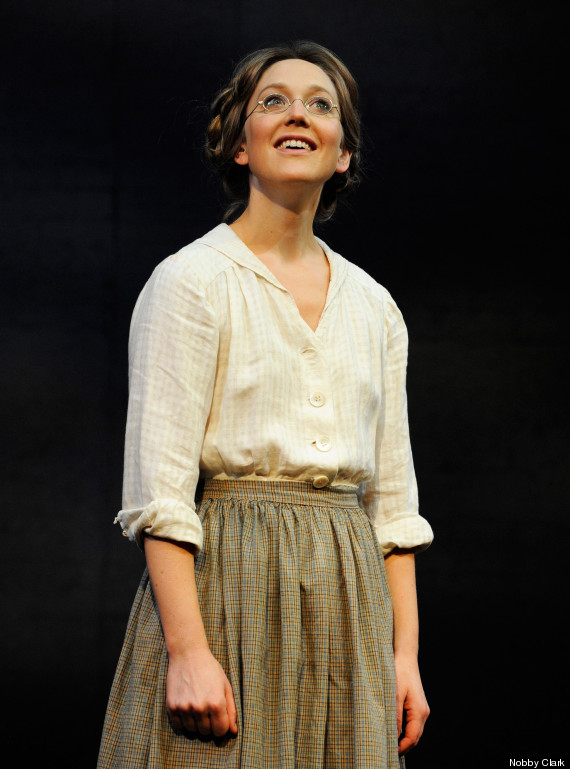 Hattie Morahan (Helen Thomas)
Like her portrayal of Nora in Ibsen's classic, it is clear how utterly determined Morahan is to make a character her own - the actress gives The Dark Earth and the Light Sky an emotionally charged edge - a fitting dedication to her character's deep love for the late Edward Thomas.
The Dark Earth and the Light Sky is running at the Almeida Theatre, London, 13 Nov 2012 - 12 Jan 2013.
Loading Slideshow
Pip Carter (Edward Thomas) and Shaun Dooley (Robert Frost). (Credit: Nobby Clark)

Pip Carter (Edward Thomas) and Ifan Huw Dafydd (Philip Thomas). (Credit: Nobby Clark)

Pandora Colin (Eleanor), Hattie Morahan (Helen), Shaun Dooley (Robert) and Pip Carter (Edward). (Credit: Nobby Clark)

Hattie Morahan (Helen Thomas). (Credit: Nobby Clark) (Credit: Nobby Clark)

Pip Carter (Edward Thomas) and Shaun Dooley (Robert Frost). (Credit: Nobby Clark)

Pip Carter (Edward Thomas) and Hattie Morahan (Helen Thomas). (Credit: Nobby Clark)
Take a look at all of HuffPost UK's theatre reviews:
Loading Slideshow
'Leaving Planet Earth' And 'Long Distance Affair', Edinburgh Festival

<a href="http://www.huffingtonpost.co.uk/2013/09/01/edinburgh-festival-review_n_3852176.html" target="_blank"><strong>CLICK TO READ REVIEW.</strong></a>

The Tragedy of Coriolanus, Beijing People's Art Theatre, Edinburgh International Festival

<a href="http://www.huffingtonpost.co.uk/2013/08/23/the-tragedy-of-coriolanus_n_3806736.html?utm_hp_ref=uk-culture" target="_blank"><strong>CLICK TO READ REVIEW.</strong></a>

Charlie and the Chocolate Factory, Theatre Royal Drury Lane

<a href="http://www.huffingtonpost.co.uk/matthew-tucker/charlie-chocolate-factory_b_3502220.html" target="_blank"><strong>CLICK TO READ REVIEW</strong></a>

The Cripple of Inishmaan, Noel Coward Theatre

<a href="http://www.huffingtonpost.co.uk/2013/06/26/the-cripple-of-inishmaan_n_3465766.html" target="_blank"><strong>CLICK TO READ REVIEW</strong></a>

Sweet Bird of Youth, The Old Vic

<a href="http://www.huffingtonpost.co.uk/2013/06/17/sweet-bird-of-youth_n_3455786.html" target="_blank"><strong>CLICK TO READ REVIEW</strong></a>

Passion Play, Duke of York's Theatre

<a href="http://www.huffingtonpost.co.uk/2013/06/09/passion-play-review_n_3412558.html" target="_blank"><strong>CLICK TO READ REVIEW.</strong></a>

Fallen In Love, The Tower of London

<a href="http://www.huffingtonpost.co.uk/2013/05/18/fallen-in-love-review-anne-boleyn_n_3298805.html" target="_blank"><strong>CLICK TO READ REVIEW.</strong></a>

Proof, The Menier Chocolate Factory

<a href="http://www.huffingtonpost.co.uk/2013/03/30/proof-review_n_2955940.html" target="_blank"><strong>CLICK TO READ REVIEW.</strong></a>

Peter And Alice, Noel Coward Theatre

<a href="http://www.huffingtonpost.co.uk/2013/03/26/peter-and-alice-review_n_2956014.html?utm_hp_ref=uk-culture" target="_blank"><strong>CLICK TO READ REVIEW.</strong></a>

The Winslow Boy, The Old Vic

<a href="http://www.huffingtonpost.co.uk/2013/03/22/the-winslow-boy-review_n_2908079.html?utm_hp_ref=uk-culture" target="_blank"><strong>CLICK TO READ REVIEW.</strong></a>

The Audience, Gielgud Theatre

<a href="http://www.huffingtonpost.co.uk/2013/03/07/the-audience-review_n_2828362.html" target="_blank"><strong>CLICK TO READ REVIEW.</strong></a>

Macbeth, Trafalgar Studios

<a href="http://www.huffingtonpost.co.uk/2013/02/26/macbeth-review-james-mcavoy_n_2768388.html"><strong>CLICK TO READ REVIEW.</strong></a>

Desolate Heaven, Theatre503

<a href="http://www.huffingtonpost.co.uk/2013/02/10/desolate-heaven-review_n_2658709.html"><strong>CLICK TO READ REVIEW.</strong></a>

The Showstoppers, Royal Albert Hall

<a href="http://www.huffingtonpost.co.uk/2013/02/06/the-showstoppers-review_n_2616047.html"><strong>CLICK TO READ REVIEW.</strong></a>

Old Times, Harold Pinter Theatre

<a href="http://www.huffingtonpost.co.uk/2013/01/31/old-times-review-kristin-scott-thomas_n_2594377.html"><strong>CLICK TO READ REVIEW.</strong></a>

Cirque Du Soleil's Kooza, Royal Albert Hall

<a href="http://www.huffingtonpost.co.uk/2013/01/21/cirque-du-soleils-kooza-review_n_2521495.html"><strong>CLICK TO READ REVIEW.</strong></a>

The Bodyguard, Adelphi Theatre

<a href="http://www.huffingtonpost.co.uk/2012/12/06/the-bodyguard-review_n_2250701.html" target="_hplink"><strong>CLICK TO READ REVIEW.</strong></a>

We Are Most Amused, Royal Albert Hall

<a href="http://www.huffingtonpost.co.uk/2012/11/28/blackadder-return-review_n_2207930.html" target="_hplink"><strong>CLICK TO READ REVIEW.</strong></a>

Kiss Me Kate, Old Vic

<a href="http://www.huffingtonpost.co.uk/2012/11/27/kiss-me-kate-old-vic-review_n_2201155.html" target="_hplink"><strong>CLICK TO READ REVIEW.</strong></a>

Unleashed, Barbican

<a href="http://www.huffingtonpost.co.uk/2012/11/24/unleashed-review_n_2184691.html" target="_hplink"><strong>CLICK TO READ REVIEW.</strong></a>

The Upstairs Room, King's Head Theatre

<a href="http://www.huffingtonpost.co.uk/2012/11/20/the-upstairs-room-review_n_2167940.html" target="_hplink"><strong>CLICK TO READ REVIEW.</strong></a>

The Dark Earth And Light Sky, Almeida Theatre

<a href="http://www.huffingtonpost.co.uk/2012/11/19/the-dark-earth-and-the-light-sky_n_2161070.html" target="_hplink"><strong>CLICK TO READ REVIEW.</strong></a>

Where The Mangrove Grows, Theatre503

<a href="http://www.huffingtonpost.co.uk/2012/11/12/where-the-mangrove-grows_n_2118923.html" target="_hplink"><strong>CLICK TO READ REVIEW.</strong></a>

Forests, Barbican

<a href="http://www.huffingtonpost.co.uk/2012/11/07/naked-shakespeare-forests-review_n_2087315.html" target="_hplink"><strong>CLICK TO READ REVIEW.</strong></a>

Uncle Vanya, Vaudeville Theatre

<a href="http://www.huffingtonpost.co.uk/2012/11/05/uncle-vanya-review-anna-friel_n_2076358.html" target="_hplink"><strong>CLICK TO READ REVIEW.</strong></a>

Forever Crazy Starring Kelly Brook, Crazy Horse Cabaret

<a href="http://www.huffingtonpost.co.uk/2012/11/02/kelly-brook-cabaret-show-forever-crazy-review_n_2063878.html#slide=1712838"><strong>CLICK TO READ REVIEW</strong></a>

Nosferatu, Barbican

<a href="http://www.huffingtonpost.co.uk/2012/10/31/nosferatu-review_n_2053085.html" target="_hplink"><strong>CLICK TO READ REVIEW.</strong></a>

The River, Royal Court Theatre

<a href="http://www.huffingtonpost.co.uk/2012/10/28/the-river-review_n_2036119.html" target="_hplink"><strong>CLICK TO READ REVIEW.</strong></a>

Michael Clark's Company - New Work, Barbican

<a href="http://www.huffingtonpost.co.uk/2012/10/19/michael-clark-company-new-work-2012-review_n_1984549.html" target="_hplink"><strong>CLICK TO READ REVIEW.</strong></a>

Ding Dong The Wicked, Royal Court Theatre

<a href="http://www.huffingtonpost.co.uk/2012/10/10/ding-dong-the-wicked-review_n_1956042.html" target="_hplink"><strong>CLICK TO READ REVIEW.</strong></a>

The Second Mrs Tanqueray, Rose Theatre Kingston

<a href="http://www.huffingtonpost.co.uk/2012/10/08/the-second-mrs-tanqueray-review_n_1949503.html" target="_hplink"><strong>CLICK TO READ REVIEW.</strong></a>

Timeless Tales, Christ Church Spitalfields

<a href="http://www.huffingtonpost.co.uk/2012/10/07/timeless-tales-review_n_1946667.html" target="_hplink"><strong>CLICK TO READ REVIEW.</strong></a>

Our Boys, Duchess Theatre

<a href="http://www.huffingtonpost.co.uk/2012/10/04/our-boys-review_n_1938732.html" target="_hplink"><strong>CLICK TO READ REVIEW.</strong></a>

Charley's Aunt, Menier Chocolate Factory

<a href="http://www.huffingtonpost.co.uk/2012/10/01/charleys-aunt-review_n_1930941.html" target="_hplink"><strong>CLICK TO READ REVIEW.</strong></a>

A Chorus of Disapproval, Harold Pinter Theatre

<a href="http://www.huffingtonpost.co.uk/2012/09/30/a-chorus-of-disapproval-review_n_1927155.html" target="_hplink"><strong>CLICK TO READ REVIEW.</strong></a>

Let It Be, Prince of Wales Theatre

<a href="http://www.huffingtonpost.co.uk/2012/09/24/let-it-be-review-beatlemania-hits-the-west-end_n_1911281.html" target="_hplink"><strong>CLICK TO READ REVIEW.</strong></a>

Mademoiselle Julie, Barbican

<a href="http://www.huffingtonpost.co.uk/2012/09/20/mademoiselle-julie-review_n_1902105.html" target="_hplink"><strong>CLICK TO READ REVIEW.</strong></a>

Three Sisters, Young Vic

<a href="http://www.huffingtonpost.co.uk/2012/09/13/three-sisters-review-young-vic_n_1882599.html" target="_hplink"><strong>CLICK TO READ REVIEW.</strong></a>

Philadelphia, Here I Come!, Donmar Warehouse

<a href="http://www.huffingtonpost.co.uk/2012/08/01/philadelphia-here-i-come-review_n_1726879.html" target="_hplink"><strong>CLICK TO READ REVIEW.</strong></a>

Ten Billion, Royal Court Theatre

<a href="http://www.huffingtonpost.co.uk/2012/07/18/countdown-to-ten-billion_n_1684762.html" target="_hplink"><strong>CLICK TO READ REVIEW.</strong></a>

A Doll's House, young Vic

<a href="http://www.huffingtonpost.co.uk/2012/07/10/a-dolls-house-the-young-vic-review_n_1661048.html" target="_hplink"><strong>CLICK TO READ REVIEW.</strong></a>

Land of Giants, Titanic Causeway, Belfast

<a href="http://www.huffingtonpost.co.uk/2012/07/01/land-of-giants-belfast-2012-art-show_n_1641600.html" target="_hplink"><strong>CLICK TO READ REVIEW.</strong></a>

The Last of the Haussmans, National Theatre

<a href="http://www.huffingtonpost.co.uk/2012/06/20/julie-walters-returns-to-_n_1611164.html" target="_hplink"><strong>CLICK TO READ REVIEW.</strong></a>

Posh, Royal Court Theatre

<a href="http://www.huffingtonpost.co.uk/2012/06/17/laura-wade-posh-review_n_1603638.html" target="_hplink"><strong>CLICK TO READ REVIEW.</strong></a>

Gross und Klein, Barbican

<a href="http://www.huffingtonpost.co.uk/2012/05/14/cate-blanchett-on-stage-gross-und-klein_n_1514595.html" target="_hplink"><strong>CLICK TO READ REVIEW.</strong></a>






The Dark Earth and the Light Sky (REVIEW): Love Triangle Of Tortured Poet Edward Thomas

Bafta-winning playwright Nick Dear brings the fractious story of tortured poet Edward Thomas to the Almedia stage in The Dark Earth and the Light Sky.

Muddy ploughed fields, crisp clear mornings and all the birds of Oxfordshire and Gloucestershire - a profound love affair with the English countryside fuelled writer Edward Thomas to produce a staggering 140 poems in the three years of his short-lived career.


Written by: Matthew Tucker


The Dark Earth and the Light Sky, Almeida Theatre

Date published: 11/20/2012


4 / 5 stars