Can a 133-year-old Norwegian play give us a fresh perspective on society in 2012?
Henrik Ibsen's controversial drama A Doll's House has come to the Young Vic with a revived treatment of feminism, marriage and personal finance.
Bringing together an impressive line-up, this modern staging boasts top industry talent including Hattie Morahan (BBC's Sense and Sensibility), Olivier Award-winning playwright Simon Stephens and Tony Award-winning designer Ian MacNeil (Billy Elliot).
As Nora (Hattie Morahan) relays news of her latest shopping escapades in the opening scene, it is apparent why the Young Vic chose to awaken Ibsen's well-trodden play.
Of the many themes running through A Doll's House, it was the socially contentious topic of feminism that gripped the Danish audience at the Copenhagen Royal Theatre premiere in 1879 - today, it is the apt subject of economics and debt that strikes at the heart of the audience. Like Nora, we have money on the mind.
In trying to fund an expensive jaunt to Italy to save her husband Torvald (Dominic Rowan) from a stress-related illness, Nora falls into the hands of loan shark Krogstad (Nick Fletcher).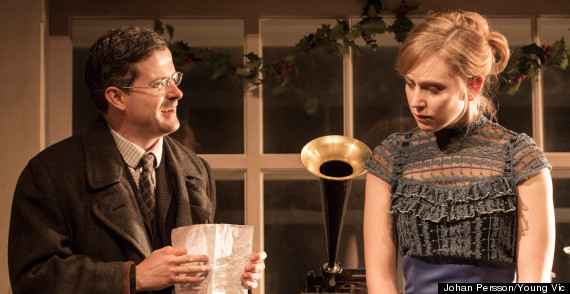 Nick Fletcher (Nils Krogstad) and Hattie Morahan (Nora Helmer)
Soldiering on with jovial feminine charm, Nora grows to become an expert in hiding the cracks of her picture-perfect life whilst paying her debt in secret.
Living in comfortable middle-class bliss with her successful husband and three children, Nora appears to inhabit a breezy pastel family home, rather than oppressive gilded cage.
Only the unexpected arrival of Nora's old friend Kristine (Susannah Wise) breaks the spell of a seemingly flawless domestic life.
Holding the stage well, Morahan thrives as the flighty and exuberant Nora, silly and naive one minute and seductively persuasive the next. Morahan takes us on the emotional journey of a woman traversing the cliff edge of social disgrace, conveying an inner moral strength with infectious passion.
Quite literally holding the spotlight in one scene, Morahan dances manically for Torvald. As the light closes in on her face, her dancing turns to mere unfeeling convulsions as we see the despair of a woman threatened with financial and social ruin, trapped in a doll's house of oppression.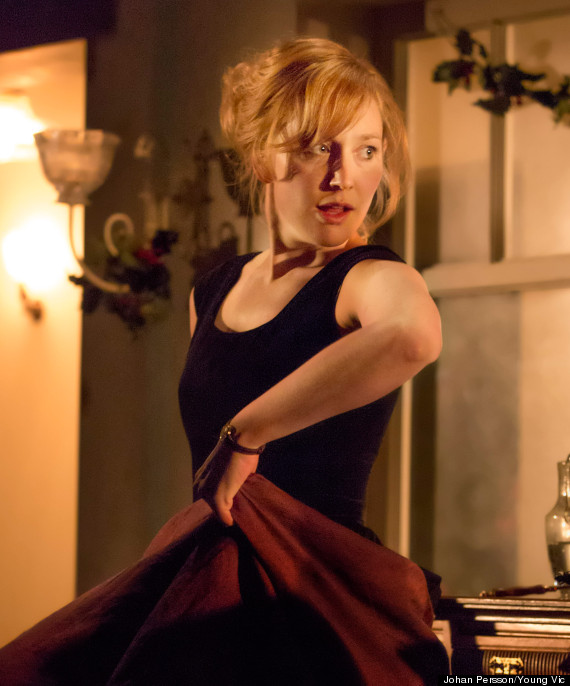 Hattie Morahan (Nora Helmer)
Despite the subtle suggestion that Nora's impulsive behavior is rooted in mental illness, Morahan's nervous energy tends to overpower her performance, with wide-eyed fidgeting that would surely lead Nora's family to be concerned over her mania.
A three-way emotional relationship between Nora, Torvald and the couple's close friend Doctor Rank (Steve Toussaint) also feels undeveloped and redundant to Nora's self-discovery.
However, special mention goes to the little actor who played Nora's baby – arriving on stage to the sounds of 'awwws' from the audience, Morahan danced and cooed with a baby who did not utter one complaint – a theatre star in the making.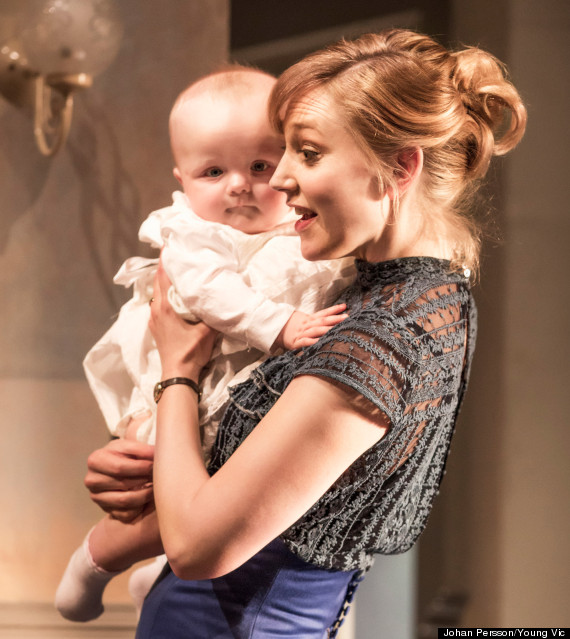 Harry Turner (Emmy Helmer) and Hattie Morahan (Nora Helmer)
Ibsen was a century ahead of his time when writing A Doll's House; touching on socially unexplored issues such as feminism, suicide, mental illness and marital rape.
As we climb out of a recession caused by our past spendthrift ways, we can look to Nora's meandering path of financial redemption for a lesson from a 19th Century playwright.
A Doll's House is at the Young Vic until 28 July.
Click below for more pictures of A Doll's House:
A Doll's House, Young Vic
Take a look at all of HuffPost UK's theatre reviews:
A Doll's House, Young Vic