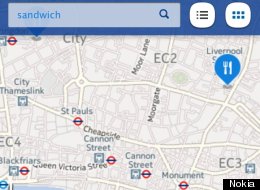 Nokia's new Here mapping service is now available for the iPhone, iPad and iPod touch.
The iOS app was made available on Tuesday just seven days after its wider unveiling.
But while the phone giant's new maps have been praised by many since their launch, the iOS app has come in for early criticism.
Users have noted out of date satellite imagery and data on the maps - many of the criticisms aimed at Apple's own Maps app when it launched in September on iOS 6.
@stroughtonsmith

Steve
If Nokia thought they could embarrass Apple Maps by launching this *awful* web app on the App Store, they're crazy:
http://t.co/wSyWG7gm
@andy_bennett

andy_bennett
Others however said the app was an "immediate improvement" to Apple's own solution, which replaced Google Maps and removed features like Street View.
@MickeyCaskill

Steve McCaskill
Nokia HERE Maps is immediate improvement on Apple Maps, but how do I get rid of the bloody restaurant and hotel search?
Apple eventually apologised for the low quality of its Maps app, and called out Nokia as a competing service users might try instead.
But the unveiling of Nokia Here hasn't gone smoothly either.
While it includes walking directions and "community maps", which Apple's app does not, it lacks 3D imagery, rotatable maps and seems 'fuzzy' to some users, as if not optimised for high resolution screens.
However, the app is free, and for frustrated iOS Maps users it might just be worth a go.