Four gay men are suing an organisation which promised to "cure" their homosexuality when they were teenagers.
Jews Offering New Alternatives for Healing (JONAH) describes itself as a non-profit international organisation, offering psychological and spiritual counselling starting at $100 for an individual session.
Its mission statement offers "those struggling with unwanted same-sex attractions to journey out of homosexuality." Chaim Levin, left and Michael Ferguson (centre, with his partner Seth Anderson)
A complaint was filed in the Superior Court of New Jersey against JONAH by the Southern Poverty Law Centre on behalf of the plaintiffs and two of their parents.
It alleges they were defrauded by the organisation into believing homosexuality is a "mental disorder" that could be cured, CNN reported.
JONAH co-director Arthur Goldberg, and "life coach" Alan Downing were also named in the court papers.
The lawsuit also alleges JONAH "lured them into paying for counselling with deceptive practices," Think Progress said.
Chaim Levin says his mother Bella spent more than $10,000 on JONAH counselling for him over a period of 18 months.
He claims he was taken to a locked, mirrored room with a male counselor twice his age and was told to strip, the New York Daily News reported.
Levin said: "I felt it was an unsafe environment. I was naked with a man twice my age and he told me touch myself. I resolved never to go back... never to talk about it."
Benjamin Unger was order to beat a pillow with a tennis racquet while shouting "Mom! Mom! Mom! Mom!" and Sheldon Bruck was informed "as long as you put in the effort, you're going to change."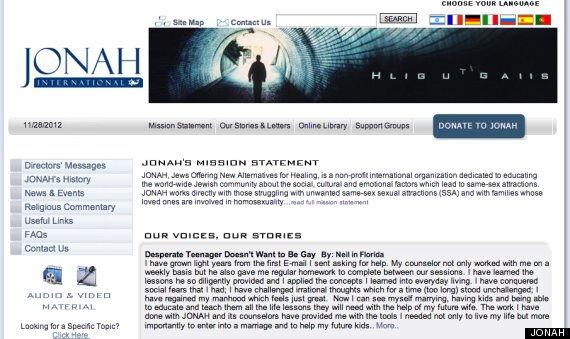 JONAH's online mission statement
According to the Chicago Tribune, Michael Ferguson was instructed to break through a human barricade to retrieve a pair of oranges, drink the juice from them and then place them in his trousers to symbolise the recovery of his testicles.
Ferguson is from a Mormon background while the other three plaintiffs are from ultra orthodox Jewish families.
The so-called conversion therapy that JONAH practices is "unconscionable and a sham," Sam Wolfe, a staff attorney at the Southern Poverty Law Center, said during a press conference on Tuesday.
When reached by ABC News, Goldberg said his organisation had healed hundreds of clients over its 14 years in service, but he admitted he could not speak of his counsellors' methodology and had "no background specifically in counselling."
The lawsuit, filed in Superior Court of New Jersey Hudson County, seeks declaratory, injunctive and an undisclosed amount of monetary relief, as well as court costs, according to ABC News.
Loading Slideshow
Bicycling

American neurologist Graeme M. Hammond suggests bicycling as a cure for homosexuality. <a href="http://web.me.com/lookoutfilms/Ten_More_Good_Years/LGBT_History_files/timeline only.pdf" target="_hplink">He believed</a> "homosexuality was rooted in nervous exhaustion and that bicycle exercise would restore health and heterosexuality."

Exorcism

In 2009 Manifested Glory Ministries came under fire when a 20-minute video posted on YouTube showed a 16 year old <a href="http://www.msnbc.msn.com/id/31528426/ns/us_news-faith/t/church-creates-stir-gay-exorcism-video/#.Tq8TLGVPlcg" target="_hplink">being subjected to an exorcism</a> to "cure" him of his homosexuality. The boy is shown writhing as church members stand on his feet, hold him under the arms and scream, "Come on, you homosexual demon! You homosexual spirit, we call you out right now! Loose your grip, Lucifer!"

Electroconvulsive Therapy

Electroconvulsive therapy has long been a go-to tool for "curing" homosexuality and is still used to this day. In October Nathan Manske, <a href="http://www.imfromdriftwood.com/" target="_hplink">the founder and Executive Director of I'm From Driftwood</a>, a 501(c)(3) non-profit forum for true lesbian, gay, bisexual, transgender and queer stories, shared the story of Samuel Brinton on <a href="http://www.huffingtonpost.com/nathan-manske/gay-conversion-therapy_b_997330.html" target="_hplink">HuffPost Gay Voices.</a> Brinton was raised in rural Iowa and he spoke of growing up gay in a conservative, Southern Baptist family that subjected him to forced Christian conversion therapy. "We then went into the 'Month of Hell,'" Brinton explains in the video above. "The 'Month of Hell' consisted of tiny needles being stuck into my fingers and then pictures of explicit acts between men would be shown and I'd be electrocuted." <em>Clarification on November 13 at 5:45pm ET: Though Brinton uses the term "electrocuted," this actually refers to death by electric shock. The correct term is electroconvulsive therapy.</em>

Prostitution

Baron Albert von Schrenck-Notzing, a German psychiatrist who practiced during the 19th century, prescribed a trip to a brothel, preceded by lots of drinking, to cure men of their homosexuality. Women who were "afflicted," <a href="http://books.google.com/books?id=Ra4bT-kE0Z4C&pg=PA75&lpg=PA75&dq=hypnosis+Albert+von+Schrenck-Notzing+homosexuality+brothel&source=bl&ots=HwcZAb_yJ-&sig=ywfKk0u0g3UbrC-Qzt61RnzT33s&hl=en&ei=9hOrTsXHLOrn0QG549WBDw&sa=X&oi=book_result&ct=result&resnum=3&ved=0CCwQ6AEwAg#v=onepage&q&f=false" target="_hplink">it's noted</a>, "were referred only to their husbands."

Hypnosis

Hypnotism was a common tool used during the 19th century to "cure" homosexuals. When Schrenck-Notzing wasn't busy sending gay men to brothels, he was hypnotizing them. In 1892 the German psychiatrist <a href="http://www.google.com/url?sa=t&rct=j&q=&esrc=s&source=web&cd=4&ved=0CDEQFjAD&url=http%3A%2F%2Fwww.unav.es%2Ficf%2Fmain%2Ftop%2Fdiciembre09%2FNarth_What-research-shows-homosexuality.pdf&ei=Ns-" target="_hplink">reported success in treating</a> 32 cases of "sexual perversions." Of the 32 cases, 12 were classified as "cured," meaning "the patients were completely able to 'combat fixed ideas [about homosexuality], deepen a sense of duty, self-control, and right-mindedness.'"

Fetal Intervention

Günther Dorner, who worked with the Institute for Experimental Endocrinology in the middle of the 20th century, <a href="http://books.google.com/books?id=4-kcUVAOTWYC&pg=PA193&lpg=PA193&dq="G%C3%BCnther+Dorner"+gay&source=bl&ots=RHRSLdreln&sig=rVv6DW4_3UnTLH9QlrCqdhrvonA&hl=en&ei=0d-uTs78E4bt0gHCmeSbCw&sa=X&oi=book_result&ct=result&resnum=7&ved=0CEAQ6AEwBg#v=onepage&q&f=false" target="_hplink">believed that homosexuality</a> is "determined by prenatal gendering of the brain caused by endocrinological disturbances." He hypothesized that if you could alter any hormonal imbalances present in the womb -- as he attempted to do with fetal rats -- homosexuality could be prevented before it even developed.

'Overdosing' On Homosexuality

In the 1960s British psychologist I. Oswald would pump a gay man full of nausea-inducing drugs before surrounding him with glasses of urine and playing audio recordings of men having sex. Oswald was attempting to "overdose" gay men on homosexuality in hopes that they would "<a href="http://www.glreview.com/article.php?articleid=42" target="_hplink">turn to women for relief</a>."

Cold Showers

In June of 2011 Hong Kong <a href="http://www.google.com/hostednews/afp/article/ALeqM5hJrR2qwJP3LebrZk-UYhAXq1ZzPA?docId=CNG.fb6f66e08eae0ce02ece50a72ee19eda.1f1" target="_hplink">reportedly hired a psychiatrist</a> to give a government-sponsored training session on conversion therapy. Among the techniques Hong Kwai-wah suggested for "curing" homosexuality were cold showers, prayer, and abstinence.

Transplants

Eugen Steinach (1861-1944), director of the Biological Institute in Vienna, believed that homosexuality was the result of hormonal imbalances. To prove his hypothesis, the scientist implanted sex organs in neutered rats and Guinea pigs and claimed to have conducted successful "sex change" operations on the rodents. Steinach's research didn't end with animals. He <a href="http://www.cabinetmagazine.org/issues/29/turner.php" target="_hplink">also transplanted testicles</a> from heterosexual men into gay men in hopes of "remasculizing the recipient."

Cocaine, Strychnine, Genital Mutilation

Physician Denslow Lewis believed that women brought up in wealthy 19th century homes could develop "sexual hyperesthesia [excessive sensitivity to stimuli]" and become lesbians. In order to cure these women <a href="http://www.glreview.com/article.php?articleid=42" target="_hplink">he prescribed</a> "cocaine solutions, saline cathartics, the surgical "liberation" of adherent clitorises, or even the administration of strychnine by hypodermic." Though he claimed that some of his patients were "cured" and became wives and mothers, one went insane and died in an asylum.

Praying

"Pray the gay away!" has become the battle cry of the conversion therapy movement. From <a href="http://www.thenation.com/article/161883/michele-bachmann-husband-ex-gay-therapy" target="_hplink">Marcus Bachmann's alleged conversion clinic</a> to <a href="http://outspokennyc.com/shoutout/scuse-me-gay-sashay-away" target="_hplink">an ex-gay iPhone app</a>, those who believe homosexuality is not only wrong but curable rely on the power of prayer to make a miracle happen.