Have you ever wanted to see an inside out bum implant? No, us neither.
However, thanks to the twin universes of YouTube and Facebook we have seen just that. And because we can't unsee it, we're going to share it with you.
The clip shows a woman's thong-clad bottom, with one buttock sporting a strangely flat surface - namely an implant that has seemingly become dislodged.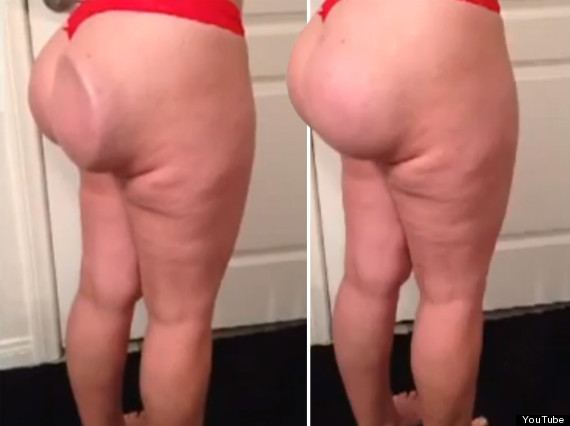 'I don't think an implant is supposed to do that'
The woman's hands come into view and she manipulates the implant, turning it around until it sits in the correct position. Her voice is heard explaining: "This is my implant flipping backwards. I don't think an implant is supposed to do that."
The clip has clocked up more than 20,000 shares on Facebook and has been viewed on YouTube 34,000 times.
"This is the dangers of butt implants.. Ladies do not ever do silicone butt injections they are toxic to your body. Butt implants are not any better, too many risk, infection, displacement of the implant and they feel like rocks not to mention look very unnatural. Love the skin your in [sic]
Here is what happens when implants go bad.. This is my personal experience I almost died from this surgery and am having them removed this Thursday."
"This lady's implant is flat on the bottom and coned on the top, but this one has flipped over."
See more plastic surgeries gone sour...
When Cosmetic Surgery Goes Wrong
SUBSCRIBE TO & FOLLOW UK LIFESTYLE