Nick Clegg will make a separate statement to the House of Commons today on the Leveson report after David Cameron, exposing a rift within the coalition over how to regulate the press.
The deputy prime minister is reportedly ready to support the rapid creation of a regulator with statutory underpinning, a move that would be opposed by many Tories, and Cameron is thought to be resisting.
The pair have been poring over the report trying to agree a joint approach since half-a-dozen advance copies were delivered to Downing Street yesterday morning.
Lord Justice Leveson's 2,000-page document is due to be unveiled at 1.30pm, with the judge widely expected to suggest a new newspaper regulator underpinned by law.
Cameron set up the Leveson Inquiry in July last year in response to revelations that the News of the World commissioned a private detective to hack murdered schoolgirl Milly Dowler's phone after she disappeared in 2002.
The probe, set to cost around £6 million overall, heard months of dramatic evidence from celebrities, media figures, politicians and the police.
The prime minister yesterday pledged to seek cross-party consensus on a new regulatory system, but faces an uphill struggle to overcome deep divisions in the coalition and among his own MPs.
SEE ALSO: MPs Summon Leveson To Culture Committee
Asked about press regulation as he took questions in the Commons, Cameron said: "This Government set up Leveson because of unacceptable practices in parts of the media and because of a failed regulatory system.
"I think we should try and work across party lines on this issue, it is right to meet with other party leaders about this issue and I will do so.
"What matters most I believe is that we end up with an independent regulatory system that can deliver and in which the public have confidence."
Cameron added: "One of the key things that the Leveson Inquiry is trying to get to the bottom of is how can you have a strong, independent regulatory system so you don't have to wait for the wheels of the criminal justice system or the libel system to work.
"People should be able to rely on a good regulatory system as well to get the sort of redress they want, whether that is prominent apologies or fines for newspapers or the other things that are clearly so necessary."
Labour leader Ed Miliband welcomed Cameron's commitment and insisted he wanted "real change".
"I hope we can work on an all-party basis. This is a once-in-a-generation opportunity for real change and I hope that this House can make it happen," he told MPs.
A senior Labour source said Miliband will receive the Leveson report at 8am today, and was not expecting to speak to Mr Cameron ahead of his statement.
All three main party leaders have indicated they will support the report's recommendations as long as they are "proportionate".
But there is speculation Cameron could offer Parliament a free vote rather than try to force through measures and suffer a damaging rebellion.
Dozens of Tory MPs signed an open letter warning against statutory regulation this week - shortly after 42 of their colleagues called for tougher laws to curb newspapers' excesses.
The latest group included "big beasts" Liam Fox and David Davis, media select committee chairman John Whittingdale and 1922 committee chairman Graham Brady.
"As parliamentarians, we believe in free speech and are opposed to the imposition of any form of statutory control even if it is dressed up as underpinning," they argued.
"No form of statutory regulation of the press would be possible without the imposition of state licensing - abolished in Britain in 1695.
"State licensing is inimical to any idea of press freedom and would radically alter the balance of our unwritten constitution."
Campaign group Hacked Off, which represents victims of press intrusion, yesterday welcomed the Government's commitment to seek cross-party agreement and urged leaders to avoid unnecessary delay.
The Spectator, the country's oldest political magazine, insisted it would refuse to join any regulatory system enforced by the Government, while News International's chief executive Tom Mockridge backed calls for a "tough" new press watchdog but warned that state-backed regulation would put too much power in politicians' hands.
Christopher Jefferies, wrongly arrested for the murder of Joanna Yeates, said it would be "unacceptable" for Mr Cameron not to adopt any recommendation to introduce some form of statutory regulation.
The 67-year-old retired teacher won substantial libel damages from eight newspapers following their coverage of his arrest in connection with the architect's disappearance in 2010. He was later released without charge.
A poll last night found majority public support for statutory regulation, with 51% in favour, 20% opposed and 29% unsure.
The ComRes survey for ITV News At Ten, which interviewed 2,038 adults online from November 23-25, found 48% believed the current system was insufficiently tough while 28% thought it about right.
29/11/2012 14:03 GMT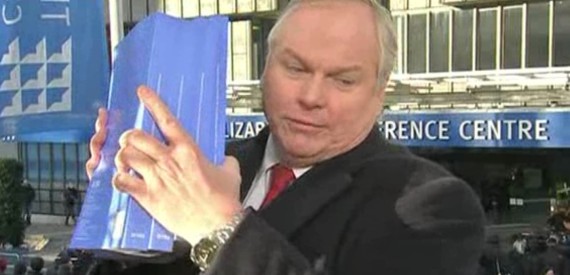 Adam Boulton shows the size of the Leveson report which consists of over 2000 pages
29/11/2012 13:43 GMT
Read The Full Report
The report has now been published online. You can read it here:
29/11/2012 13:42 GMT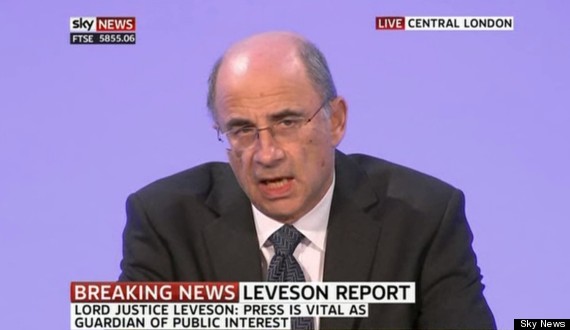 Lord Leveson delivers his speech
29/11/2012 13:36 GMT
And he said politicians of all parties had developed "too close a relationship with the press in a way which has not been in the public interest".
29/11/2012 13:36 GMT
The judge said the press had ignored its own code of conduct in a way that had "wreaked havoc with the lives of innocent people" on far too many occasions over the last decade.
29/11/2012 13:36 GMT
He said there had been a "recklessness in prioritising sensational stories", irrespective of the harm that may be caused.
29/11/2012 13:36 GMT
Lord Justice Leveson today called for legislation to underpin a "genuinely independent and effective system of self-regulation" for the press.
29/11/2012 13:32 GMT
Leveson Report Published
In his report on press standards and ethics, Lord Justice Leveson has called for legislation to provide "an independent process to recognise the new self-regulatory body and reassure the public that the basic requirements of independence and effectiveness were met".
29/11/2012 13:21 GMT
@ JGForsyth :

Does the Leveson report come under one in, one out? If the coalition regulates newspapers, does it have to de-regulate another industry?
29/11/2012 12:46 GMT
@ politicshomeuk :

Sir Ming Campbell says there's "a division of opinion in the Coalition, a division of opinion in the Conservative party" on #leveson.
SUBSCRIBE TO & FOLLOW UK POLITICS