DOH! Gary Lineker managed to fowl up his Christmas dinner this year - by serving up a raw turkey.
The football pundit revealed his balls-up via Twitter, admitting turning on the oven had been his "only job" in the preparation of the meal.
After two hours, a check on the bird revealed... absolutely nothing.
@GaryLineker

Gary Lineker
2 hours in the oven and still the turkey is cold. Helps if you put the oven on right? My only job. Oops!
http://t.co/ckyENXVW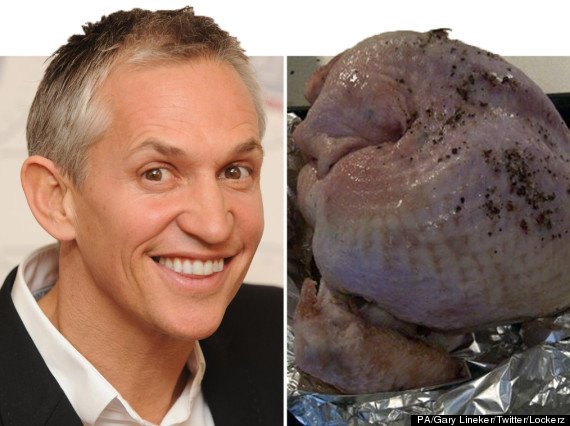 Christmas fowl: Gary Lineker posted his raw bird online for all to see
As the inevitable ribbing got underway, the former England Striker protested he and wife Danielle had been out walking the dog, and had hence not noticed the kitchen was absent of mouthwatering smells.
Lineker, who is the face of Walkers, took jibes he'd be opening a packet of crisps for dinner in good humour.
@GaryLineker

Gary Lineker
Christmas lunch has now become dinner and I could well be served on a platter. Revenge is a dish best served cold.
@GaryLineker

Gary Lineker
RT
@LucyluluLucy
:
@GaryLineker
how did you not realise in 2 hrs. The lack of dinner smells should have been a clue? <Were walking the dog
@GaryLineker

Gary Lineker
RT
@Gabbers2
:
@GaryLineker
My Nan says 'tell him to open a bag of crisps!'. Genius from the old one! < Roast chicken flavour?