The Huffington Post pictures of the day brings you the very best images from around the world chosen by our own photo editors, Elliot Wagland, Matthew Tucker and Tahira Mirza.
We would love to hear your thoughts on the stories of the day - leave a comment at the bottom of the blog.
Follow The Huffington Post picture desk on twitter.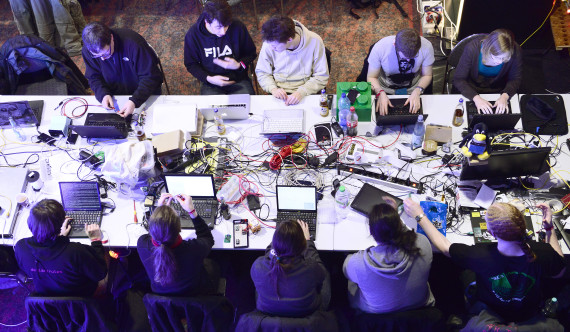 Participants work at their laptops at the annual Chaos Computer Club (CCC) computer hackers' congress, called 29C3, on December 28, 2012 in Hamburg, Germany. The 29th Chaos Communication Congress (29C3) attracts hundreds of participants worldwide annually to engage in workshops and lectures discussing the role of technology in society and its future.
Loading Slideshow
Computer Hackers Meet For Annual Congress

HAMBURG, GERMANY - DECEMBER 28: Participants take a foam bath at the annual Chaos Computer Club (CCC) computer hackers' congress, called 29C3, on December 28, 2012 in Hamburg, Germany. The 29th Chaos Communication Congress (29C3) attracts hundreds of participants worldwide annually to engage in workshops and lectures discussing the role of technology in society and its future. (Photo by Patrick Lux/Getty Images)

Computer Hackers Meet For Annual Congress

HAMBURG, GERMANY - DECEMBER 28: Participants work at their laptops at the annual Chaos Computer Club (CCC) computer hackers' congress, called 29C3, on December 28, 2012 in Hamburg, Germany. The 29th Chaos Communication Congress (29C3) attracts hundreds of participants worldwide annually to engage in workshops and lectures discussing the role of technology in society and its future. (Photo by Patrick Lux/Getty Images)

Computer Hackers Meet For Annual Congress

HAMBURG, GERMANY - DECEMBER 28: A participant works on his laptop in a foam pit at the annual Chaos Computer Club (CCC) computer hackers' congress, called 29C3, on December 28, 2012 in Hamburg, Germany. The 29th Chaos Communication Congress (29C3) attracts hundreds of participants worldwide annually to engage in workshops and lectures discussing the role of technology in society and its future. (Photo by Patrick Lux/Getty Images)

Computer Hackers Meet For Annual Congress

HAMBURG, GERMANY - DECEMBER 28: Participants work at their laptops at the annual Chaos Computer Club (CCC) computer hackers' congress, called 29C3, on December 28, 2012 in Hamburg, Germany. The 29th Chaos Communication Congress (29C3) attracts hundreds of participants worldwide annually to engage in workshops and lectures discussing the role of technology in society and its future. (Photo by Patrick Lux/Getty Images)

Computer Hackers Meet For Annual Congress

HAMBURG, GERMANY - DECEMBER 28: Participants gather at the annual Chaos Computer Club computer hackers' congress, called 29C3, on December 28, 2012 in Hamburg, Germany. The 29th Chaos Communication Congress (29C3) attracts hundreds of participants worldwide annually to engage in workshops and lectures discussing the role of technology in society and its future. (Photo by Patrick Lux/Getty Images)

Computer Hackers Meet For Annual Congress

HAMBURG, GERMANY - DECEMBER 28: Participants sit behind led display units at the annual Chaos Computer Club (CCC) computer hackers' congress, called 29C3, on December 28, 2012 in Hamburg, Germany. The 29th Chaos Communication Congress (29C3) attracts hundreds of participants worldwide annually to engage in workshops and lectures discussing the role of technology in society and its future. (Photo by Patrick Lux/Getty Images)

Computer Hackers Meet For Annual Congress

HAMBURG, GERMANY - DECEMBER 28: Participant hold their laptops in front of an illuminated wall at the annual Chaos Computer Club (CCC) computer hackers' congress, called 29C3, on December 28, 2012 in Hamburg, Germany. The 29th Chaos Communication Congress (29C3) attracts hundreds of participants worldwide annually to engage in workshops and lectures discussing the role of technology in society and its future. (Photo by Patrick Lux/Getty Images)

Computer Hackers Meet For Annual Congress

HAMBURG, GERMANY - DECEMBER 28: Participants sit behind led display units at the annual Chaos Computer Club (CCC) computer hackers' congress, called 29C3, on December 28, 2012 in Hamburg, Germany. The 29th Chaos Communication Congress (29C3) attracts hundreds of participants worldwide annually to engage in workshops and lectures discussing the role of technology in society and its future. (Photo by Patrick Lux/Getty Images)

Computer Hackers Meet For Annual Congress

HAMBURG, GERMANY - DECEMBER 28: Participants work at their their laptops at the annual Chaos Computer Club (CCC) computer hackers' congress, called 29C3, on December 28, 2012 in Hamburg, Germany. The 29th Chaos Communication Congress (29C3) attracts hundreds of participants worldwide annually to engage in workshops and lectures discussing the role of technology in society and its future. (Photo by Patrick Lux/Getty Images)

Computer Hackers Meet For Annual Congress

HAMBURG, GERMANY - DECEMBER 28: Participants rest in a foam pit at the annual Chaos Computer Club (CCC) computer hackers' congress, called 29C3, on December 28, 2012 in Hamburg, Germany. The 29th Chaos Communication Congress (29C3) attracts hundreds of participants worldwide annually to engage in workshops and lectures discussing the role of technology in society and its future. (Photo by Patrick Lux/Getty Images)

Computer Hackers Meet For Annual Congress

HAMBURG, GERMANY - DECEMBER 28: Participants work at their their laptops at the annual Chaos Computer Club (CCC) computer hackers' congress, called 29C3, on December 28, 2012 in Hamburg, Germany. The 29th Chaos Communication Congress (29C3) attracts hundreds of participants worldwide annually to engage in workshops and lectures discussing the role of technology in society and its future. (Photo by Patrick Lux/Getty Images)

Computer Hackers Meet For Annual Congress

HAMBURG, GERMANY - DECEMBER 28: A participant holds his laptop in front of an illuminated wall at the annual Chaos Computer Club (CCC) computer hackers' congress, called 29C3, on December 28, 2012 in Hamburg, Germany. The 29th Chaos Communication Congress (29C3) attracts hundreds of participants worldwide annually to engage in workshops and lectures discussing the role of technology in society and its future. (Photo by Patrick Lux/Getty Images)

Computer Hackers Meet For Annual Congress

HAMBURG, GERMANY - DECEMBER 28: A participants sits behind his laptop at the annual Chaos Computer Club (CCC) computer hackers' congress, called 29C3, on December 28, 2012 in Hamburg, Germany. The 29th Chaos Communication Congress (29C3) attracts hundreds of participants worldwide annually to engage in workshops and lectures discussing the role of technology in society and its future. (Photo by Patrick Lux/Getty Images)

Computer Hackers Meet For Annual Congress

HAMBURG, GERMANY - DECEMBER 28: Participants work at their laptops at the annual Chaos Computer Club (CCC) computer hackers' congress, called 29C3, on December 28, 2012 in Hamburg, Germany. The 29th Chaos Communication Congress (29C3) attracts hundreds of participants worldwide annually to engage in workshops and lectures discussing the role of technology in society and its future. (Photo by Patrick Lux/Getty Images)

Computer Hackers Meet For Annual Congress

HAMBURG, GERMANY - DECEMBER 28: Participant hold their laptops in front of an illuminated wall at the annual Chaos Computer Club (CCC) computer hackers' congress, called 29C3, on December 28, 2012 in Hamburg, Germany. The 29th Chaos Communication Congress (29C3) attracts hundreds of participants worldwide annually to engage in workshops and lectures discussing the role of technology in society and its future. (Photo by Patrick Lux/Getty Images)

Computer Hackers Meet For Annual Congress

HAMBURG, GERMANY - DECEMBER 28: Participant hold their laptops in front of an illuminated wall at the annual Chaos Computer Club (CCC) computer hackers' congress, called 29C3, on December 28, 2012 in Hamburg, Germany. The 29th Chaos Communication Congress (29C3) attracts hundreds of participants worldwide annually to engage in workshops and lectures discussing the role of technology in society and its future. (Photo by Patrick Lux/Getty Images)

Chaos Computer Club 28th Congress

BERLIN, GERMANY - DECEMBER 27: A Telex machine to which visitors can send SMSes to be printed operates on the first day of the 28th Chaos Communication Congress (28C3) - Behind Enemy Lines computer hacker conference on December 27, 2011 in Berlin, Germany. The Chaos Computer Club is Europe's biggest network of computer hackers and its annual congress draws up to 3,000 participants. (Photo by Adam Berry/Getty Images)

Chaos Computer Club 28th Congress

BERLIN, GERMANY - DECEMBER 27: Visitors arrive for the first day of the 28th Chaos Communication Congress (28C3) - Behind Enemy Lines computer hacker conference on December 27, 2011 in Berlin, Germany. The Chaos Computer Club is Europe's biggest network of computer hackers and its annual congress draws up to 3,000 participants. (Photo by Adam Berry/Getty Images)

Chaos Computer Club 28th Congress

BERLIN, GERMANY - DECEMBER 27: A participant in the Next Generation Universal Aerial Video Platform (NG-UAVP) pan-European project examines a propellor motor on a remote-controlled helicopter he is building on the first day of the 28th Chaos Communication Congress (28C3) - Behind Enemy Lines computer hacker conference on December 27, 2011 in Berlin, Germany. The Chaos Computer Club is Europe's biggest network of computer hackers and its annual congress draws up to 3,000 participants. (Photo by Adam Berry/Getty Images)

Chaos Computer Club 28th Congress

BERLIN, GERMANY - DECEMBER 27: A visitor enters a lecture hall on the first day of the 28th Chaos Communication Congress (28C3) - Behind Enemy Lines computer hacker conference on December 27, 2011 in Berlin, Germany. The Chaos Computer Club is Europe's biggest network of computer hackers and its annual congress draws up to 3,000 participants. (Photo by Adam Berry/Getty Images)

Chaos Computer Club 28th Congress

BERLIN, GERMANY - DECEMBER 27: A Telex machine to which visitors can send SMSes to be printed operates on the first day of the 28th Chaos Communication Congress (28C3) - Behind Enemy Lines computer hacker conference on December 27, 2011 in Berlin, Germany. The Chaos Computer Club is Europe's biggest network of computer hackers and its annual congress draws up to 3,000 participants. (Photo by Adam Berry/Getty Images)

Chaos Computer Club 28th Congress

BERLIN, GERMANY - DECEMBER 27: Visitors arrive for the first day of the 28th Chaos Communication Congress (28C3) - Behind Enemy Lines computer hacker conference on December 27, 2011 in Berlin, Germany. The Chaos Computer Club is Europe's biggest network of computer hackers and its annual congress draws up to 3,000 participants. (Photo by Adam Berry/Getty Images)

Chaos Computer Club 28th Congress

BERLIN, GERMANY - DECEMBER 27: Participants pass a model of a rocketship as they arrive for the first day of the 28th Chaos Communication Congress (28C3) - Behind Enemy Lines computer hacker conference on December 27, 2011 in Berlin, Germany. The Chaos Computer Club is Europe's biggest network of computer hackers and its annual congress draws up to 3,000 participants. (Photo by Adam Berry/Getty Images)

Chaos Computer Club 28th Congress

BERLIN, GERMANY - DECEMBER 27: A participant uses a laptop on the first day of the 28th Chaos Communication Congress (28C3) - Behind Enemy Lines computer hacker conference on December 27, 2011 in Berlin, Germany. The Chaos Computer Club is Europe's biggest network of computer hackers and its annual congress draws up to 3,000 participants. (Photo by Adam Berry/Getty Images)

Chaos Computer Club 28th Congress

BERLIN, GERMANY - DECEMBER 27: A particpant checks a circuit board next to an oscilloscope on the first day of the 28th Chaos Communication Congress (28C3) - Behind Enemy Lines computer hacker conference on December 27, 2011 in Berlin, Germany. The Chaos Computer Club is Europe's biggest network of computer hackers and its annual congress draws up to 3,000 participants. (Photo by Adam Berry/Getty Images)

Chaos Computer Club 28th Congress

BERLIN, GERMANY - DECEMBER 27: Participants review lines of code on a laptop on the first day of the 28th Chaos Communication Congress (28C3) - Behind Enemy Lines computer hacker conference on December 27, 2011 in Berlin, Germany. The Chaos Computer Club is Europe's biggest network of computer hackers and its annual congress draws up to 3,000 participants. (Photo by Adam Berry/Getty Images)

Chaos Computer Club 28th Congress

BERLIN, GERMANY - DECEMBER 27: A particpant checks a circuit board next to an oscilloscope on the first day of the 28th Chaos Communication Congress (28C3) - Behind Enemy Lines computer hacker conference on December 27, 2011 in Berlin, Germany. The Chaos Computer Club is Europe's biggest network of computer hackers and its annual congress draws up to 3,000 participants. (Photo by Adam Berry/Getty Images)

Chaos Computer Club 28th Congress

BERLIN, GERMANY - DECEMBER 27: A participant reviews lines of code on his laptop on the first day of the 28th Chaos Communication Congress (28C3) - Behind Enemy Lines computer hacker conference on December 27, 2011 in Berlin, Germany. The Chaos Computer Club is Europe's biggest network of computer hackers and its annual congress draws up to 3,000 participants. (Photo by Adam Berry/Getty Images)

Chaos Computer Club 28th Congress

BERLIN, GERMANY - DECEMBER 27: A participant puts stickers on her laptop on the first day of the 28th Chaos Communication Congress (28C3) - Behind Enemy Lines computer hacker conference on December 27, 2011 in Berlin, Germany. The Chaos Computer Club is Europe's biggest network of computer hackers and its annual congress draws up to 3,000 participants. (Photo by Adam Berry/Getty Images)

Chaos Computer Club 28th Congress

BERLIN, GERMANY - DECEMBER 27: A participant stands near a rack of ethernet cables on the first day of the 28th Chaos Communication Congress (28C3) - Behind Enemy Lines computer hacker conference on December 27, 2011 in Berlin, Germany. The Chaos Computer Club is Europe's biggest network of computer hackers and its annual congress draws up to 3,000 participants. (Photo by Adam Berry/Getty Images)

Chaos Computer Club 28th Congress

BERLIN, GERMANY - DECEMBER 27: A participant uses a laptop on the first day of the 28th Chaos Communication Congress (28C3) - Behind Enemy Lines computer hacker conference on December 27, 2011 in Berlin, Germany. The Chaos Computer Club is Europe's biggest network of computer hackers and its annual congress draws up to 3,000 participants. (Photo by Adam Berry/Getty Images)

Chaos Computer Club 28th Congress

BERLIN, GERMANY - DECEMBER 27: Participants work on laptops on the first day of the 28th Chaos Communication Congress (28C3) - Behind Enemy Lines computer hacker conference on December 27, 2011 in Berlin, Germany. The Chaos Computer Club is Europe's biggest network of computer hackers and its annual congress draws up to 3,000 participants. (Photo by Adam Berry/Getty Images)

Chaos Computer Club 28th Congress

BERLIN, GERMANY - DECEMBER 27: A visitor enters a lecture hall on the first day of the 28th Chaos Communication Congress (28C3) - Behind Enemy Lines computer hacker conference on December 27, 2011 in Berlin, Germany. The Chaos Computer Club is Europe's biggest network of computer hackers and its annual congress draws up to 3,000 participants. (Photo by Adam Berry/Getty Images)

Chaos Computer Club 28th Congress

BERLIN, GERMANY - DECEMBER 27: Participants work on laptops on the first day of the 28th Chaos Communication Congress (28C3) - Behind Enemy Lines computer hacker conference on December 27, 2011 in Berlin, Germany. The Chaos Computer Club is Europe's biggest network of computer hackers and its annual congress draws up to 3,000 participants. (Photo by Adam Berry/Getty Images)

Chaos Computer Club 28th Congress

BERLIN, GERMANY - DECEMBER 27: Participants pass a model of a rocketship in front of the television tower (Fernsehturm) as they arrive for the first day of the 28th Chaos Communication Congress (28C3) - Behind Enemy Lines computer hacker conference on December 27, 2011 in Berlin, Germany. The Chaos Computer Club is Europe's biggest network of computer hackers and its annual congress draws up to 3,000 participants. (Photo by Adam Berry/Getty Images)

Chaos Computer Club 28th Congress

BERLIN, GERMANY - DECEMBER 27: A participant works on a laptop on the first day of the 28th Chaos Communication Congress (28C3) - Behind Enemy Lines computer hacker conference on December 27, 2011 in Berlin, Germany. The Chaos Computer Club is Europe's biggest network of computer hackers and its annual congress draws up to 3,000 participants. (Photo by Adam Berry/Getty Images)

Chaos Computer Club 28th Congress

BERLIN, GERMANY - DECEMBER 27: A participant works on a laptop on the first day of the 28th Chaos Communication Congress (28C3) - Behind Enemy Lines computer hacker conference on December 27, 2011 in Berlin, Germany. The Chaos Computer Club is Europe's biggest network of computer hackers and its annual congress draws up to 3,000 participants. (Photo by Adam Berry/Getty Images)

Chaos Computer Club 28th Congress

BERLIN, GERMANY - DECEMBER 27: A particpant checks a circuit board next to an oscilloscope on the first day of the 28th Chaos Communication Congress (28C3) - Behind Enemy Lines computer hacker conference on December 27, 2011 in Berlin, Germany. The Chaos Computer Club is Europe's biggest network of computer hackers and its annual congress draws up to 3,000 participants. (Photo by Adam Berry/Getty Images)