The Huffington Post pictures of the day brings you the very best images from around the world chosen by our own photo editors, Elliot Wagland, Matthew Tucker and Tahira Mirza.
We would love to hear your thoughts on the stories of the day - leave a comment at the bottom of the blog.
Follow The Huffington Post picture desk on twitter.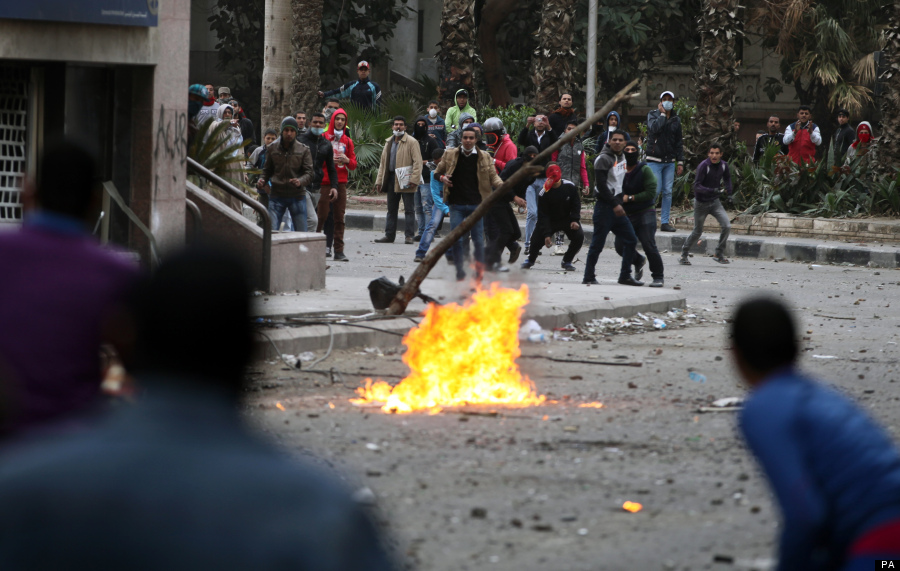 Pro and anti-government protesters throw stones during clashes near Tahrir Square, Cairo, Egypt. Egypt's liberal opposition leader called for a broad national dialogue with the Islamist government, all political factions and the powerful military on Wednesday, aimed at stopping the country's eruption of political violence that has left scores dead in the past week.
Loading Slideshow
Egyptian riot police take positions during clashes with anti-government protesters, not seen, near Tahrir Square in Cairo, Egypt, Wednesday, Jan. 30, 2013. Egypt's liberal opposition leader called for a broad national dialogue with the Islamist government, all political factions and the powerful military on Wednesday, aimed at stopping the country's eruption of political violence that has left scores dead in the past week. (AP Photo/Khalil Hamra)

An Egyptian street vendor passes by riot police during clashes with protesters, not seen, near Tahrir Square in Cairo, Egypt, Wednesday, Jan. 30, 2013. Egypt's liberal opposition leader called for a broad national dialogue with the Islamist government, all political factions and the powerful military on Wednesday, aimed at stopping the country's eruption of political violence that has left scores dead in the past week. (AP Photo/Khalil Hamra)

Egyptian riot police march during clashes with protesters, not seen, near Tahrir Square in Cairo, Egypt,Wednesday, Jan. 30, 2013. Egypt's liberal opposition leader called for a broad national dialogue with the Islamist government, all political factions and the powerful military on Wednesday, aimed at stopping the country's eruption of political violence that has left scores dead in the past week. (AP Photo/Khalil Hamra)

Egyptian protesters throw stones at riot police, not seen, during clashes near Tahrir Square in Cairo, Egypt, Wednesday, Jan. 30, 2013. Egypt's liberal opposition leader called for a broad national dialogue with the Islamist government, all political factions and the powerful military on Wednesday, aimed at stopping the country's eruption of political violence that has left scores dead in the past week. (AP Photo/Khalil Hamra)

Egyptian riot police arrest a man during clashes with protesters near Tahrir Square in Cairo, Egypt, Wednesday, Jan. 30, 2013. Egypt's liberal opposition leader called for a broad national dialogue with the Islamist government, all political factions and the powerful military on Wednesday, aimed at stopping the country's eruption of political violence that has left scores dead in the past week. (AP Photo/Khalil Hamra)

Pro and anti-government protesters throw stones during clashes near Tahrir Square in Cairo, Egypt, Wednesday, Jan. 30, 2013. Egypt's liberal opposition leader called for a broad national dialogue with the Islamist government, all political factions and the powerful military on Wednesday, aimed at stopping the country's eruption of political violence that has left scores dead in the past week. (AP Photo/Khalil Hamra)

Egyptian riot police march during clashes with protesters, not seen, near Tahrir Square in Cairo, Egypt, Wednesday, Jan. 30, 2013. Egypt's liberal opposition leader called for a broad national dialogue with the Islamist government, all political factions and the powerful military on Wednesday, aimed at stopping the country's eruption of political violence that has left scores dead in the past week. (AP Photo/Khalil Hamra)

Egyptian protesters throw stones at riot police, not seen, during clashes near Tahrir Square, Cairo, Egypt, Wednesday, Jan. 30, 2013. Egypt's liberal opposition leader called for a broad national dialogue with the Islamist government, all political factions and the powerful military on Wednesday, aimed at stopping the country's eruption of political violence that has left scores dead in the past week. (AP Photo/Khalil Hamra)

Pro and anti-government protesters throw stones during clashes near Tahrir Square, Cairo, Egypt, Wednesday, Jan. 30, 2013. Egypt's liberal opposition leader called for a broad national dialogue with the Islamist government, all political factions and the powerful military on Wednesday, aimed at stopping the country's eruption of political violence that has left scores dead in the past week. (AP Photo/Khalil Hamra)

Pro and anti government protesters throw stones during clashes near Tahrir Square, Cairo, Egypt, Wednesday, Jan. 30, 2013. Egypt's liberal opposition leader called for a broad national dialogue with the Islamist government, all political factions and the powerful military on Wednesday, aimed at stopping the country's eruption of political violence that has left scores dead in the past week. (AP Photo/Khalil Hamra)

Egyptian riot police arrest a young man during clashes with protesters near Tahrir Square, Cairo, Egypt, Wednesday, Jan. 30, 2013. Egypt's liberal opposition leader called for a broad national dialogue with the Islamist government, all political factions and the powerful military on Wednesday, aimed at stopping the country's eruption of political violence that has left scores dead in the past week. (AP Photo/Khalil Hamra)

An Egyptian protester throws stones at riot police, not seen, during clashes near Tahrir Square in Cairo, Egypt, Wednesday, Jan. 30, 2013. Egypt's liberal opposition leader called for a broad national dialogue with the Islamist government, all political factions and the powerful military on Wednesday, aimed at stopping the country's eruption of political violence that has left scores dead in the past week. (AP Photo/Khalil Hamra)

A man covers his face with a mask of Egypt President Mohammed Morsi during a protest in front of the chancellery against the visit of Morsi prior to a meeting of him with German Chancellor Angela Merkel in Berlin, Germany, Wednesday, Jan. 30, 2013. (AP Photo/Markus Schreiber)

Pro and anti-government protesters throw stones during clashes near Tahrir Square in Cairo, Egypt, Wednesday, Jan. 30, 2013. Egypt's liberal opposition leader called for a broad national dialogue with the Islamist government, all political factions and the powerful military on Wednesday, aimed at stopping the country's eruption of political violence that has left scores dead in the past week. (AP Photo/Khalil Hamra)