The Falkland Islands will be Argentine sovereign territory within 20 years, according to the country's foreign minister.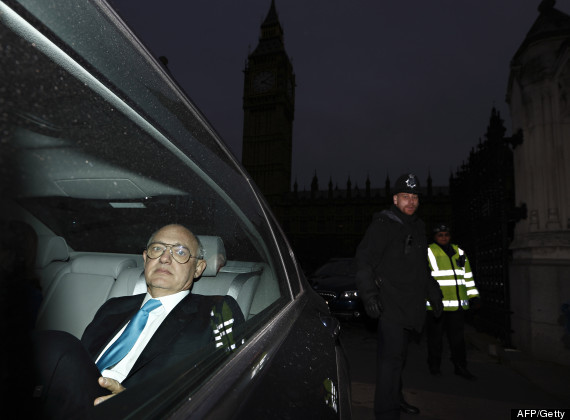 Timerman leaves in a car from the Houses of Parliament
He also dismissed the notion that the Argentine government was sabre rattling to engender domestic support in a country struggling through a severe economic downturn.
In an interview with the Guardian and Independent newspapers, Timerman said: "It is the United Kingdom that is going through an economic crisis and is becoming isolationist more than Argentina," adding that Britain stood alone in its claim to the archipelago.
Dismissing the British as "fanatics", Timerman said that London was only interested in the island chain due to the oil reserves.
"The United Kingdom has never missed an opportunity to miss an opportunity to find a solution for the Malvinas," he said.
"I don't think it will take another 20 years. I think that the world is going through a process of understanding more and more that this is a colonial issue, an issue of colonialism, and that the people living there were transferred to the islands.
"We have been trying to find a peaceful solution for 180 years. I think the fanatics are not in Buenos Aires (but) maybe in the United Kingdom because they are 14,000km (8,700 miles) away from the islands.
"And I think they are using the people living in the islands for political (reasons) and to have access to oil and natural resources which belong to the Argentine people. I think we are not fanatical at all."
When questioned over his reticence to meet with the Falkland Islanders for three-party talks over sovereignty, Timerman said: "There is not one single country in the world which supports the right of the United Kingdom to govern over the Malvinas. Not one."
"According to the United Nations, there are only two parties to the conflict - the United Kingdom and the Republic of Argentina. It is an issue that has to be resolved by Argentina and the United Kingdom," he said.
"By introducing a third party, the United Kingdom is changing more than 40 resolutions by the United Nations, which call the two countries to negotiate."
The Argentine politician was equally dismissive of next month's referendum in which the islanders will go to the polls over whether to remain part of British sovereign territory.
"If you ask the colonial people who came with a colonial power and replaced the people who were living in the islands, it is like asking the British citizens of the Malvinas Islands if they want to remain British."
"The self-determination referendum doesn't apply to the Malvinas. It is not a colonised people, it is a colonised territory," he added.
"It is not a matter for negotiation. Not one single country in the world recognises the sovereignty of the United Kingdom in the Malvinas.
"We have to respect the interests of the people living in the area but not the wishes."
SUBSCRIBE TO & FOLLOW UK DAILY BRIEF