The lives of 95 babies could be saved every hour - 830,000 a year - if new mothers started breastfeeding their newborns in the "power hour" immediately after the birth, a charity said on Monday.
If babies receive colostrum - the mother's first milk - within an hour of birth, it will kickstart the child's immune system, making them three times more likely to survive, according to a report by Save the Children.
If the mother continues feeding for the next six months, then a child growing up in the developing world is up to 15 times less likely to die from killer diseases such as pneumonia and diarrhoea, the Superfood for Babies report says.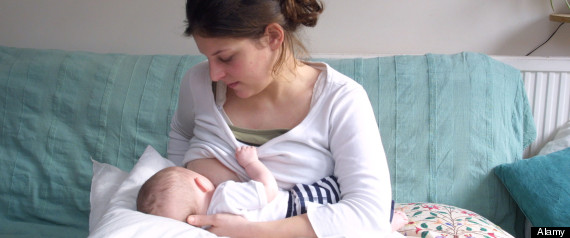 Breastfeeding early could improve a child's health
According to the charity, the enormous progress already made in reducing child mortality could be accelerated if more mothers were encouraged to breastfeed.
Despite the startling statistics, global breastfeeding rates are stalling and actually declining across East Asia and in some of Africa's most populous countries such as Ethiopia and Nigeria.
The prevalence of traditional practices, as well as a severe shortage of health workers and examples of inappropriate marketing techniques by some baby milk substitute companies, have contributed to this.
Pregnancy Hits The Headlines
A debilitating phobia of pregnancy and childbirth left an already bereaved mother with no choice other than to abort her second baby. Tokophobia affects up to one in ten women, with some so fearful they liken maternity wards to torture chambers. Charlotte Arnold suffered so badly, she ended up aborting her second child because she was too scared to continue with the pregnancy. Read more here.

The common belief that pregnant women can eat for two has been scotched by research suggesting dieting during pregnancy can be beneficial. Experts found that weight management was not only safe but could also reduce complications for pregnant women and be advantageous to the baby. Read the full story here.

Canadian research has revealed that mothers who have flu shots during pregnancy reap unexpected health rewards for their babies. Read the full story here.

When six-month pregnant Jenny Wright was called a 'selfish cow' while out for a run in Leeds' Roundhay Park, she assumed she'd misheard. Read the full story here.

Women who fall pregnant while dieting are more likely to have a child that could become obese or diabetic in later life, new research suggests. Read the full story here.

Pregnant women are spending more time in labour now than 50 years ago, a recent study has discovered. Read the full story here.

Most women probably wish they could get their nine months of pregnancy in four minutes - even if it would leave only a few seconds to decorate the nursery, but at least morning sickness is over in a millisecond. Osher Grencel's pregnancy appears to be happening at the speed of light as husband Tomer took more than 1000 photographs of her in comfy tracksuit bottoms and a white crop top as her pregnant belly grows, morning sickness passes and cribs and prams bought. Read more here.

Eating chips during pregnancy can lead to significant health problems for new born babies, research suggests. Consuming a vast quantity of chips, crisps and biscuits during pregnancy can lead to babies having a lower than average birth weight, the study found. Mothers-to-be who have a high intake of acrylamide - which is found in commonly consumed foods and coffee - are also more likely to have a baby which has a smaller head circumference. Read more here.
Justin Forsyth, Save the Children chief executive, said: "Despite the benefits of breastfeeding being widely known in the developed world, and it being a free, natural way to protect a newborn baby, too little attention is being paid to help mums breastfeed in poorer countries."
The charity believes four key factors are to blame: a lack of empowerment and education for women, severe shortages of midwives and health workers in the developing world, lack of adequate maternity legislation and marketing practices by some breast milk substitute companies.
In East Asia and the Pacific, the number of breastfeeding mothers has fallen from 45% in 2006 to 29% in 2012.
New research by the charity in Asia found mothers who cited examples of marketing activity which violate the internationally agreed code for marketing of breast milk substitutes.
The charity says women who give birth with the help of skilled birth attendants are twice as likely to breastfeed in the first crucial hour and that plugging a critical gap of 3.5 million health workers would dramatically increase the number of breastfeeding mums.
LIKE HUFFPOST UK LIFESTYLE ON FACEBOOK | FOLLOW US ON TWITTER
Mr Forsyth said: "If every baby was fed during the first hour of life - what we call the 'power hour' - we estimate that up to 830,000 newborn deaths could be prevented every year; that's 95 babies every hour.
"And if mums were helped to breastfeed for up to six months, many more children would be protected from killer diseases like pneumonia and diarrhoea. It is a matter of life and death."
The charity says that stopping children from dying from preventable disease and hunger is possible in our lifetime but only if world leaders step up their fight with greater funding for malnutrition, and breastfeeding in particular.
See also: Natasha Kaplinsky Travels To Sierra Leone To Find Out More
Mr Forsyth added: "The world is at tipping point and we could be the generation to stop children dying from preventable disease and malnutrition.
"This year's G8 - with the UK in the driving seat - is a once in a lifetime opportunity to focus effort on a final push to end hunger."
The charity is calling on the UK Government to use its hunger summit and G8 presidency in June to fund nutrition work with breastfeeding and for other donor countries to step up their funding for nutrition.
It also wants breast milk substitute companies to increase health warnings that formula is inferior to breast milk to cover one-third of its packaging.