UPDATE: Well Done Wonky! Abandoned Puppy With Crooked Legs Is Back On Her Feet (PICTURES, VIDEO)
A puppy with deformed legs is looking for a new home after being callously abandoned.
The eleven-week-old Staffordshire Bull Terrier needs special care and attention as she attempts to recover from the horrifying joint "knuckling" that has ravaged her tiny body.
Since being brought to Dogs Trust a fortnight ago, the little hound has been affectionately named Wonky.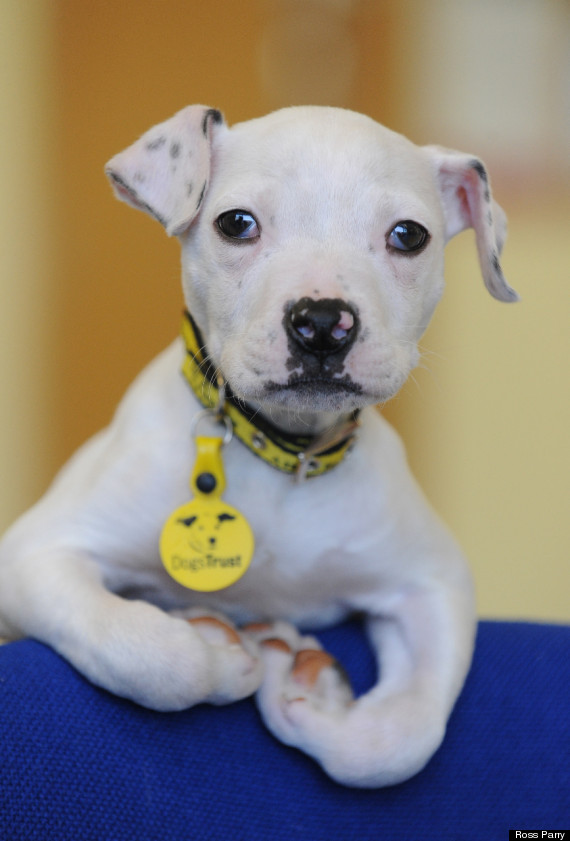 Staffordshire Bull Terrier Wonky suffers from an extreme knuckling of the carpal joints
With two underdeveloped front legs and her "untraditional looks", staff are worried she may struggle to find a new owner but hope a canine lover can take her in after seeing these adorable images.
Amanda Sands, manager at Dogs Trust Leeds, said: "She's suffering from an extreme case of the condition known as knuckling of the carpal joints. This is caused by contraction of the tendons which prevents the wrist joint from extending fully. Her front feet bend inwards because her tendons are too short.
"It's such a sad case because this is completely preventable if only she'd had the right love and care.
"She has not had the right supplements to enable her to grow properly and so her front legs are too weak.
"We don't know everything about her background but we think that she was removed from her mother too early and was then abandoned. She has not had the right nutrition and a poor diet has meant her front legs are underdeveloped."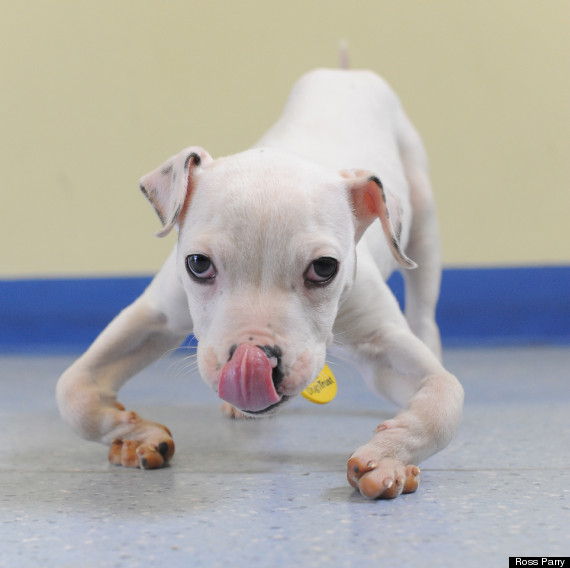 Wonky needs special care and attention to help cope with her condition
Since arriving at the centre on February 7, brave Wonky is already showing signs of improvement after receiving regular physiotherapy treatment to straighten her legs.
Amanda said: "Physiotherapy will really help to strengthen her muscles. We have to stretch her legs into a straight position 30 times twice a day. Hopefully in time her legs will begin to straighten to aid her walking.
"She will need regular trips to the specialist vet to keep a track of her progress. At the minute she is able to walk but she rests her weight on her front joints as her legs are bent.
"With the right treatment, she will hopefully be able to live a normal life and do all the things a puppy should be able to enjoy.
"At the minute, she struggles to run and can only be taken on very short walks which is very sad to see."
Staff at the centre are looking for owners who can continue her physiotherapy - with costs supplemented by Dogs Trust.
SEE ALSO:
"She is fabulous. She's very affectionate and friendly and has settled into the centre well," said Amanda.
"Her condition has not affected her character and she's just like a typical puppy - full of energy and ready to play.
"She'd make a lovely addition to a happy home with owners that can take the time to settle her in and, with a little love and care, her legs will improve and she will get a new lease of life.
"It's very important that her new owners are able to continue her physiotherapy so she can live life to the full.
"She's had a very tough start in life. She was taken from her mother too early and was then having to fend for herself on the streets at just nine-weeks old.
"She isn't a traditionally pretty pooch but she's a lovely girl with a great character.
"We really hope people can see beyond appearances and someone can give her the fresh start she deserves - a new home where she'll be loved and cared for."
If you would like to give Wonky a happy ending, call Dogs Trust Leeds on 0113 281 4920.
Loading Slideshow
Back in 2009, LaNola Kathleen Stone, a New York-based photographer, took photos of 15 dogs in an East Harlem shelter who were unlikely to get adopted. All but one eventually found a home.

Back in 2009, LaNola Kathleen Stone, a New York-based photographer, took photos of 15 dogs in an East Harlem shelter who were unlikely to get adopted. All but one eventually found a home.

Back in 2009, LaNola Kathleen Stone, a New York-based photographer, took photos of 15 dogs in an East Harlem shelter who were unlikely to get adopted. All but one eventually found a home.

Back in 2009, LaNola Kathleen Stone, a New York-based photographer, took photos of 15 dogs in an East Harlem shelter who were unlikely to get adopted. All but one eventually found a home.

Back in 2009, LaNola Kathleen Stone, a New York-based photographer, took photos of 15 dogs in an East Harlem shelter who were unlikely to get adopted. All but one eventually found a home.

Back in 2009, LaNola Kathleen Stone, a New York-based photographer, took photos of 15 dogs in an East Harlem shelter who were unlikely to get adopted. All but one eventually found a home.

Back in 2009, LaNola Kathleen Stone, a New York-based photographer, took photos of 15 dogs in an East Harlem shelter who were unlikely to get adopted. All but one eventually found a home.

Back in 2009, LaNola Kathleen Stone, a New York-based photographer, took photos of 15 dogs in an East Harlem shelter who were unlikely to get adopted. All but one eventually found a home.

Back in 2009, LaNola Kathleen Stone, a New York-based photographer, took photos of 15 dogs in an East Harlem shelter who were unlikely to get adopted. All but one eventually found a home.
ANIMALS IN THE NEWS:

Loading Slideshow
Elephant Votes in Thailand

Elephant puts a ballot in ballot box during campaign to promote the general election in Ayutthaya province on June 21, 2011. The July 3 general election will be the first since Thailand was rocked by its deadliest political violence in decades last year, when more than 90 people died in street clashes between armed police and opposition protesters. (Pornchai Kittiwongsakul, AFP/Getty Images)

Feline Elvis Dies At Age 9

<a href="https://www.facebook.com/photo.php?fbid=726326990716438&set=a.561893947159744.145379.100000174321818&type=1&theater" target="_hplink">Elvis,</a> a Savannah cat, who weighed 24.8 pounds and measured 40 inches from tip to tail, recently died from a tumor in its sinus cavity.

Gemini, The Two Faced-Kitten

Sadly, Gemini, a kitten from Rhode Island, had a short life.

Rare Lobsters

The odds of seeing these three together are roughly 1 in 900 quintillion -- but a series of timely donations has allowed Connecticut's Maritime Aquarium to put together one of the most unusual lobster displays ever. While the blue lobster is a 1 in a million catch, the orange and calico are even rarer -- with the odds of finding them roughly 1 in 30 million.

LEFT: The Stargazer fish which bears an uncanny resemblance to Homer Simpson. (Caters News / Getty Images)

At two weeks old, Beyonce, a Dachsund mix born at a Northern California animal shelter, is just under four inches long and is in the running for the title of World's Smallest Dog. Here she is pictured resting on an iPhone.

Sprinkles the Koala

'Sprinkles' the Koala following her life saving radiation treatment at the Brisbane Veterinary Specialist Centre in Brisbane, Australia, August 9, 2011. Suffering from an extremely rare case of excessive drooling, sprinkles developed a skin infection due to the excessive moisture flowing from her mouth.

Trouble, The Millionaire Dog

Hotel magnate Leona Helmsley left $12 million for her dog Trouble when she died in 2007, but a judge reduced the bequest to $2 million.

Alexander Lacey, Animal Trainer

Alexander Lacey, the big cat trainer for Ringling Brothers And Barnum & Bailey Circus, has been working with lions and tigers for 18 years, ever since he followed his dad into the business.

Charlie the Cat

He-Who-Must-Not-Be-Named? No, it's Charlie -- an unlucky cat who happens to look just like the evil Lord Voldemort from the "Harry Potter" films. Charity workers are trying to find a new home for the British kitty, who lost his nose and ears to skin cancer.

Elephant in Water Reservoir

Indian army personnel use a bulldozer during a rescue mission to save a wild elephant trapped in a water reservoir tank at Bengdubi army cantonment area some 25 kms from Siliguri on August 30, 2011. A wild elephant fell into the water reservoir tank as a herd crossed the area. Army personnel of 16 Field Ammunition Depot along with wildlife elephant squad of Mahananda wildlife sanctuary joined forces to save the animal.

Dogs Behind The Wheel

The New Zealand SPCA taught dogs to drive as part of a campaign meant to demonstrate the intelligence or rescue dogs and boost adoption rates. Yes, these dogs are actually driving cars. <a href="http://www.huffingtonpost.com/2012/12/05/dogs-driving-cars-new-zealand-spca_n_2244476.html" target="_hplink">Read the whole story here.</a>

Big Litter

Hania, a 4-year-old Great Dane, feeds her 3-day-old puppies in the Warsaw suburb of Nowa Iwiczna on March 17. Hania gave birth by cesarean section to 17 puppies.

Charles the Monarch

Charles the Monarch, a Labradoodle, looks so much like a lion that he has sparked multiple 911 calls from concerned citizens fearing that the king of beasts was on the loose

Elephant with Prosthetic Leg

Motala, age 50, rests in the afternoon sun with the new prosthetic made for her at the Friends of the Asian Elephant (FAE) elephant hospital in the Mae Yao National Reserve August 29, 2011 Lampang,Thailand. Motala lost a foot many years back after stepping on a land mine and now is on her third prosthetic, as they need to be changed according to the weight of the elephant. The world's first elephant hospital assists in medical care and helps to promote a better understanding of the elephant's physiology, important in treating them for illness. For generations elephants have been a part of the Thai culture, although today the Thai elephant mostly is domesticated animal, since Thailand now has few working elephants. Many are used in the tourism sector at special elephant parks or zoos, where they perform in shows. In some cases Thailand is still deals with roaming elephants on the city streets, usually after the mahout, an elephant driver, becomes unemployed, which often causes the elephant serious stress.

Silverback Strut

Ambam, a silverback gorilla at the Port Lympne Wild Animal Park in Kent, England, shows off the stance that's turned him into a viral video sensation. Ambam doesn't do the typical ape walk -- he stands and struts like a person.

Heidi, the cross-eyed opossum

Heidi the cross-eyed opossum is pictured in her enclosure at the zoo in Leipzig, eastern Germany on June 9, 2011. Heidi moved to her new enclosure at the Gondwanaland tropical experience world, which will be inaugurated on July 1, 2011 and where Heidi will be presented to the public for the first time. Cross-eyed Heidi made the headlines in December 2010 and became an internet hit, winning more than 65,000 "friends" on social networking website Facebook.

Shortest Roadworthy Car

The "Mirai", which means 'future' in Japanese, measures 17.79 inches from the ground to highest part of the car. It was created by students and teachers of The Automobile Engineering Course at Okayama Sanyo High School in Asakuchi, Japan.

Painted Roadkill

This photo provided by Sean McAfee from Thursday, Aug. 2, 2012, shows a dead raccoon that McAfee saw with the road dividing line painted over it before he stopped his motorcycle to take the picture on Franklin Rd. in Johnstown, Pa. According to PennDOT traffic engineer John Ambrosini, paint crews know to avoid such animals and usually have a foreman on the job to clear any dead animals off the road before the paint-spraying truck equipment passes by. This crew didn't have a foreman that day, and the equipment was too big to turn around in traffic on the curvy, narrow road so the line could be repainted without the carcass in the way.

Open Rabbit Sport Tournament

Lisa Marie Bach leads her pet rabbit Marie through an obstacle course in the middle-weight category at the 5th Open Rabbit Sport Tournament (5. offene Kaninchensport Turnier) on August 28, 2011 in Rommerz near Fulda, Germany. Eighty rabbits competed in light-weight, middle-weight and jumping-for-points categories at today's tournament in Rommerz that is based on Kanin Hop, or Rabbit Hopping. Rabbit Hopping is a growing trend among pet rabbit owners in Central Europe and the first European Championships are scheduled to be held later this year in Switzerland.

Catherine Baucom, Surgeon, Avoids Traffic Jam By Riding Child's Bike To Operating Room

When a traffic jam kept surgeon Catherine Baucom from driving to work to meet a patient, she borrowed the bike of a 7-year-old and started pedaling.

Leaping Lemurs

A group of lemurs encounters a unusual roadblock on the way to their feeding den: a turtle. The lemurs clearly don't want to get into a territorial spat with the creature... so they take turns leaping over it in this photo sequence shot at the Indianapolis Zoo.

IKEA Monkey

Look at that coat! <a href="http://www.huffingtonpost.com/2012/12/10/ikea-monkey-toronot_n_2270707.html?1355150852" target="_hplink">This little animal</a> got loose in an IKEA parking lot in Toronto. It was apparently scared, but eventually was reclaimed by its owners who were inside the store when the monkey escaped from its cage.

Andre The Turtle

Thirteen months ago, Andre the turtle suffered massive injuries from boats that left a massive hole in his shell and the inside of his body exposed to the elements. However, thanks to some innovative treatments, including using orthodontic techniques to repair his shell and a vacuum treatment on open wounds, he is scheduled to be set free on Aug. 3.

Earless Bunny

A new-born rabbit without ears is held in Namie City, just outside the 30km exclusion zone of the Fukushima Daiichi nuclear power station. The owner of the rabbit says it was born without ears on May 7.

China Liger Cubs

In this photo taken on Thursday, May 19, 2011, a dog nurses two liger cubs at a zoo in Weihai in east China's Shandong province. Cong Wen of Xixiakou Wildlife Zoo in eastern China says four cubs were born to a female tiger and a male lion on May 13. The tiger mom fed the ligers for four days then for unknown reasons abandoned them, she says. Chinese zoo workers brought in a dog to nurse them instead, but two died of weakness. (AP)

Animals In The News

This pet duck, named 'Duckie,' won't hurt himself on the hot sands of San Diego's beaches thanks to a pair of customized booties made especially for him. Previously, the owner, who goes by the name "Miss Love," had been putting duct tape over his feet instead.

Space Alien?

The "alien" creature discovered in South Africa on July 10, 2013 is actually a baboon, a local veterinarian confirmed this week. The next slide is a close-up of the animal's head.

Cat Cafes Threatened In Tokyo

TOKYO - JANUARY 20: A woman strokes a cat at Nekorobi cat cafe on January 20, 2009 in Tokyo, Japan. Changes to Japan's Animal Protection Law threaten the future of these furry bars by imposing a curfew on cats and dogs. (Photo by Junko Kimura/Getty Images)

Elephant Polo -- Sept. 2011

Elephant polo players from the Spice girls team (left) and the British Airways British Army team battle it out for 5th place during the final day at the King's Cup Elephant polo tournament Sept. 11, 2011, in Hua Hin, Thailand.This year marked the 10th edition of the polo tournament with 12 international teams participating for the unusual annual charity sports event.

Rebecca Reichart, Leroy Nunez, Nicholas Coutu, Claudia Grant, Kenneth Krysko

In an Aug. 10, 2012 photo provided by the University of Florida, Florida Museum of Natural History researchers, from left, Rebecca Reichart, Leroy Nunez, Nicholas Coutu, Claudia Grant and Kenneth Krysko examine the internal anatomy of the largest Burmese python found in Florida to date, on the University of Florida campus. The 17-foot-7-inch snake weighed 164 pounds and carried 87 eggs in its oviducts, a state record. Following scientific investigation, the snake will be mounted for exhibition at the museum for about five years, and then returned for exhibition at Everglades National Park. (AP Photo/University of Florida, Kristen Grace)

Bear in Hot Tub

Jenny Sue Rhoades sat down on her couch to watch television when something outside caught her eye. It was a large Florida black bear walking through the back yard of her Barry Court home in southwest Seminole County.

Posing Praying Mantis

Giant Malaysian Shield Praying Mantis pictured in Igor's studio in Munich, Germany.

Titanic Toad

Of course she's unhappy. Who likes getting weighed right after the holidays? This is Agathe, a cane toad, and she's sitting on a toy scale during an annual animal inventory at the Hanover Zoo in Germany on Jan. 5. Agathe weighs a slight hop over 4 pounds.

Piglet In Hotel Lobby

This adorable injured baby pig was found roaming a hotel lobby near Honolulu's airport. The Hawaiian Humane Society renamed her Pukalani and says she'll be available for adoption later in March.

Off-Road Alligator

The flattened and preserved reptile is at the center of possible legal action against three area men charged with it's theft and subsequent display on a Ford pickup at a nearby mud-bogging party in Michigan.

Dog With Man's Face

Meet Tonik, a poodle-shih tzu mix that is up for adoption at <a href="https://www.homewardboundawg.com/" target="_hplink">Homeward Bound Pet Rescue</a> in Mishawaka, Ind. (Credit:<a href="http://www.petphotosbyrenny.com/" target="_hplink"> Renny Mills Photography</a>)

Roo the Reading Dog

Roo the Reading Education Assistance Dog (R.E.A.D) helps a pupil at Graytown Elementary School in Graytown, Ohio.

Star the Duck

District councils have slapped a collecting ban on one of the West Country's most loveable characters - Star, the bowtie wearing DUCK (pictured) See SWNS story SWDUCK; Star the duck, who has raised more than £6,500 may be forced to quit after he has been told he is no longer allowed to collect for Children's Hospice South West without a permit. District councils believe Star should be fair to all charities and want to limit how often members of the public are asked to donate by various organisations to avoid it becoming "irritating." His owner, Barrie Hayman, from Bideford, Devon, was left furious at the decision and wants to try and raise the most money possible for the sick children.

'Cupid' The Cat -- Jan. 2012

This stray orange tabby in Houston earned the nickname 'Cupid' after he survived a piercing shoulder to shoulder wound in January 2012. A vet safely removed the arrow and 'Cupid' is expected to make a complete recovery.

Britain's Saddest Puppy

Six-month-old puppy Princess has such delicate skin she can't go outside. While other dogs run free at Britain's Bleakholt Animal Sanctuary, Princess must gaze through the window. But this canine, otherwise known as Britain's Saddest Puppy, has become a minor celebrity in the media.

Giant Shark Caught In Mexico.

Two fishermen in northeastern Mexico claim they netted a dead great white shark estimated to be near 20-feet-long on April 15, 2012.

World's Smallest Cow

Swallow, an 11-year-old sheep-sized cow from the West Yorkshire region of England, is one of the stars of the 2011 edition of "Guinness World Records." This 33-inch-high Dexter is the world's smallest cow.

Lion Tries to Eat Baby Dressed as Zebra

This situation sounds scary, but it's actually quite cute. A lion at the Oregon Zoo tries to get a baby! One-year-old Jack was visiting the zoo with his family while wearing a black and white striped jacket. There were lots of children at the zoo that day, but the lion only came over whenever Jack sat down by the glass. The lion scratched and bit the glass partition separating the two, but the he seemed to be unphased by the commotion. Some think the lion thought Jack looked like a baby zebra.

Seal Pup Survivor

This little seal was nearly strangled to death when it got tangled up in a discarded G-string thong near the Lovers Leap Cliffs of New Zealand. Luckily, a passerby saw the panicked pup, and conservation workers were able to free the animal from the offending garment.

Kitten Found In Car Engine

After driving about 85 miles to Santa Cruz, Calif., a man discovered that this runaway kitten had been inside his car's engine in March 2012.

Shar Pei Nurses Endangered Tiger Cubs

In this picture taken, Monday, June 4, 2012, Shar Pei dog Cleopatra feeds two baby tigers in the Black Sea resort of Sochi, southern Russia. Two baby tigers whose mother refused to feed them found an unusual wet nurse, a wrinkled, sand-colored Shar Pei dog named Cleopatra. The cubs were born in late May in a zoo at the October health resort in Sochi.

Horse rescued from pool

The horse, which is boarded on the 4 acres of land next to the O'Brien's home, backed into the swimming pool where it became trapped. Officials with the Brevard Zoo, a veterinarian, and the Brevard County Fire Department responded along with a hazardous materials team. The horse was not injured.

Two Legged Lamb

A farmer in China's Shandong province has saved a two-legged lamb after being touched by its struggle to survive. Farmer Cui Jinxiu said the lamb was one of two born in July 2010. "The first one was a very healthy and normal one," she told Rex USA. "However, the second one surprised me. With a further look I was surprised to find that the lamb only has two legs." The family thought the lamb wouldn't survive, but it proved its strong desire to live. "I thought of dumping it after it was born, but the next morning it even stood up by itself."

Orangutan Kicks Smoking -- Sept. 2011

An orangutan in Malaysia is kicking its smoking habit. Wildlife officials have removed Shirley from a state zoo after the captive primate was regularly spotted smoking cigarettes that zoo visitors had tossed into its enclosure.

World's Smallest Living Cat -- Oct. 2011

Fizz Girl, a Munchkin Cat from San Diego, Calif., has grabbed the record title for Shortest Living Cat. Measuring in at just 6 inches tall from floor to shoulder, Fizz Girl weighs 4 pounds, 2.3 ounces. Munchkin cats are a special breed that have little legs caused by a naturally occurring genetic mutation.