UPDATE: Well Done Wonky! Abandoned Puppy With Crooked Legs Is Back On Her Feet (PICTURES, VIDEO)
A puppy with deformed legs is looking for a new home after being callously abandoned.
The eleven-week-old Staffordshire Bull Terrier needs special care and attention as she attempts to recover from the horrifying joint "knuckling" that has ravaged her tiny body.
Since being brought to Dogs Trust a fortnight ago, the little hound has been affectionately named Wonky.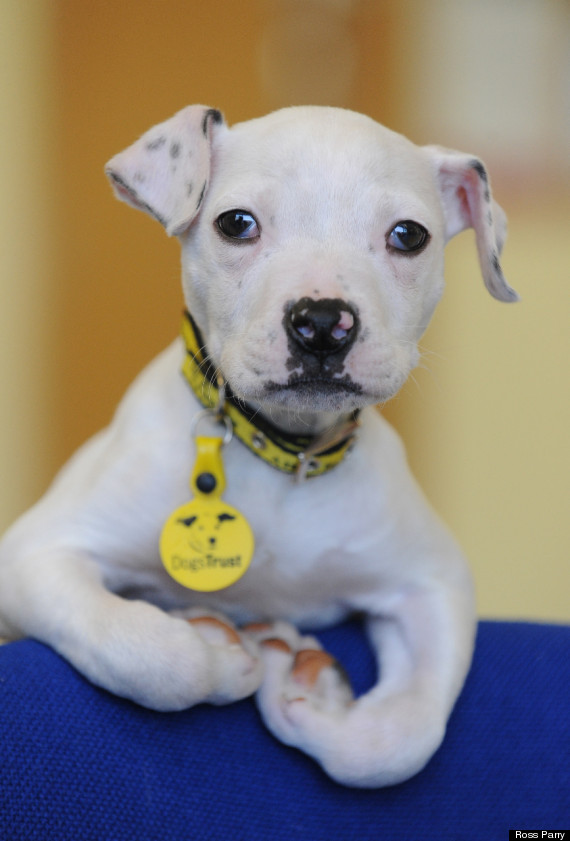 Staffordshire Bull Terrier Wonky suffers from an extreme knuckling of the carpal joints
With two underdeveloped front legs and her "untraditional looks", staff are worried she may struggle to find a new owner but hope a canine lover can take her in after seeing these adorable images.
Amanda Sands, manager at Dogs Trust Leeds, said: "She's suffering from an extreme case of the condition known as knuckling of the carpal joints. This is caused by contraction of the tendons which prevents the wrist joint from extending fully. Her front feet bend inwards because her tendons are too short.
"It's such a sad case because this is completely preventable if only she'd had the right love and care.
"She has not had the right supplements to enable her to grow properly and so her front legs are too weak.
"We don't know everything about her background but we think that she was removed from her mother too early and was then abandoned. She has not had the right nutrition and a poor diet has meant her front legs are underdeveloped."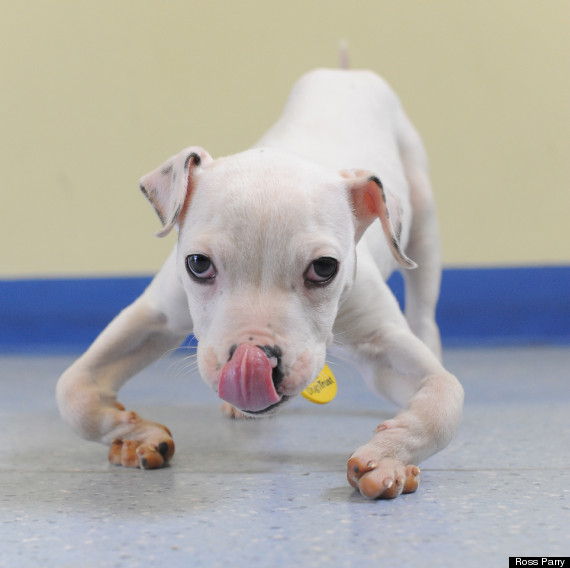 Wonky needs special care and attention to help cope with her condition
Since arriving at the centre on February 7, brave Wonky is already showing signs of improvement after receiving regular physiotherapy treatment to straighten her legs.
Amanda said: "Physiotherapy will really help to strengthen her muscles. We have to stretch her legs into a straight position 30 times twice a day. Hopefully in time her legs will begin to straighten to aid her walking.
"She will need regular trips to the specialist vet to keep a track of her progress. At the minute she is able to walk but she rests her weight on her front joints as her legs are bent.
"With the right treatment, she will hopefully be able to live a normal life and do all the things a puppy should be able to enjoy.
"At the minute, she struggles to run and can only be taken on very short walks which is very sad to see."
Staff at the centre are looking for owners who can continue her physiotherapy - with costs supplemented by Dogs Trust.
SEE ALSO:
"She is fabulous. She's very affectionate and friendly and has settled into the centre well," said Amanda.
"Her condition has not affected her character and she's just like a typical puppy - full of energy and ready to play.
"She'd make a lovely addition to a happy home with owners that can take the time to settle her in and, with a little love and care, her legs will improve and she will get a new lease of life.
"It's very important that her new owners are able to continue her physiotherapy so she can live life to the full.
"She's had a very tough start in life. She was taken from her mother too early and was then having to fend for herself on the streets at just nine-weeks old.
"She isn't a traditionally pretty pooch but she's a lovely girl with a great character.
"We really hope people can see beyond appearances and someone can give her the fresh start she deserves - a new home where she'll be loved and cared for."
If you would like to give Wonky a happy ending, call Dogs Trust Leeds on 0113 281 4920.
Loading Slideshow
Back in 2009, LaNola Kathleen Stone, a New York-based photographer, took photos of 15 dogs in an East Harlem shelter who were unlikely to get adopted. All but one eventually found a home.

Back in 2009, LaNola Kathleen Stone, a New York-based photographer, took photos of 15 dogs in an East Harlem shelter who were unlikely to get adopted. All but one eventually found a home.

Back in 2009, LaNola Kathleen Stone, a New York-based photographer, took photos of 15 dogs in an East Harlem shelter who were unlikely to get adopted. All but one eventually found a home.

Back in 2009, LaNola Kathleen Stone, a New York-based photographer, took photos of 15 dogs in an East Harlem shelter who were unlikely to get adopted. All but one eventually found a home.

Back in 2009, LaNola Kathleen Stone, a New York-based photographer, took photos of 15 dogs in an East Harlem shelter who were unlikely to get adopted. All but one eventually found a home.

Back in 2009, LaNola Kathleen Stone, a New York-based photographer, took photos of 15 dogs in an East Harlem shelter who were unlikely to get adopted. All but one eventually found a home.

Back in 2009, LaNola Kathleen Stone, a New York-based photographer, took photos of 15 dogs in an East Harlem shelter who were unlikely to get adopted. All but one eventually found a home.

Back in 2009, LaNola Kathleen Stone, a New York-based photographer, took photos of 15 dogs in an East Harlem shelter who were unlikely to get adopted. All but one eventually found a home.

Back in 2009, LaNola Kathleen Stone, a New York-based photographer, took photos of 15 dogs in an East Harlem shelter who were unlikely to get adopted. All but one eventually found a home.
ANIMALS IN THE NEWS:

Loading Slideshow
Trouble, The Millionaire Dog

Hotel magnate Leona Helmsley left $12 million for her dog Trouble when she died in 2007, but a judge reduced the bequest to $2 million.

Space Alien Really A Baboon

This close-up of the head of the animal shown in the previous slide, was, according to a local veterinarian, a baby baboon photographed by park ranger Llewellyn Dixon. The animal was found near the South African resort town of Nature's Valley.

Goose and Deer Become Unlikely Friend

Wildlife experts in Buffalo, N.Y., have been amazed by an unusual springtime friendship between a deer and a nesting goose. It's a relationship that has blossomed inside a cemetery.

Crocodile in Belgium -- Dec. 2011

A man holds a crocodile with tape around its mouth, as workers from the Natuurhulpcentrum, a wildlife rehabilitation center, collect several crocodiles at a villa in Lapscheure, near the Dutch border, on Dec. 22, 2011. Police discovered eleven Nile crocodiles and one alligator (all alive) in a villa rented by a German man, Rolf D., during an investigation into financial fraud.

Bear in Hot Tub

Jenny Sue Rhoades sat down on her couch to watch television when something outside caught her eye. It was a large Florida black bear walking through the back yard of her Barry Court home in southwest Seminole County.

Heidi, The Cross-Eyed Possum

German media sensation Heidi the cross-eyed opossum is presented to the press at the Leipzig Zoo on June 9, 2011. On July 1st, 2011 Leipzig Zoo will open the 20,000m2 "Gondwanaland Tropical Experience World" to the public - a near-natural home for 300 exotic animals and more than 17,000 tropical plants with Heidi being one of its inhabitants.

Cat Cafes Threatened In Tokyo

TOKYO - JANUARY 20: A woman strokes a cat at Nekorobi cat cafe on January 20, 2009 in Tokyo, Japan. Changes to Japan's Animal Protection Law threaten the future of these furry bars by imposing a curfew on cats and dogs. (Photo by Junko Kimura/Getty Images)

Dolphin's Fake Tail

Winter, a six-year-old dolphin at the Clearwater Marine Aquarium in Florida, lost her tail when she was three months and now uses a prosthetic tail made especially for her.

Camel Fight

Afghan festival-goers watch as a "camel fight" starts during the second day of Persian new year, or "Nowruz," celebrations in Mazar-e-Sharif, in northern Afghanistan.

LEFT: The Stargazer fish which bears an uncanny resemblance to Homer Simpson. (Caters News / Getty Images)

Mass For Animals -- Oct. 2011

Gil Florini, of Saint-Pierre-d'Arene's church, blesses donkeys with holy water after a mass dedicated to animals on Oct. 9, 2011, in the southeastern French city of Nice.

Two-headed Bearded Dragon

A two-headed bearded dragon is set to be the latest attraction at the Venice Beach Freakshow. Pancho and Lefty sit in new owner Todd Ray's hand.

Clothing a Battered Chicken

Amy Leader with Sunny, a rescued chicken, in his newly-knitted sweater. Kind-hearted animal lovers have come to the rescue of a group of featherless chickens by knitting them their very own woolly sweaters. Sunny and his not-so-feathered friends were rehomed after being rescued from a poultry farm. Many of them are missing their plumage because the conditions they used to live in.

Roo the Reading Dog

Roo the Reading Education Assistance Dog (R.E.A.D) helps a pupil at Graytown Elementary School in Graytown, Ohio.

Missing Rare Indian Star Tortoise

Cheyenne Mountain Zoo's Tutti is a rare Indian star tortoise. Butti, the zoo's missing tortoise, looks similar to Tutti. The two are brothers and live at the zoo in Colorado Springs, Colo.

Allegedly Stolen Tortoise

FILE - In this undated file photo provided by Katlyn R. Gerken, a staff member of the National Mississippi River Museum & Aquarium in Dubuque, Iowa holds Cashew, an 18-pound African leopard tortoise. The museum said Friday, April 5, 2013, that an employee found the tortoise behind paneling in her enclosure and hid her in an elevator in a misguided attempt to prevent further embarrassment after officials announced Tuesday that they believed Cashew had been stolen.  (AP Photo/Katlyn R. Gerken, File)

Mutant Pig Dog

Locals in Xinxiang city scratched their heads over this four-legged creature, believing it to be a mutant escaped from a scientific lab. Cops confirmed that it is, in fact, a Chinese Crested Hairless.

Kitten Found In Car Engine

After driving about 85 miles to Santa Cruz, Calif., a man discovered that this runaway kitten had been inside his car's engine in March 2012.

Chimp Art

In art, there's primitivism and there's primate-vism. Meet Jimmy, a 26-year-old chimpanzee who can paint. Pictured while creating a painting on cardboard on Sept. 20 at a zoo in Niteroi, Brazil, the monkey's art works have caught the attention of zoological experts who plan a special exhibit for the chimp.

Elephant Polo -- Sept. 2011

Elephant polo players from the Spice girls team (left) and the British Airways British Army team battle it out for 5th place during the final day at the King's Cup Elephant polo tournament Sept. 11, 2011, in Hua Hin, Thailand.This year marked the 10th edition of the polo tournament with 12 international teams participating for the unusual annual charity sports event.

Animals In The News

This pet duck, named 'Duckie,' won't hurt himself on the hot sands of San Diego's beaches thanks to a pair of customized booties made especially for him. Previously, the owner, who goes by the name "Miss Love," had been putting duct tape over his feet instead.

Gary, the Kit-Kat Loving Fish.

Sea Life London Aquarium undated handout photo of a giant gourami that aquarium staff have weaned off chocolate.

Ranger Shoots Deers Whose Antlers Are Stuck

It was a shot in the dark, but an Illinois police officer manage to separate two whitetail deer whose antlers were tangled together -- by shooting them apart.

Hippo Goes to the Dentist

North Carolina Zoo Chief Veterinarian Dr. Mike Loomis recently returned from Bayamon, Puerto Rico, where he helped perform a dental procedure on a 3,000-lb. old friend. Loomis, along with veterinarians and keepers from the Parque de las Sciencias museums in Bayamon, conducted dental surgery on "Tomy," a 39-year-old male hippopotamus that the N.C. Zoo veterinarian has been treating on a semi-regular basis for two decades.

This image provided by the Los Angeles County Sheriff's Department shows an alligator Thursday June 6, 2013 in Lancaster, Calif. Part of the "Zoo to You" program in Paso Robles that introduces kids to animals, the alligator was being held by two females near a van after the animal urinated inside the van and the females had stopped to clean the the van. (AP Photo/ Los Angeles County Sheriff's Department)

Illegal snake colleciton

Thomas Cobb with his son Caiden show off several of his exotic reptiles that he keeps in a special basement room of his home Friday, April 26, 2013 in Cottonwood Heights, Utah. Cobb has been ordered by police to get rid of all but one of his 29 exotic boa constrictor snakes because he doesn

Dogs Wearing Pantyhose

Yep. Read about it and <a href="http://www.huffingtonpost.com/2013/04/05/dogs-in-pantyhose-china_n_3022069.html?1365188859&ncid=edlinkusaolp00000008" target="_hplink">see more photos here</a>.

Tyrannosaurus Bataar

The U.S. attorneys office sued Heritage Auctions of Texas in June to force it to return a Tyrannosaurus bataar skeleton to the Mongolian government.

Woman Punches Bear to Save Dog

Brook Collins holds her dog, Fudge, at her home in Juneau, Alaska on Tuesday, Aug. 30, 2011. Collins punched a black bear in the snout after the bear attacked Fudge on Sunday, Aug. 28.

Shortest Roadworthy Car

The "Mirai", which means 'future' in Japanese, measures 17.79 inches from the ground to highest part of the car. It was created by students and teachers of The Automobile Engineering Course at Okayama Sanyo High School in Asakuchi, Japan.

Dog With Man's Face

Meet Tonik, a poodle-shih tzu mix that is up for adoption at <a href="https://www.homewardboundawg.com/" target="_hplink">Homeward Bound Pet Rescue</a> in Mishawaka, Ind. (Credit:<a href="http://www.petphotosbyrenny.com/" target="_hplink"> Renny Mills Photography</a>)

In this March 5, 2013 photo, Nederland resident Mark Merchant, a biochemistry professor at McNeese State University holds many baby alligators in Lake Charles, La. You could say Mark Merchant has alligators in his blood. Before he was a biochemistry professor at McNeese State University studying the antibiotic properties of alligator blood, Merchant was just another Southeast Texas kid fishing with his grandpa on the bayous. (AP Photo/The Beaumont Enterprise, Dave Ryan)

Leaping Lemurs

A group of lemurs encounters a unusual roadblock on the way to their feeding den: a turtle. The lemurs clearly don't want to get into a territorial spat with the creature... so they take turns leaping over it in this photo sequence shot at the Indianapolis Zoo.

Boy Finds Lizard in Loaf of Bread

A HORRIFIED boy found a dead LIZARD in his Tesco toast as he munched his breakfast. William Evans, 10, screamed in terror after making the gruesome find - bringing his dad Marcus running from upstairs. Outraged Mr Evans, of Hawkchurch, near Axminster, Devon, said: "The poor little lad was absolutely traumatised by it. "He went to take a slice off for some toast, turned the loaf over and found the lizard stuck on the bottom." He added: "It was one of Axminster Tesco's baked in-store, multi-grain brown loaves. "The lizard had not been cooked so it must have got into the packaging and died there. "You could see the impression of its body in the bread so it must have been warm when he got in." William, a pupil at Hawkchurch Primary School, said: "I was making some toast and cut off a slice when I saw something that looked like a leaf. "So I took the wrapping off and found the lizard inside. "It certainly put me off my toast! "It was about two to three inches long." His mum Clare said it would have been even worse if William had sliced through the end with the lizard on it - and eaten it. "That would have been even more distressing," she said. Mr Evans, a volunteer church worker, said they had alerted Tesco's customer service department. He said they told him it was impossible for a lizard to get in one of their loaves because of their high level of hygiene "I am surprised they didn't tell me 'every little helps'," said angry Marcus. "They have asked me to take it into the manager but I am thinking of contacting environmental health officers. "We are keeping the lizard and loaf in the fridge for evidence." A Tesco spokesman said: "We have conducted a thorough inspection of the bakery area as well as the rest of the store. "We are confident that our robust procedures mean that there was no food safety risk to the product whilst it was within the store. "If the customer would like to return the product, packaging and proof of purchase to us, we will be able to investigate further."

Man Finds Pythons In N.J. Backyard

James Geist found two pythons in his West Milford, N.J., backyard within a few days.

IKEA Monkey

Look at that coat! <a href="http://www.huffingtonpost.com/2012/12/10/ikea-monkey-toronot_n_2270707.html?1355150852" target="_hplink">This little animal</a> got loose in an IKEA parking lot in Toronto. It was apparently scared, but eventually was reclaimed by its owners who were inside the store when the monkey escaped from its cage.

Sprinkles the Koala

'Sprinkles' the Koala following her life saving radiation treatment at the Brisbane Veterinary Specialist Centre in Brisbane, Australia, August 9, 2011. Suffering from an extremely rare case of excessive drooling, sprinkles developed a skin infection due to the excessive moisture flowing from her mouth.

Catherine Baucom, Surgeon, Avoids Traffic Jam By Riding Child's Bike To Operating Room

When a traffic jam kept surgeon Catherine Baucom from driving to work to meet a patient, she borrowed the bike of a 7-year-old and started pedaling.

Gorilla With Toothache

Two Bay Area dentists made a house call at the San Francisco Zoo on Monday, July 11, to help out a gorilla with a toothache. Dentist Dan Mairani (left) and endodontist Steve Holifield, who usually perform procedures on human patients, worked for three hours on Oscar Jonesy (O.J.), a 30-year-old male western lowland gorilla that developed an abscessed canine tooth. Thanks to this dental team, the abscess was successfully treated and the tooth was saved!

Rats vs. Snipers

A young volunteer picks up a dead rat from an open drainage channel in Tehran May 20. Tehran has a plague of rats estimated to number up to 25 million after winter snows melted raising the underground water level and flushing the rats from their nests. Municipal authorities have imported approximately 45 tons of rat poison and set up information tents to help deal with the plague.

Gorilla check-up -- Oct. 2011

Yakini the gorilla received a medical check-up from vets at Melbourne Zoo before being moved to a new multimillion-dollar exhibit at Werribee Open Range Zoo, on Oct. 28, 2011, in Melbourne, Australia.

An alligator crosses the 14th fairway during the first round of the PGA Tour Zurich Classic golf tournament at TPC Louisiana in Avondale, La., on Thursday, April 25, 2013. (AP Photo/Gerald Herbert)

Water Skiing Elephant Dies

In this undated 1958 photo provided courtesy of Liz Dane, Dane is shown performing her act with Queenie the water skiing elephant. The Valdosta Daily Times reports that 59-year-old Queenie was euthanized Monday, June 2, 2011, after her health deteriorated.

30,000 Bees Stuck In New Jersey Attic (PHOTOS)

Bee removal expert Gary Schempp removed a 25-pound hive from the attic of a home in Cape May, N.J. The hive had 30,000 bees living in it.

Guru, the Hairless Chimp

Looking almost like a bronze statue of a person, Guru the hairless chimpanzee eats in his enclosure at India's Mysore Zoo. Guru lost all his hair to alopecia, a condition that can also affect humans.

In this Aug. 18, 2012 photo provided by Jody Bright, Molly Palmer poses with her catch_ a 12-foot marlin that took more than four hours to get on her team

Animals in the News

"Shrek," New Zealand's most famous sheep, died in June at the age of 16. This merino wether (a castrated male sheep) came to the world's attention in 2004 when he was found in a cave near the city of Otago after being on the lam for six years. He had managed to avoid capture all that time and when he was finally found, he was carrying nearly 60 lbs of untrimmed fleece, nearly six times more than the average merino fleece.

Titanic Toad

Of course she's unhappy. Who likes getting weighed right after the holidays? This is Agathe, a cane toad, and she's sitting on a toy scale during an annual animal inventory at the Hanover Zoo in Germany on Jan. 5. Agathe weighs a slight hop over 4 pounds.

Rebecca Reichart, Leroy Nunez, Nicholas Coutu, Claudia Grant, Kenneth Krysko

In an Aug. 10, 2012 photo provided by the University of Florida, Florida Museum of Natural History researchers, from left, Rebecca Reichart, Leroy Nunez, Nicholas Coutu, Claudia Grant and Kenneth Krysko examine the internal anatomy of the largest Burmese python found in Florida to date, on the University of Florida campus. The 17-foot-7-inch snake weighed 164 pounds and carried 87 eggs in its oviducts, a state record. Following scientific investigation, the snake will be mounted for exhibition at the museum for about five years, and then returned for exhibition at Everglades National Park. (AP Photo/University of Florida, Kristen Grace)

Star the Duck

District councils have slapped a collecting ban on one of the West Country's most loveable characters - Star, the bowtie wearing DUCK (pictured) See SWNS story SWDUCK; Star the duck, who has raised more than £6,500 may be forced to quit after he has been told he is no longer allowed to collect for Children's Hospice South West without a permit. District councils believe Star should be fair to all charities and want to limit how often members of the public are asked to donate by various organisations to avoid it becoming "irritating." His owner, Barrie Hayman, from Bideford, Devon, was left furious at the decision and wants to try and raise the most money possible for the sick children.

Camel in the Family

t's not every day you can say that a camel has shared your breakfast - unless you're Nathan and Charlotte Anderson-Dixon. Each morning they and their 18-month-son Reuben are joined by pet camel Joe, who pokes his head through their conservatory window to help himself to something to eat. The three-year-old happily munches eats bread, fruit and cereal plucked from the table at the family's detached country farmhouse. Joe, who measures 17.5 hands, loves bananas on toast but hates toast with cheese or Marmite. He lives with four other camels but is the only one to share breakfast with his owners. The others have to eat hay, barley, straw and corn mix in their stable in Ashbourne, Derbyshire. Nathan, 32, has owned Joe for two years and uses him for camel racing.