The taste of beer releases a chemical in the brain which makes people want to drink more and take other drugs, research published on Monday claims.
Beer's taste, without any effect from alcohol, can trigger the production of dopamine in the brain, the study by researchers from Indiana University found.
People with a family history of alcoholism also showed even higher levels of dopamine - a neurotransmitter associated with the brain's reward and pleasure centres.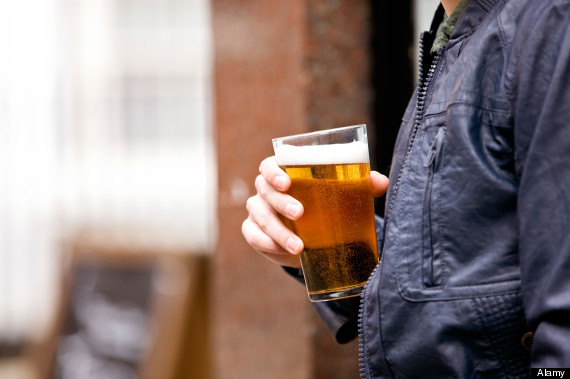 Dr David Kareken, deputy director of the Indiana Alcohol Research Center, said: "We believe this is the first experiment in humans to show that the taste of an alcoholic drink alone, without any intoxicating effect from the alcohol, can elicit this dopamine activity in the brain's reward centres".
The stronger effect in people with close relatives who are alcoholics may suggest that the risk of alcoholism could be inherited, he added.
Would you try these healthier beers?
How To Choose A Healthier Beer
Looking for a full-flavor lager that's still light on the calories? Search no further. Yuengling managed to cram the health benefits of a lager with a lower carb count at only 99 calories, this is definitely the best selection for a healthier classic brew. Type: Lager Alcohol Content: 3.8 percent Calories: 99 Carbs: 9 grams More from Greatist: How to Foam Roll Like a Pro Is Chocolate Actually Healthy? 19 Cool Ideas for Beating the Summer Heat Flickr photo by lynnfennell

This newer brew skips out on the gluten and uses sorghum, corn, and raspberry puree malty to create a not-too-sweet fruity brew with extra antioxidants (from the berries). Perfect for those looking to indulge and still stay away from gluten. Plus, New Planet donates a portion of sales from this beer to Colorado-based non-profits using the 3R philosophy -- reduce, reuse, recycle. Type: Ale Alcohol Content: 5 percent Calories: 160 Carbs: 17 grams Photo from New Planet Beer

Don't enjoy the bitter taste of beer but still want to reap the heart-health benefits? Have no fear! Abita infused this brew with real raspberries to deliver a fruity aroma and a sweet taste. Packed with so many berries, this brew even displays a purplish hue (hence the name)! Type: Lager Alcohol Content: 4.2 percent Calories: 145 Carbs: 11 grams Flickr photo by emilydickinsonridesabmx

Complete with a hint of fresh ginger (one of our favorite superfoods!), this unique ale combines unique herbs and spices to bring out a full flavor. This lighter-bodied brew is perfect for those that want full flavor without sacrificing an expanding waistline. Type: Ale Alcohol Content: 4.5 percent Calories: 131 Carbs: 12.1 grams Flickr photo by lynnfennell

This dark Irish blend -- famous for quenching thirsts on St. Paddy's Day -- makes the list as a classic with a creamy decadence and sneakily healthy twist! Packed with phenols, this super-dark staple brings the taste and feel of a stout with fewer carbohydrates and calories. Type: Stout Alcohol Content: 4 percent Calories: 126 Carbs: 10 grams Flickr photo by antanask CORRECTION: In an earlier version of this slide, St. Paddy's Day was misspelled.

Creating a light beer that still stands up to the Sam Adam's taste was no easy task. Brewers stuck to the basics and invented a lighter calorie beer that didn't sacrifice flavor making this beer perfect for those looking to stay health conscious without skimping on the taste. Type: Lager Alcohol Content: 4 percent Calories: 119 Carbs: 9.7 grams Flickr photo by PetroleumJelliffe

This brew packs the hops without expanding the waistline. Complete with a fruity/herbal aroma and a slightly bitter finish, this beer delivers a healthy wallop! Type: Pilsner (Lager) Alcohol Content: 4.8 percent Calories: 145 Carbs: 14 grams Photo from Amazon.com

Perhaps one of the most exotic beers on the list, this collaboration effort from several breweries packs a unique taste and higher alcohol content. Don't fall prey to sticker shock -- while this brew packs the highest calorie total on the list, the antioxidants from the green tea pack a huge health benefit. Plus, it's higher in alcohol, so just half of one 12-ounce bottle will surely suffice. And don't go overboard and kick back the whole six-pack. Still not convinced? Feel good about indulging, as all proceeds from this beer go to Japanese tsunami relief programs. Type: India Pale Ale Alcohol Content: 9.2 percent Calories: 276 Carbs: 19 grams

Looking for an organic pale ale that is made free of potentially hazardous pesticides and chemical fertilizers but still tastes great? Look no further! Butte Creek has managed just that with this Indian pale ale. Type: India Pale Ale Alcohol Content: 6.4 percent Calories: 201 (22 ounces) Carbs: 1.9 grams Flickr photo by dirvish

Combining a heap of hops with slight hints of orange blossom is no small task. Sierra Nevada pulls it off with this award-winning brew. Type: Pale Ale Alcohol Content: 5.6 percent Calories: 175 Carbs: 14.1 grams More from Greatist: How to Foam Roll Like a Pro Is Chocolate Actually Healthy? 19 Cool Ideas for Beating the Summer Heat Flickr photo by Sean Davis
The study scanned the brains of 49 men after drinking beer and after tasting Gatorade, a sports drink.
Results revealed significantly more dopamine activity following the taste of beer than Gatorade.
Participants also said they craved beer after tasting the small sample and did not get the same response with the sports drink, even though many thought it tasted better.
Each man was given just 15 ml of their preferred beer over a 15-minute period, so they would not feel the effects of alcohol.
LIKE HUFFPOST UK LIFESTYLE ON FACEBOOK | FOLLOW US ON TWITTER
Giving reaction to the findings, Dai Stephens, professor of experimental psychology at the University of Sussex, described the paper as "a first convincing demonstration in humans that a drink's flavour has such effects on the brain".
But he added: "While suggestive, the findings cannot with certainty be ascribed to conditioning. However, more provocatively, the study also suggests that not all beer drinkers show the same effect."
Peter Anderson, professor of substance use, policy, and practice, Newcastle University, added: "It is well known that all sorts of cues, including taste, smell, images, and habits raise desire for drinking.
"This desire often appears to be dose dependent - meaning larger when average consumption is larger. This paper demonstrates that taste alone impacts on the brain functions associated with desire. This is not surprising - if taste increases desire, it has to impact on brain functions.
"With regard to the family history effect, this is quite difficult to assess and know what it means so we can't be too sure of an effect or how strong it might be", he said.
David Linden, professor of translational neuroscience, Cardiff University, said that we are "still very far away from understanding the biological processes that contribute to risk of alcohol abuse".
He added: "Alcohol abuse is a major public health concern, and it would be of great interest to have markers of predisposition to problem use of alcohol to enable early intervention.
"However, the presented effects are small and results have to be considered as preliminary, and the higher release of dopamine to beer compared to Gatorade flavours was not associated with actual drinking behaviour or dependence."
The study, carried out by Dr Brandon Oberlin and five others from the Indiana University School of Medicine, was published in the Neuropsychopharmacology journal today.