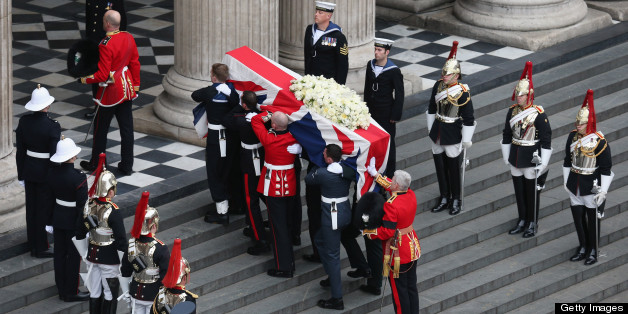 Baroness Thatcher's ceremonial funeral at St Paul's Cathedral cost the taxpayer an estimated £3.6 million, Downing Street said today.
The figure includes £2 million in "opportunity costs" for policing by officers who would have been on other duties on the day.
No 10 confirmed that Lady Thatcher's family would be making a contribution to the overall cost - including covering the costs of the undertakers and the flowers.
Ceremonial costs - including the service at St Paul's - the reception at the Mansion House and the printing and circulation of invitations came to around £500,000.
An estimated £1.1 million went on providing additional security and policing.
The final costs will published in due course, although the Prime Minister's spokesman said he expected they would be close to the estimated totals.
The Ceremonial Funeral Of Former British Prime Minister
Margaret Thatcher Life In Pictures
SUBSCRIBE AND FOLLOW
Get top stories and blog posts emailed to me each day. Newsletters may offer personalized content or advertisements.
Learn more