The Huffington Post pictures of the day brings you the very best images from around the world chosen by our own photo editors, Elliot Wagland, Matthew Tucker and Tahira Mirza.
01/05/2013 17:55 BST
Mystery Of Hundreds Of Yellow Orbs Found In Mexico's Temple Of The Feathered Serpent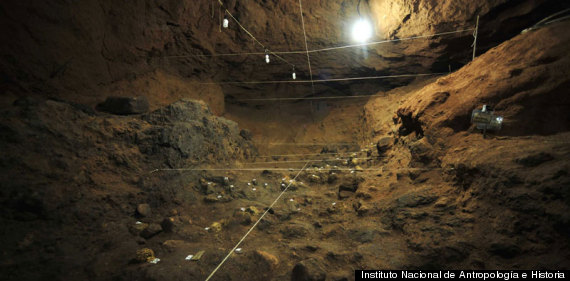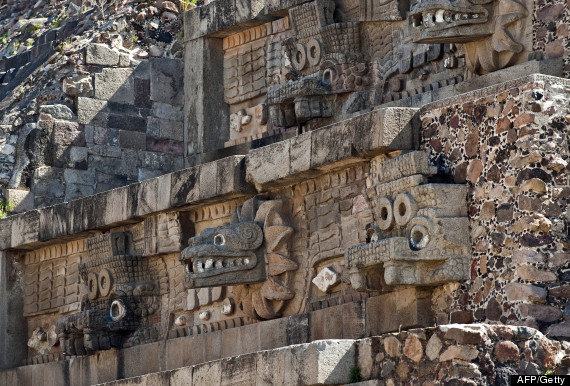 Hundreds of mysterious yellow orbs have been found beneath Mexico's Temple of the Feathered Serpent. The once-metallic spheres were discovered by a robot named Tláloc II-TC, which was deployed by archaeologists exploring a tunnel and series of chambers beneath the ancient ruins.
01/05/2013 16:52 BST
Miley Gets Raunchy For V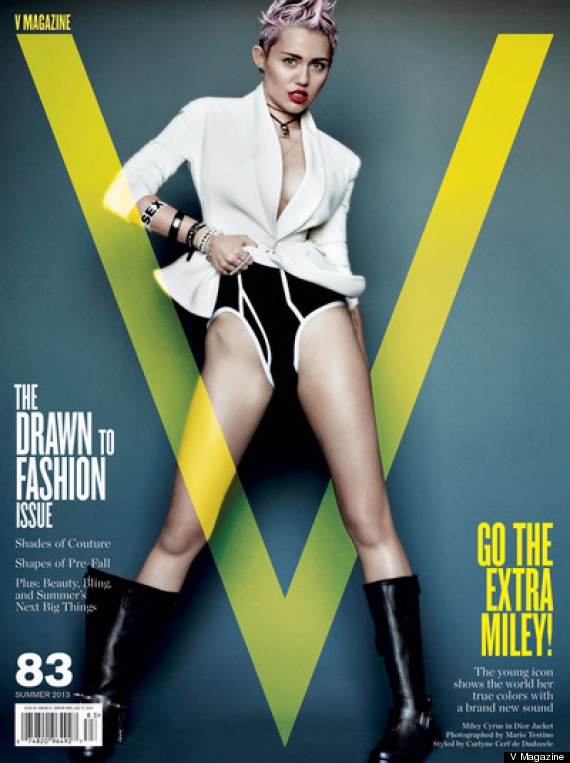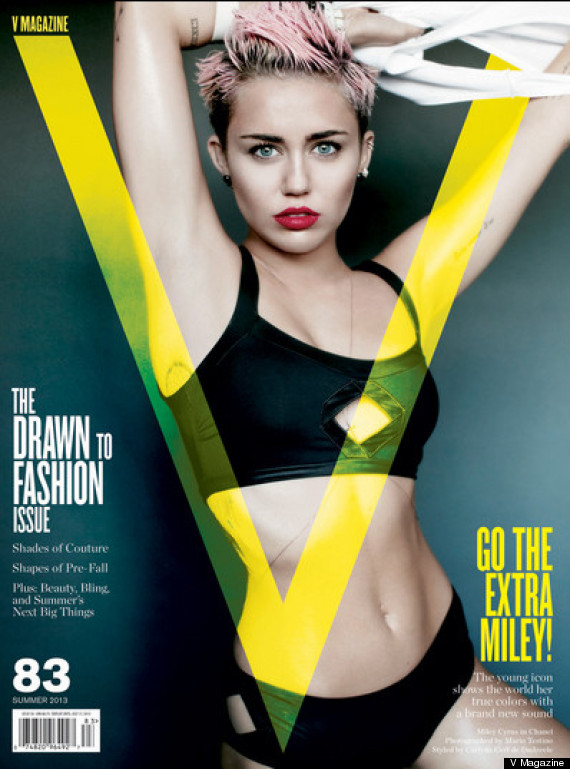 Miley Cyrus V Cover, Is This Magazine Shot Even Hotter Than The Last?
01/05/2013 16:41 BST
May Day March Cuba People hold a banner that reads in Spanish "Proud of our work" at the front of the May Day march to Revolution Square in Havana, Cuba,
01/05/2013 16:38 BST
North Yorkshire Moors Railway Celebration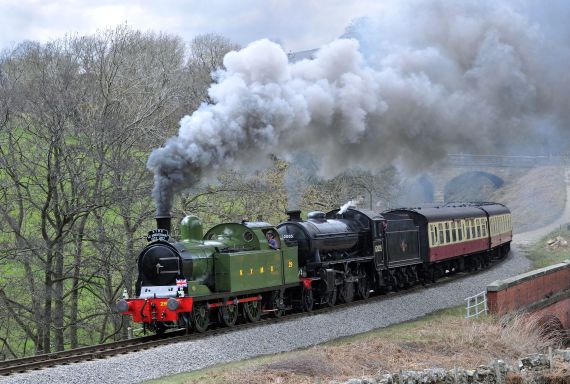 The newly overhauled Lambton Tank, which pulled the Royal train in 1973, is assisted by K1 No 62005 in pulling a special 40th anniversary train between Whitby and Pickering.
01/05/2013 16:34 BST
The Road To Recovery Carmen Blandin Tarleton, of Thetford, Vt,, is escorted by her surgeon Dr. Bohdan Pomahac while arriving for a news conference at Brigham and Women's Hospital in Boston, Mass., Wednesday, May 1, 2013. The 44-year-old mother of two underwent the transplant in February after a 2007 attack in which her estranged husband doused her with industrial strength lye, burning more than 80 percent of her body.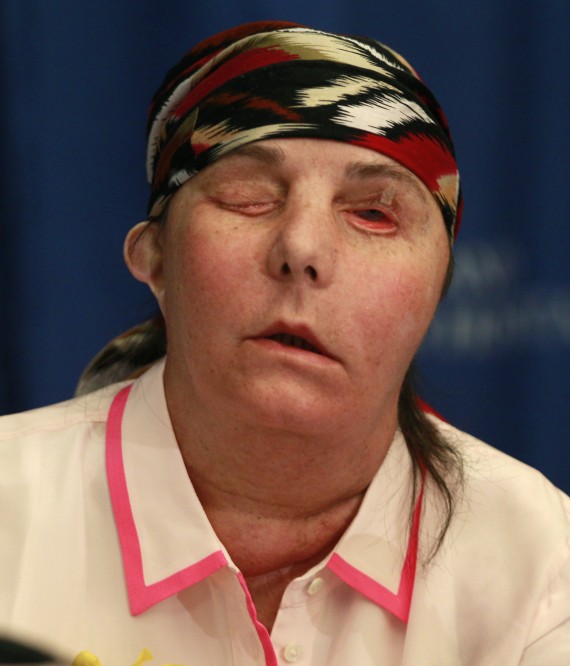 Face transplant patient Carmen Blandin Tarleton, right, with her sister Kesstan Blandin, before she was attacked. Tarleton, 44, underwent the face transplant surgery earlier in February 2013. She was doused with industrial strength lye by her former husband in 2007.
01/05/2013 15:57 BST
Cuddles For New Born Langur Monkey Keily, a Dusky Langur, cradles her apricot coloured unnamed new baby in their enclosure at Howletts Wild Animal Park near Canterbury, Kent, as the infant becomes one of two baby Dusky Langurs to make their debut at the park.
01/05/2013 15:21 BST
Leftist Demonstrators Tether Themselves Together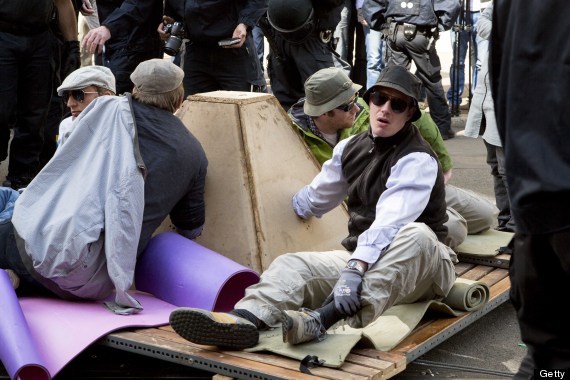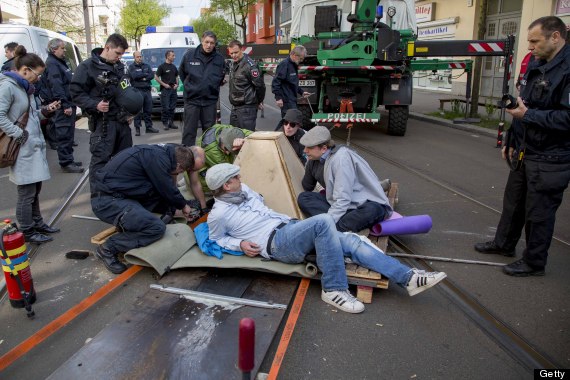 Leftist demonstrators have tied themselves together to prevent a neonazi demonstration on May Day on May 1, 2013 in Berlin, Germany. May Day, the international day of labour, is a national holiday in Germany and observed with gatherings by labour unions and political parties. In some cities, including Hamburg and Berlin, the day often ends with violent clahes between police and mostly left-wing demonstrators.
01/05/2013 15:17 BST
Alternatives To The 'Pot Plant' Explanation For Nazi Salute Picture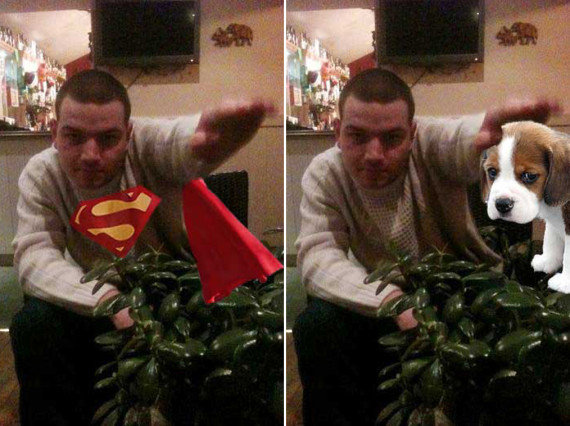 Ukip candidate Alex Wood wasn't making a Nazi salute at all, he was, of course, trying to stop his girlfriend taking photos of him "imitating a pot plant". But Twitter wasn't convinced, with the hashtag #Ukipexcuses trending and offering some alternative explanations for the suspicious pose.
See below for how they might have looked.
01/05/2013 15:14 BST
What Salute?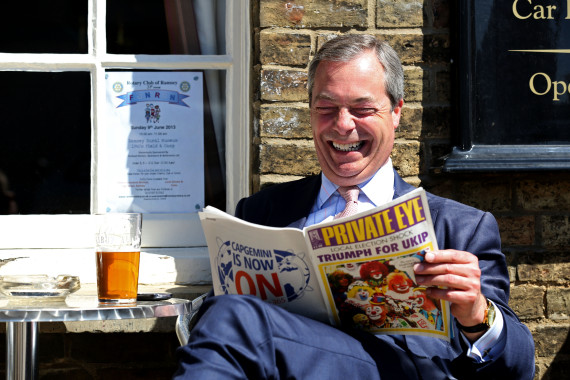 Leader of UKIP Nigel Farage, reacts as he looks at the latest edition of Private eye magazine during a visit to Ramsey in Cambridgeshire while on the local election campaign trail.
01/05/2013 14:42 BST
Ed Miliband On Local Election Campaign Trail Labour Leader Ed Miliband talks to members of the public in Long Eaton's High Street, Nottinghamshire while on the local election campaign trail Labour Leader Ed Miliband gets a kiss from 79 year old pensioner Brenda White in Long Eaton's High Street, Nottinghamshire while on the local election campaign trail
SUBSCRIBE TO & FOLLOW UK DAILY BRIEF