Tulisa Contostavlos has outdone even the One Direction boys for the tackiest celebrity tattoo around.
The former 'X Factor' judge's secret inking has been exposed, after she wore a small white bikini while on holiday in Marbella. The bikini line tat says 'Lucky You' next to a four-leaf clover.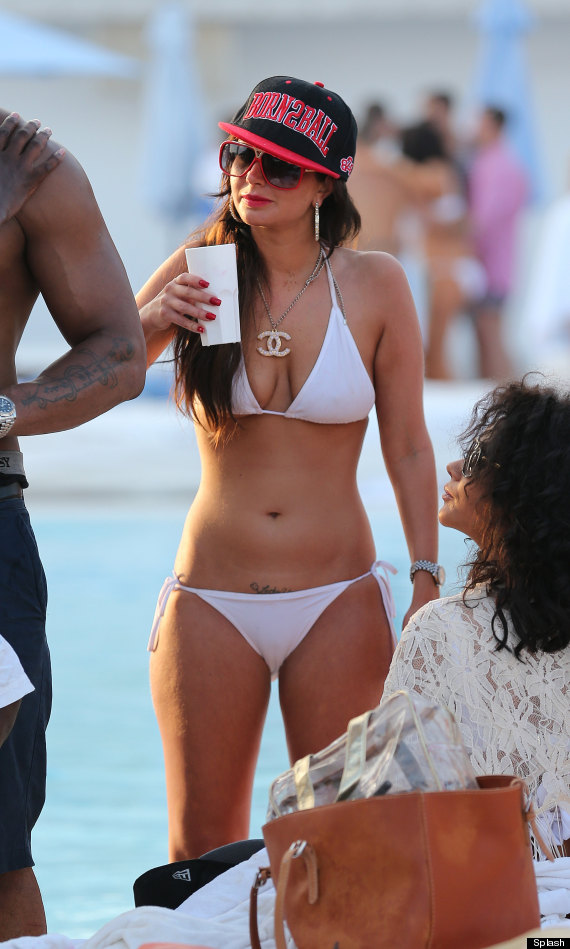 The signer was snapped partying at the Ocean Club alongside 'Waterloo Road' star Chelsee Healey.
This weekend it was revealed Tulisa is single again after splitting from her footballer boyfriend Danny Simpson.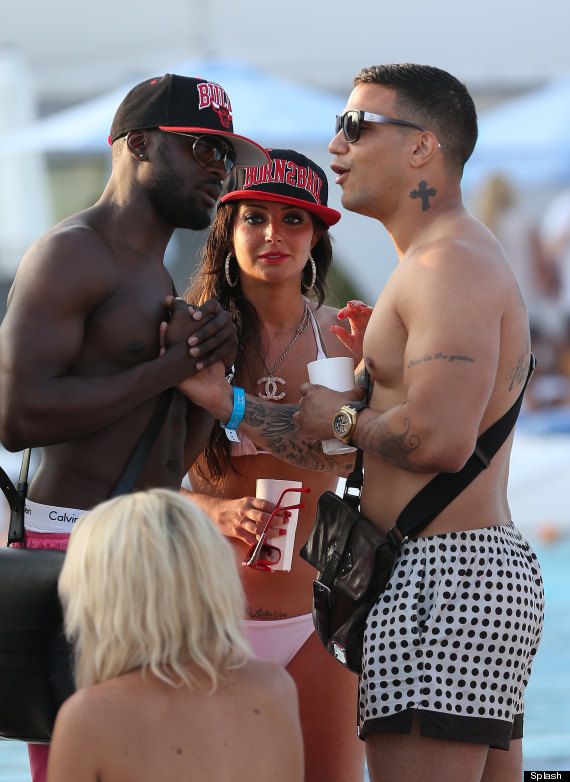 The N-Dubz star and the Newcastle United player had been together for six months but decided to call it a day after a series of rows.
The 24-year-old - who got a matching tattoo with her ex back in February - has since flown to Spain on a girly break to help her get over the split.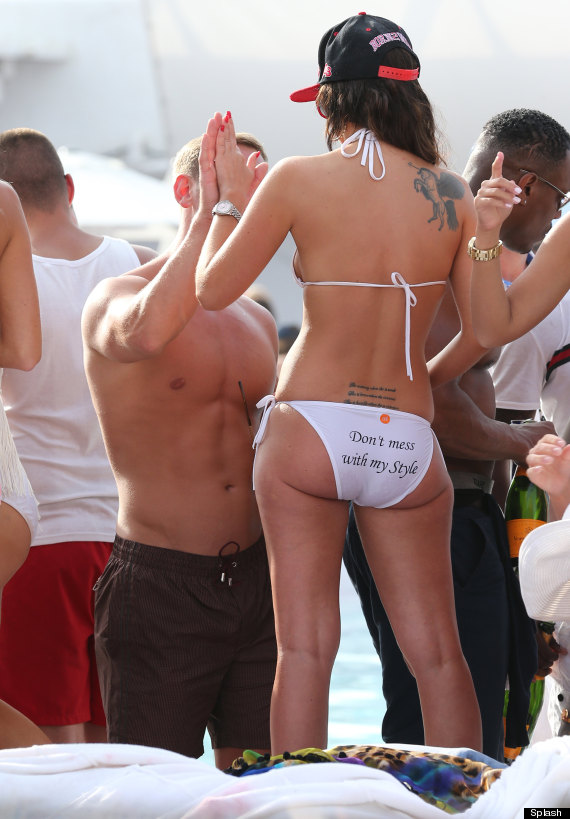 A friend told The Sun: "Tulisa and Danny have been having problems for a while now and have been arguing a lot.They have been trying to work things out but Tulisa decided she'd had enough and didn't want to fight for the relationship any more.
"It's 100 per cent over. It's an amicable split with no hard feelings."
It's been a tough week for Tulisa. As well as her split from Danny, she also confirmed she's been axed from 'The X Factor' and replaced by Sharon Osbourne on the judging panel.
Taking to Twitter this week to confirm the news, she wrote: "Just wanted to let you all know that I won't be part of the X Factor panel this year.
"I've had a great time on the show, but this year it's time to do something different. I'd like to thank everyone on The X Factor for two amazing years. Stay tuned as I have a very exciting announcement soon!"
LIKE US ON FACEBOOK | FOLLOW US ON TWITTER
Loading Slideshow
Tulisa love, you appear to have made a dress out of the contents of our Nana's 'special occasion' wrapping paper drawer.

Tulisa shows off the latest hair trend... for drag queens.

Believe it or not, this isn't one of the cast members of the film 'Kidulthood'.

Where Tulisa's from this is considered tres chic, innit.

Words actually fail us.

Tulisa once proudly proclaimed she bought her clothes from "Matalan, brrrrap!". Yep, we can tell.

If Jane Norman was still open, we reckon they would've snapped Tulisa up to be the face of the brand.

No, Tulisa hasn't been tarred and feathered, she actually chose to wear this.

Looks like Tulisa got carried away playing around in Katie Price's dressing up box.

Even X Factor judges are prone to a spot of the dreaded camel toe.

We didn't realise Tulisa was in 'Two Pints of Lager and a Packet of Crisps'.

Tulisa, Vicky Pollard's been on the phone and she's asked for her look back.

All she needs is a couple of parrots hanging from those earrings and this outfit would be complete. Completely awful.

The Croydon facelift look is still a favourite of Tulisa's, despite leaving dreadful clothes like this behind.

You <em>should</em> look ashamed, love.

Someone should really tell her it's dark outside so she can lose the diamante encrusted sunglasses.

Taking tan advice from the cast of 'TOWIE' is never a good idea.

Thank goodness she has a stylist these days. Now at least she has someone to blame for get-ups like this.
Loading Slideshow
Jaime King

Hilary Duff

Miley Cyrus

Lady Gaga

Vanessa Hudgens

Cher Lloyd

Cheryl Cole

Liam Payne

Jessica Szohr

Kelly Osbourne

Natalie Imbruglia

Harry Styles

Winona Ryder

Mena Suvari

Rihanna

Nicole Richie

Khloe Kardashian

Scarlett Johansson

Meg Ryan

Ryan Gosling

Did you know Mr. Ryan Gosling had tattoos? Well, he does. And surprisingly, he thinks they're pretty stupid. "I like when [tattoos] look bad, but no one will do bad tattoos," he told <a href="http://www.wmagazine.com/celebrities/2010/10/michelle_williams_ryan_gosling" target="_hplink">W magazine</a> in 2010 of his various arm tattoos. "So I did one myself. That"s why it"s bad. I"m waiting to get old -- I think old guys with tattoos look good." We have no doubt Gosling will always look good.

Margaret Cho

Margaret Cho started getting major tattoo work done in 2006 and has continued to ink herself over the years. Our favorite piece of body artwork? Her old-timey barmaid garter and gun! One of a kind.

Dean McDermott

Dean McDermott really loves his wife ... no, really. The actor got Tori Spelling's face tattooed on his left tricep to represent his "undying love" for her. He also has two other tattoos for Spelling, including one of an angel displaying the words "Truly, Madly, Deeply, Tori" and a cross reading "Tori Girl."

Britney Spears

Britney Spears was thrilled when she got a tattoo of a Chinese symbol on her hip that stood for "mysterious." Sadly, Spears didn't check what she was permanently putting on her body, considering the symbol ended up standing for "Strange." Whoops ...

Chad 'Ochocinco' Johnson

Chad Johnson (formerly Chad Ochocinco) was distraught after his wife of a few weeks, reality star Evelyn Lozada, filed for divorce on Aug. 14. The NFL player allegedly head-butted Lozada following an argument, which left him in jail and out of a job. So, in order to prove his love for his wife, Johnson tattooed her face on his right leg. Well, he better start removing that one.

Kat Von D

Kat Von D probably regrets her decision to tattoo a picture of ex-fiancé Jesse James as a little boy on the side of her body. (The pair split last summer). At least she has enough ink to distract onlookers from catching a glimpse of the now-awkward tattoo.

Marc Jacobs

Marc Jacobs has a couple of interesting tattoos, but his most peculiar is an image of Spongebob SquarePants on his right bicep. "I just think the colors of that particular cartoon are really beautiful and really sophisticated and interesting," Jacobs told <a href="http://nymag.com/thecut/2008/02/marc_jacobs_wears_his_spongebo.html" target="_hplink">NY Magazine</a> of the unique ink.

Mike Tyson

Mike Tyson might have one of the most recognizable tattoos in Hollywood, thanks in part to his cameo in the hit movie "The Hangover." But the ink really got famous when Tyson's tattoo artist sued the producers of "The Hangover 2," claiming the face ink Ed Helms sported was too similar to Tyson's, which he owned the copyright to. The dispute was settled and Tyson's tat is still firmly inked on his face.

Megan Fox

Megan Fox might have loved Marilyn Monroe when she decided to ink her famous face on her right forearm, but the actress is currently in the process of removing the tattoo. Why? Fox told <a href="http://www.usmagazine.com/celebrity-body/news/megan-fox-why-im-removing-my-marilyn-monroe-tattoo-2011238" target="_hplink">Amica magazine</a> Monroe was "a negative person ... disturbed, bipolar." Adding, "I'm removing it ... I do not want to attract this kind of negative energy in my life."

Chris Brown

Chris Brown shocked fans when he debuted a tattoo of a what looks to be a battered woman on his neck on Sept. 1. Many questioned whether or not it was meant to be Rihanna, but Brown's rep insists his ink is of a sugar skull, which is associated with the Mexican celebration of The Day of the Dead. Days later, Brown debuted his tattoo of a fighter jet, which just so happens to be in the same spot as Rihanna's new ink of the goddess Isis. Hmm....

Hayden Panettiere

Hayden Panettiere's tattoo can be seen peeking out of her red-carpet dresses, but do you know it has no meaning? The "Nashville" star accidentally misspelled the Italian phrase "Vivere senza rimipianti," which means "to live without regrets" on her back. <a href="http://www.huffingtonpost.com/2009/05/21/hayden-panettieres-misspe_n_206263.html" target="_hplink">Her tattoo reads </a>"rimipianti" instead of "rimpianti."

Kimberly Stewart

Kimberly Stewart obviously loves her dad, Rod Stewart, but did she have to go as far as getting "Daddy's Little Girl" tattooed right "there"? Probably not. It just makes us uncomfortable.

Ke$ha

Ke$ha topped the list for worst tattoo back in June when she debuted her new "Suck It!" mouth ink on Instagram. We don't really know why she decided to get this tattooed on her lower lip, but to be honest, we don't really want to ...
Also on HuffPost: