After just 60,000 tweets, 5000 emails, and the campaigning efforts of more than 100 women's movement and social justice organisations, Facebook have agreed to review their systems for displaying content that endorses violence against women.
The announcement posted on the social media site last night comes a week after campaign group Women, Action & the Media (WAM!), The Everyday Sexism Project and writer and activist Soraya Chemaly, plus many advocacy groups, signed an open letter to Facebook, demanding the removal of images that encourage or make light of gender-based hate.
The feminist campaigners also urged high profile companies to boycott advertising on the social media site, until their demands were met.
Since then, the hashtag #FBrape has kept the issue firmly in the public eye and brands, including Nationwide and Nissan UK, have responded by pulling advertising from Facebook.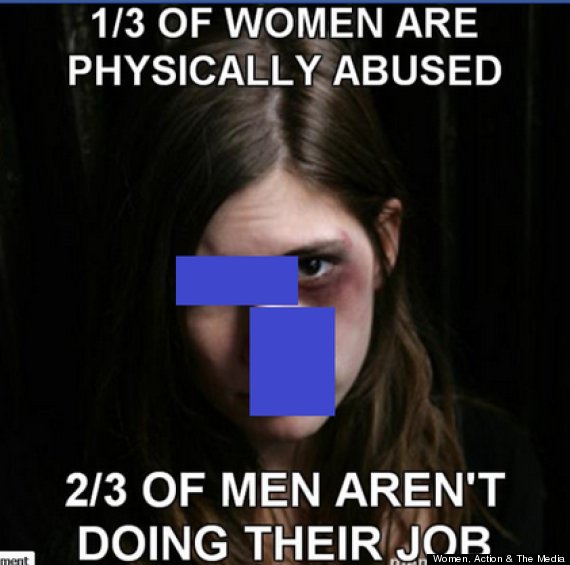 Example of image encouraging violence against women from Women, Action & the Media
According to Marketing Magazine, the Nationwide brand took to its Twitter feed to apologise directly to consumers and pledged to suspend its advertising on the social network.
Late yesterday evening Facebook responded directly to Women, Action & the Media and The Everyday Sexism Project, and acknowledged they had 'failed' to effectively identify and remove hate speech from news feeds, "particularly around issues of gender-based hate".
"In some cases, content is not being removed as quickly as we want. In other cases, content that should be removed has not been or has been evaluated using outdated criteria. We have been working over the past several months to improve our systems to respond to reports of violations, but the guidelines used by these systems have failed to capture all the content that violates our standards. We need to do better – and we will."
The company announced measures to improve their systems, which include evaluating and updating policies, guidelines and practices relating to hate speech, improving training for content moderators and increasing accountability for creators of misogynist content.
Facebook also invited campaigners to work directly with their team and be part of an "ongoing conversation" on the issue.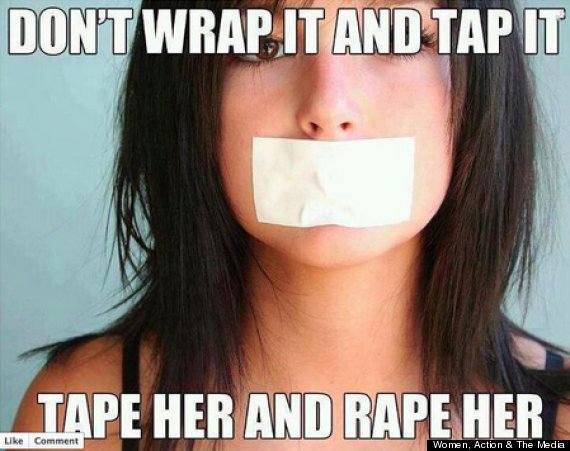 Further example of image encouraging violence against women from Women, Action & the Media
In a statement, Women, Action & the Media (WAM!) said: "Facebook has admirably done more than most other companies to address this topic in regards to content policy.
"We will work closely with Facebook on the issue of how Community Standards around hate speech are evaluated and to ensure best practices represent the interests of our coalition."
Laura Bates, founder of the Everyday Sexism Project and HuffPost UK blogger, added: 'We have been inspired and moved beyond expression by the outpouring of energy, creativity and support for this campaign from communities, companies and individuals around the world. It is a testament to the strength of public feeling behind these issues."
Notable Anti-Domestic Violence Campaigns
Women's Aid won an award for their domestic violence awareness campaign, which saw celebrities including Anna Friel, Fern Britton, Jemma Kidd and Honor Blackman made-over to appear as if they had been beaten.

In September the Home Office began piloting a Domestic Violence Disclosure Scheme, known as Clare's Law. It was so named to honour Clare Wood, who was strangled and set on fire by her ex-boyfriend. It proposes to give women "the right to know" if a partner has a history of domestic violence. The scheme came into being after campaigning to protect women from Michael Brown, the father of the murder victim.

Self-taught make-up artist Lauren Luke appeared before her YouTube subscribers in July looking battered and bruised. While the bruises were fake, the video, made in collaboration with UK charity Refuge sent a clear message to women across the globe: "65 per cent of women who suffer domestic violence keep it hidden. Don't cover it up." http://www.youtube.com/watch?feature=player_embedded&v=d-XHPHRlWZk

Atonement actress Keira Knightley starred in a 2009 Women's Aid ad which saw her punched and kicked to the ground. Shot by Atonement director Joe Wright, the clip was deemed "too violent" and was censored before it was shown on TV.

An 'unofficial' campaign was carried out against singer Chris Brown, who found his latest album, Fortune, slapped with stickers reading: "WARNING: Do not buy this album! This man beats women!"

Here's Barbie as you've never seen her before - as a model of domestic abuse. A student artist has painted black eyes, bruises and blood onto the perfect faces of the iconic dolls. The art project, It's A Matter Of Trust, has the tagline 'We shouldn't be taught that life is perfect.' Read more here.

On the surface this newlywed couple look blissfully happy, but sadly reality tells a different story - one of domestic violence and abuse. Behind the smiles, beautiful flowers and white wedding gown, the groom is twisting his new wife's arm, which is battered and bruised from previous violent episodes. The powerful image forms part of a hard-hitting Norwegian domestic violence awareness campaign. Read more here.