Updated 22:25 CET, 22 June 2013 - ACO/FIA joint statement
Tragedy struck at the Le Mans 24 Hours when Aston Martin driver Allan Simonsen died after a huge crash in the early stages of the race.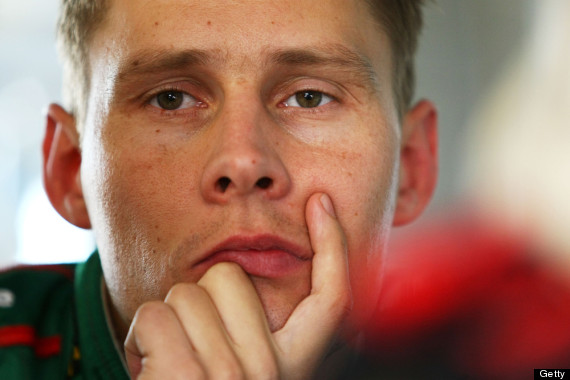 Allan Simonsen was an experienced driver who had raced seven times at Le Mans
There didn't appear to be contact with any other cars but it's thought Simonsen may have driven over the kerbs which were slippery in the wet weather that has characterised this year's race.
The Aston Martin crashed heavily into the barriers and then bounced back onto the track. The race was immediately run under caution while Simonsen was taken from the car to the circuit's medical centre in an ambulance.
The caution period ran for 50 minutes while the marshals repaired the barriers. There was no news on Simonsen's condition until the race organisers, the Automobile Club De L'Ouest (ACO) made an official statement soon after 6pm, confirming the fatality:
"At 15h09 the #95 Aston Martin Vantage GTE, driven by Allan Simonsen of Denmark, exited the track at high-speed at the Tertre Rouge corner on his fourth lap of the race.
"The driver was immediately attended on the scene by the doctors from the Automobile Club de l'Ouest's Medical Service.
"In a serious condition, Allan Simonsen was transferred immediately to the circuit medical centre, where he died soon after.
"Allan Simonsen's family has been informed immediately by David Richards, principal of Aston Martin Racing."
Simonsen, aged 34, was an experienced driver and had taken part in seven Le Mans races.
One of his team-mates, Jamie Campbell-Walter, paid tribute to him via Twitter:
"Allan Simonson tragically lost his life today, a great teammate & a great guy. His family have asked us to continue & try to win! #Rip"
Aston Martin confirmed that its remaining cars would continue racing. In a statement, the team said: "Following the ACO's media statement concerning the tragic death of Aston Martin Racing driver Allan Simonsen, and at the specific request of his family, the team will continue in the 24 Hours of Le Mans in tribute to Allan."
In a joint statement later on Saturday, the FIA and ACO presidents, Jean Todt and Pierre Fillon respectively, said: "We wish to express our profound sadness regarding the death of Allan Simonsen at today's 24 Hours of Le Mans. We would like to convey our deepest and heartfelt sympathies to Allan's family and friends. Our thoughts are also with his Aston Martin team-mates at this difficult time.
"Allan was an extremely talented and experienced sportscar driver who had raced in every corner of the world and was highly respected by his peers and his team. For many in endurance racing, Allan was above all a good friend who displayed his passion for racing on and off the track.
"His loss will be felt by the FIA, the ACO and the greater motorsport family."
SUBSCRIBE AND FOLLOW
Get top stories and blog posts emailed to me each day. Newsletters may offer personalized content or advertisements.
Learn more