Sony has (re)entered the race to build the world's first actually-good wearable computer-watch.
The SmartWatch 2 is a fully touch-enabled 'second screen' for your Android phone.
It is able to display message notifications, control music and some Apps, has a water-resistant design and a sunlight-readable screen.
Sony said the device "reaffirms Sony's leadership in smartwatch and wearable technology".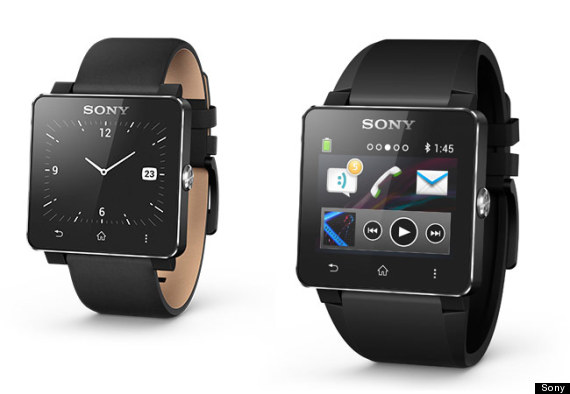 But until the device is released in September, sceptics will point to the lukewarm reception given to its predecessor - and ask whether the SmartWatch 2 is really the transformative device that so many experts have predicted is on the cusp of a breakthrough.
The features of the SmartWatch 2 include:
taking pictures remotely with an included smart camera app
handling calls
controlling presentations
mapping and run-tracking
reading messages and emails
adjusting and controlling music
water resistant
swappable wristband
1.6-inch, 220-176 display
Android-like UI
"Sony is the proud leader in the smartwatch market since introducing our first Bluetooth watch in 2007," said Stefan K Persson, Head of Companion Products at Sony Mobile Communications.

"Competitors are only now launching first generation devices, while we are already launching a 3rd generation device with all the insight gained from over half a million customers combined with Sony's wealth of technology expertise to create the best ever smartwatch experience."
Loading Slideshow
iPhone 5S

With the same ultra-clear Retina display as the iPhone 5, but now with an <a href="http://www.huffingtonpost.co.uk/2013/09/10/iphone-5s-uk-pictures-release-date_n_3898775.html?1378818683&utm_hp_ref=uk-tech" target="_blank">added fingerprint sensor</a>, a seriously impressive 64-bit A7 chip, an improved camera and a new gold design option, this is the best iPhone ever made. And with its consistent market-leading app selection, easy-to-use OS and delightful design, it's hard to argue against it being one of the very best gadgets ever made too.

Google LG Nexus 5

The new Nexus 5 is based on the internals of the LG G2 - which means you get the same Snapdragon 800 processor, as well as the full version of Google's new Android 4.4 KitKat OS, which integrates SMS messages into Hangouts, freshens up the design and adds new features under the hood. The camera is still a little lacking, while the design is functional rather than beautiful, but at £299 off contract it's still a steal.

Samsung Galaxy Note III

The Note III is huge. It's got a 5.7-inch screen, though with the same 1080P resolution as the Note II. It adds a new leather back panel, which gives it an 'office' feel in line with the productivity-plus-stylus theme of the device. It also adds a Snapdragon 8000 quad-core processor, some new software enhancements and a few new S-Pen functions into the mix. If you're looking for a giant note-taking phone, this is still your best bet.

iPhone 5C

The 5C was rumoured to be Apple's 'budget' iPhone. It isn't - and not only because it isn't that cheap. The "proudly plastic" 5C comes in five colours (see what they did there) <a href="http://www.huffingtonpost.co.uk/2013/09/10/iphone-5c-uk-pictures-release-date_n_3899557.html?utm_hp_ref=uk-tech" target="_blank">but has the same internals, screen and camera as the iPhone 5.</a> It's essentially the same beautiful, high-end phone you already know and love, in a more colourful (and potentially divisive) design. As such it's hard to see how Apple won't sell a billion of them.

Samsung Galaxy S4

Though the S4 i<a href="http://www.huffingtonpost.co.uk/2013/04/24/samsung-galaxy-s4-review-_n_3145186.html?utm_hp_ref=uk-tech" target="_blank">s in some ways an evolutionary upgrade over its wildly successful S3</a>, it's an extremely attractive, lightweight and high quality phone with a 5-inch HD screen, the fastest processor ever seen in a phone and <a href="http://gdgt.com/samsung/galaxy/s/4/" target="_blank">some interesting new features</a>, including a measure of 'eye tracking' controls and gestures that don't require you to touch the screen.

HTC One

The HTC One is probably the most beautiful smartphone on the market - and is also the most intelligently designed. With twin, front-facing speakers it's the best choice for watching movies, and its 4MP 'Ultra Pixel' camera punches above its meagre pixel-count suggests.

Sony Xperia Z1

Sony's new flagship smartphone is an evolutionary development of the also-excellent Z. It keeps the same screen, the waterproof design and the nicely-tweaked version of Android, while upping the processor performance, improving the camera and smoothing out the rough (or rather sharp) edges of the Z's blocky design.

Nokia Lumia 925

<a href="http://gdgt.com/nokia/lumia/920/" target="_blank">The Nokia Lumia 925</a> has the same great design and attention to detail we've come to expect from Nokia, but with some crucial upgrades from the 920 including a thinner, all-metal design and an improved camera.

LG G2

The LG G2 is an extremely high-end 5-inch, 1080p Android 4.2.2 smartphone whose major distinguishing feature is that it has three buttons on the back of the device, which are normally found on the sides. The G2 has its camera button and volume rocker on the rear, which for many people is enough to justify the purchase alone. It also has excellent battery life for this class of device.