Neymar da Silva Santos Júnior, otherwise known as Neymar, has recently been criticised for 'fooling referees' with his diving antics during the Confederations Cup in Brazil.
There are also reports that 21-year-old skinny Brazilian starlet has been told to put on weight by the Barcelona doctor.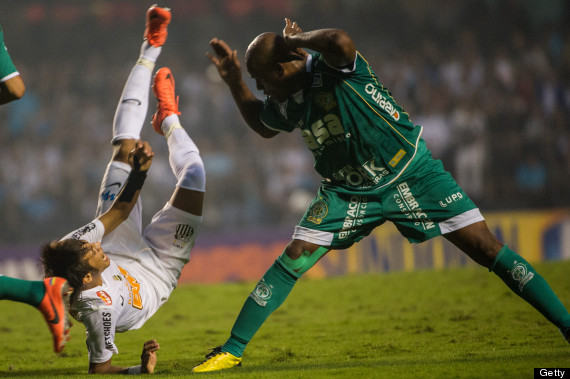 Look out for the Ad just below here
Neymar appears to spend too much time on the floor or in the air

There is no doubting the undeniable and remarkable talent of this young footballer - and you can see why Barcelona paid in the region of £50m for the services of the striker, but one thing is for sure, to become and even greater footballer he will need to stop spending so much time on the ground.
Here are 28 pictures of Neymar hitting the deck...
Brazil's forward Neymar falls during the Brazil vs France friendly football match on June 8, 2013 at Arena Gremio Stadium in Porto Alegre, Brazil. AFP PHOTO / FRANCK FIFE (Photo credit should read FRANCK FIFE/AFP/Getty Images)

Brazil's forward Neymar (L) falls as Italy's defender Ignazio Abate gestures during their FIFA Confederations Cup Brazil 2013 Group A football match, at the Fonte Nova Arena in Salvador, on June 22, 2013. AFP PHOTO / VINCENZO PINTO (Photo credit should read VINCENZO PINTO/AFP/Getty Images)

Brazil's forward Neymar (L) is challenged for the ball by Mexico's defender Carlos Salcido in the men's football final match between Brazil and Mexico at Wembley stadium during the London Olympic Games on August 11, 2012. AFP PHOTO / GLYN KIRK (Photo credit should read GLYN KIRK/AFP/GettyImages)

LANDOVER, MD - MAY 30: Neymar #11 of Brazil and Jermaine Jones #13 of USA collide going after the ball during an International friendly game at FedExField on May 30, 2012 in Landover, Maryland. (Photo by Rob Carr/Getty Images)

Brazil's striker Neymar (C) lies on the floor after an overhead kick during the international friendly football match between England and Brazil at Wembley Stadium in north London on February 6, 2013. AFP PHOTO / GLYN KIRK NOT FOR MARKETING OR ADVERTISING USE / RESTRICTED TO EDITORIAL USE (Photo credit should read GLYN KIRK,GLYN KIRK/AFP/Getty Images)

Brazil's forward Neymar (L) falls as Italy's defender Ignazio Abate gestures during their FIFA Confederations Cup Brazil 2013 Group A football match, at the Fonte Nova Arena in Salvador, on June 22, 2013. AFP PHOTO / VINCENZO PINTO (Photo credit should read VINCENZO PINTO/AFP/Getty Images)

Brazil's forward Neymar falls as he vies with Uruguay's midfielder Egidio Arevalo Rios during their FIFA Confederations Cup Brazil 2013 semifinal football match, at the Mineirao Stadium in Belo Horizonte on June 26, 2013. AFP PHOTO / CHRISTOPHE SIMON (Photo credit should read CHRISTOPHE SIMON/AFP/Getty Images)

FILE - In this June 19, 2013 file photo, Brazil's Neymar, left, is fouled by Mexico's Carlos Salcido during the soccer Confederations Cup group A match between Brazil and Mexico at Castelao stadium in Fortaleza, Brazil. The Brazilian striker says, "It's sad that it got to a point where we need to go to the streets to demand for better conditions. The only way I can represent and defend the country is by playing football, and from now on I'll walk on the field inspired by this movement." (AP Photo/Natacha Pisarenko, File)

Mexico's Carlos Salcido (3) and Hiram Mier (4) watch Brazil's Neymar (11) fall on the play during the men's soccer final at the 2012 Summer Olympics, Saturday, Aug. 11, 2012, in London. (AP Photo/Luca Bruno)

Brazil's Neymar (11) falls during the men's soccer final against Mexico at the 2012 Summer Olympics, Saturday, Aug. 11, 2012, in London. (AP Photo/Andrew Medichini)

Brazil's Neymar, right, falls as he vies for the ball with Russia's Aleksandr Kokorin during the international friendly soccer match between Brazil and Russia at Stamford Bridge stadium in London,Monday, March 25, 2013. (AP Photo/Kirsty Wigglesworth)

Brazil's Neymar, center, falls after colliding with Italy's Christian Maggio, back, during the soccer Confederations Cup group A match between Italy and Brazil at Fonte Nova stadium in Salvador, Brazil, Saturday, June 22, 2013. (AP Photo/Natacha Pisarenko)

Brazil's Neymar falls during the men's soccer final against Mexico at the 2012 Summer Olympics, Saturday, Aug. 11, 2012, in London. (AP Photo/Luca Bruno)

Brazil's Santos FC Neymar falls down during a Copa Libertadores soccer match against Argentina's Velez Sarsfield in Buenos Aires, Argentina, Thursday, May 17, 2012. (AP Photo/Natacha Pisarenko)

Santos' Neymar, left, falls down during a Sao Paulo State soccer league match in Baueri, outskirt of Sao Paulo, Brazil, Thursday, Feb. 2, 2012. (AP Photo/Andre Penner)

Brazil's Santos' Neymar, left, falls down after being tackled by Bolivia's Bolivar's Pablo Frontini, right, during a Copa Libertadores soccer match in La Paz, Bolivia, Wednesday April 25, 2012. (AP Photo/Juan Karita)

Brazil forward Neymar, right, is tripped up by Colombia midfielder Macnelly Torres during the second half of an international friendly soccer match, Wednesday, Nov. 14, 2012, in East Rutherford, N.J. The game ended in a 1-1 tie. (AP Photo/Bill Kostroun)

Brazil's Neymar, left, is fouled by Russia's Sergei Ignashevich during the international friendly soccer match between Brazil and Russia at Stamford Bridge stadium in London, Monday, March 25, 2013. (AP Photo/Alastair Grant)

Brazil's Santos' Neymar, top, is fouled by Mexico's America's Miguel Layun during a Copa Libertadores soccer match in Santos, Brazil, Wednesday, April 27, 2011. (AP Photo/Andre Penner)

BUENOS AIRES, ARGENTINA - NOVEMBER 21: Neymar of Brazil falls down during a match between Argentina and Brazil as part of the Superclasico de Las Americas at Bombonera Stadium on November 21, 2012 in Buenos Aires, Argentina. (Photo by Juani Roncoroni/News Free/LatinContent/Getty Images)

Santos's footballer Neymar (L) falls next to Guarani's Domingos during the final of the Paulista Championship -- the main football tournament of the state of Sao Paulo -- at Morumbi stadium in Sao Paulo, Brazil, on May 13, 2012. Santos defeated Guarani 4-2 and won the championship for the third consecutive time. AFP PHOTO/Yasuyoshi CHIBA (Photo credit should read YASUYOSHI CHIBA/AFP/GettyImages)

Santos's Neymar (C) falls after contacting with Vasco's Fagner (L) their match at Vila Belmiro stadium on November 6, 2011 in Santos, Brazil. Santos won by 2-0. AFP PHOTO/YASUYOSHI CHIBA (Photo credit should read YASUYOSHI CHIBA/AFP/Getty Images)

Brasil's Santos Neymar Dasilva (C) is fouled by Colombia's Caldas Elkin Calle (R) during their Copa Libertadores 2011 football match at the Palo Grande Stadium in Manizales on May 11, 2011. AFP PHOTO/Luis Acosta (Photo credit should read LUIS ACOSTA/AFP/Getty Images)

Neymar (L) of Santos falls into Santos's bench during their Paulista championship first leg football final at Pacaembu stadium in Sao Paulo, Brazil on May 12, 2013. Corinthians won by 2-1. AFP PHOTO/Yasuyoshi CHIBA (Photo credit should read YASUYOSHI CHIBA/AFP/Getty Images)

BELO HORIZONTE, BRAZIL - JUNE 26: Egidio Arevalo Rios of Uruguay competes with Neymar of Brazil during the FIFA Confederations Cup Brazil 2013 Semi Final match between Brazil and Uruguay at Governador Magalhaes Pinto Estadio Mineirao on June 26, 2013 in Belo Horizonte, Brazil. (Photo by Laurence Griffiths/Getty Images)

BELO HORIZONTE, BRAZIL - JUNE 26: Referee Enrique Osses reacts following a tackle on Neymar of Brazil during the FIFA Confederations Cup Brazil 2013 Semi Final match between Brazil and Uruguay at Governador Magalhaes Pinto Estadio Mineirao on June 26, 2013 in Belo Horizonte, Brazil. (Photo by Laurence Griffiths/Getty Images)

Brazil's striker Neymar (C) lies on the floor after an overhead kick during the international friendly football match between England and Brazil at Wembley Stadium in north London on February 6, 2013. AFP PHOTO / GLYN KIRK NOT FOR MARKETING OR ADVERTISING USE / RESTRICTED TO EDITORIAL USE (Photo credit should read GLYN KIRK,GLYN KIRK/AFP/Getty Images)

England's defender Gary Cahill (L) challenges Brazil's striker Neymar (R) during the international friendly football match between England and Brazil at Wembley Stadium in north London on February 6, 2013. AFP PHOTO / ADRIAN DENNIS NOT FOR MARKETING OR ADVERTISING USE / RESTRICTED TO EDITORIAL USE (Photo credit should read ADRIAN DENNIS/AFP/Getty Images)