If there's one thing guaranteed to wind Sharon Osbourne up, it's to say anything remotely negative about her hubby Ozzy Osbourne, which explains why she lost it with an OAP singing hopeful during his 'X Factor' audition yesterday.
Sharon saw red after 73-year-old wannabe Jonnie Rocco questioned Ozzy's singing ability.
Uh-oh.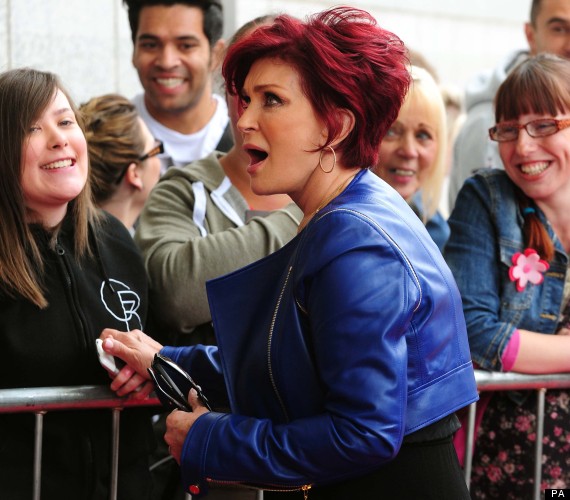 Sharon Osbourne
After Mrs.O was left unimpressed by Jonnie's version of Elvis's 'An American Trilogy, he asked her: 'You think Ozzy can sing'.
Cue some choice language from X Factor's newest judge who screamed: "Get him out of my f***ing room".
"My room" indeed.
She then stood up and threw a pen at the old timer, which hit him on the shoulder as security ushered him to safety.
Seriously, don't mess.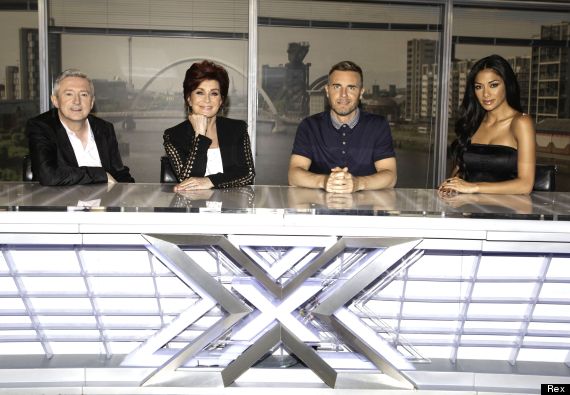 The 'X Factor' judges
An 'X Factor' insider told The Sun: "Jonnie hit a really raw nerve and Sharon was furious.
"Normally she takes criticism from contestants on the chin.
"But she and Ozzy have obviously been through a tough time this year and any negative remarks about him are like a red rag to a bull as far as she's concerned."
Earlier this month, we reported how Sharon allegedly 'threw a fit' after she had her liquids confiscated by airport security at Heathrow.
The 'X Factor' judge reportedly kicked off at security officials after they took away the liquids from her hand luggage to repack them in plastic bags.
We're so happy Sharon's back on 'The X Factor' - SEVEN reasons happy to be precise...
X Factor: 7 Reasons Why We're Glad Sharon's Back
1. When Sharon loses it, she REALLY loses it (we challenge you to watch this without laughing. A lot.)

2. She never lets anything get in between her and a good giggle. Not even a door.

3. She's a drama queen. You know, like when she quit 'The X Factor' live on air because two of her acts were in the bottom two. DRAMA!

4. She tells it like it is. Just ask the very first 'X Factor' winner Steve Brookstein, who Sharon described as 'full of crap' and 'an average singer'. And that was when she was being nice!

5. She likes a tipple. Or ten. And doesn't mind appearing a little *hick* sloshed on *hick* 'The Xtra Factor'

6. She's got one of those faces that simply CANNOT hide what she really thinks. Well, why use words when your eyes can say everything (see 1m 14s)?

7. She's not afraid of a very public celeb spat. Poor Dannii.
X Factor London auditions
LONDON, UNITED KINGDOM - JUNE 19: Sharon Osbourne arrives for the London auditions of 'The X Factor' at ExCel on June 19, 2013 in London, England. (Photo by John Phillips/UK Press via Getty Images)

LONDON, ENGLAND - JUNE 19: Caroline Flack and new X Factor presenter Matt Richardson arrive for the London auditions of 'The X Factor' at ExCel on June 19, 2013 in London, England. (Photo by Danny E. Martindale/Getty Images)

LONDON, ENGLAND - JUNE 19: Gary Barlow arrives for the London auditions of 'The X Factor' at ExCel on June 19, 2013 in London, England. (Photo by Danny E. Martindale/Getty Images)

LONDON, UNITED KINGDOM - JUNE 19: Louis Walsh arrives for the London auditions of 'The X Factor' at ExCel on June 19, 2013 in London, England. (Photo by John Phillips/UK Press via Getty Images)

LONDON, ENGLAND - JUNE 19: Caroline Flack arrives for the London auditions of 'The X Factor' at ExCel on June 19, 2013 in London, England. (Photo by Danny E. Martindale/Getty Images)

LONDON, ENGLAND - JUNE 19: Caroline Flack arrives for the London auditions of 'The X Factor' at ExCel on June 19, 2013 in London, England. (Photo by Danny E. Martindale/Getty Images)

LONDON, ENGLAND - JUNE 19: Caroline Flack arrives for the London auditions of 'The X Factor' at ExCel on June 19, 2013 in London, England. (Photo by Danny E. Martindale/Getty Images)

LONDON, ENGLAND - JUNE 19: Gary Barlow arrives for the London auditions of 'The X Factor' at ExCel on June 19, 2013 in London, England. (Photo by Danny E. Martindale/Getty Images)

LONDON, ENGLAND - JUNE 19: Gary Barlow arrives for the London auditions of 'The X Factor' at ExCel on June 19, 2013 in London, England. (Photo by Danny E. Martindale/Getty Images)

LONDON, UNITED KINGDOM - JUNE 19: Gary Barlow arrives for the London auditions of 'The X Factor' at ExCel on June 19, 2013 in London, England. (Photo by John Phillips/UK Press via Getty Images)

LONDON, UNITED KINGDOM - JUNE 19: Louis Walsh arrives for the London auditions of 'The X Factor' at ExCel on June 19, 2013 in London, England. (Photo by John Phillips/UK Press via Getty Images)

LONDON, UNITED KINGDOM - JUNE 19: Caroline Flack and Matt Richardson arrive for the London auditions of 'The X Factor' at ExCel on June 19, 2013 in London, England. (Photo by John Phillips/UK Press via Getty Images)

LONDON, UNITED KINGDOM - JUNE 19: Caroline Flack arrives for the London auditions of 'The X Factor' at ExCel on June 19, 2013 in London, England. (Photo by John Phillips/UK Press via Getty Images)

LONDON, UNITED KINGDOM - JUNE 19: Louis Walsh arrives for the London auditions of 'The X Factor' at ExCel on June 19, 2013 in London, England. (Photo by John Phillips/UK Press via Getty Images)

LONDON, UNITED KINGDOM - JUNE 19: Sharon Osbourne arrives for the London auditions of 'The X Factor' at ExCel on June 19, 2013 in London, England. (Photo by John Phillips/UK Press via Getty Images)

LONDON, UNITED KINGDOM - JUNE 19: Nicole Scherzinger arrives for the London auditions of 'The X Factor' at ExCel on June 19, 2013 in London, England. (Photo by John Phillips/UK Press via Getty Images)

LONDON, UNITED KINGDOM - JUNE 19: Nicole Scherzinger arrives for the London auditions of 'The X Factor' at ExCel on June 19, 2013 in London, England. (Photo by John Phillips/UK Press via Getty Images)

LONDON, UNITED KINGDOM - JUNE 19: Nicole Scherzinger arrives for the London auditions of 'The X Factor' at ExCel on June 19, 2013 in London, England. (Photo by John Phillips/UK Press via Getty Images)

LONDON, UNITED KINGDOM - JUNE 19: Sharon Osbourne arrives for the London auditions of 'The X Factor' at ExCel on June 19, 2013 in London, England. (Photo by John Phillips/UK Press via Getty Images)

LONDON, UNITED KINGDOM - JUNE 19: Caroline Flack arrives for the London auditions of 'The X Factor' at ExCel on June 19, 2013 in London, England. (Photo by John Phillips/UK Press via Getty Images)

LONDON, UNITED KINGDOM - JUNE 19: Gary Barlow arrives for the London auditions of 'The X Factor' at ExCel on June 19, 2013 in London, England. (Photo by John Phillips/UK Press via Getty Images)

LONDON, UNITED KINGDOM - JUNE 19: Nicole Scherzinger arrives for the London auditions of 'The X Factor' at ExCel on June 19, 2013 in London, England. (Photo by John Phillips/UK Press via Getty Images)

LONDON, UNITED KINGDOM - JUNE 19: Nicole Scherzinger arrives for the London auditions of 'The X Factor' at ExCel on June 19, 2013 in London, England. (Photo by John Phillips/UK Press via Getty Images)

LONDON, UNITED KINGDOM - JUNE 19: Nicole Scherzinger arrives for the London auditions of 'The X Factor' at ExCel on June 19, 2013 in London, England. (Photo by John Phillips/UK Press via Getty Images)

LONDON, UNITED KINGDOM - JUNE 19: Caroline Flack arrives for the London auditions of 'The X Factor' at ExCel on June 19, 2013 in London, England. (Photo by John Phillips/UK Press via Getty Images)