The Huffington Post pictures of the day brings you the very best images from around the world chosen by our own photo editors, Elliot Wagland, Matthew Tucker and Tahira Mirza.
29/07/2013 16:27 BST
Competitors At The Virgin Active London Triathlon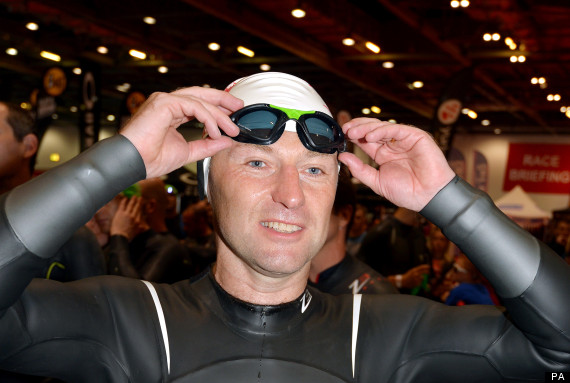 Gerry McCann prepares to take part in a 1500 metre swim for the Virgin Active London Triathlon at the Royal Victoria Dock, east London, to raise money for the charity Missing People.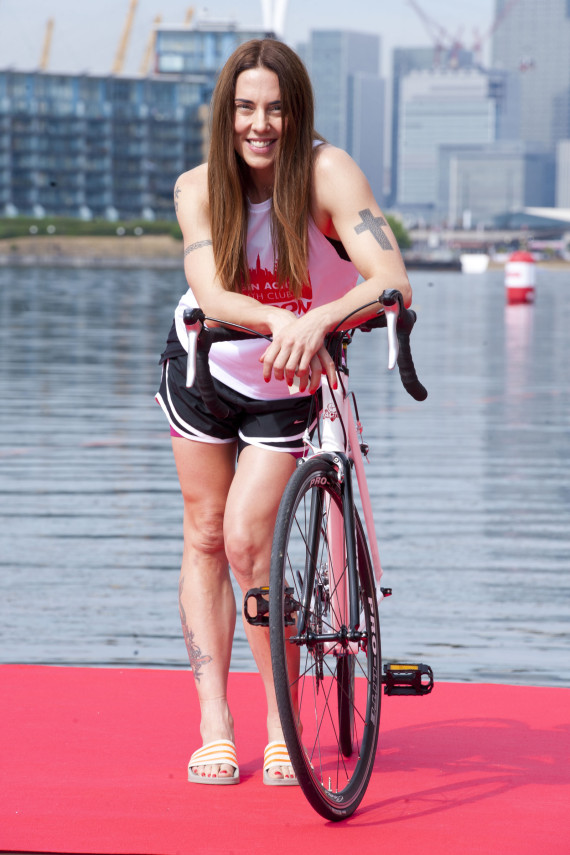 Olympic Athlete Jade Jones tries out a JetLev water flying machine in the Royal Vicotria Docks in east London as she makes her way to compete in the Virgin Active London triathlon, watched by fellow Olympians Louis Smith and Nicola Adams on a JetSki.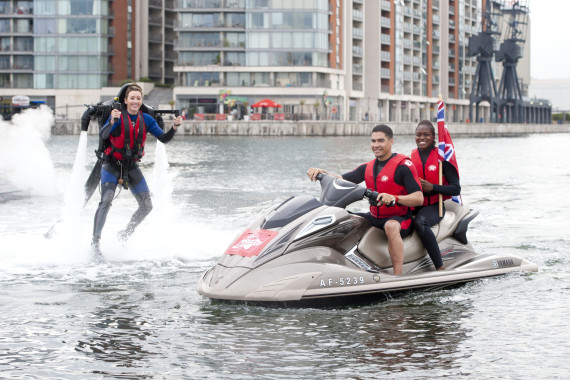 Melanie Chisholm pictured competing in the Virgin Active London Triathlon, the world's largest event of its kind, at the Excel Centre in east London.
29/07/2013 15:35 BST
Men-Ups! Rion Sabean's Pictures Of Male Pin-Ups Reverse Gender Stereotypes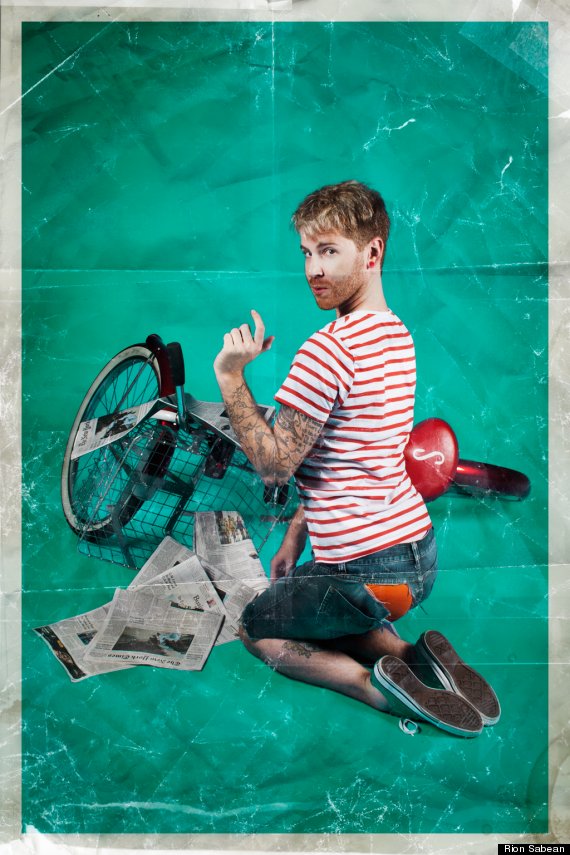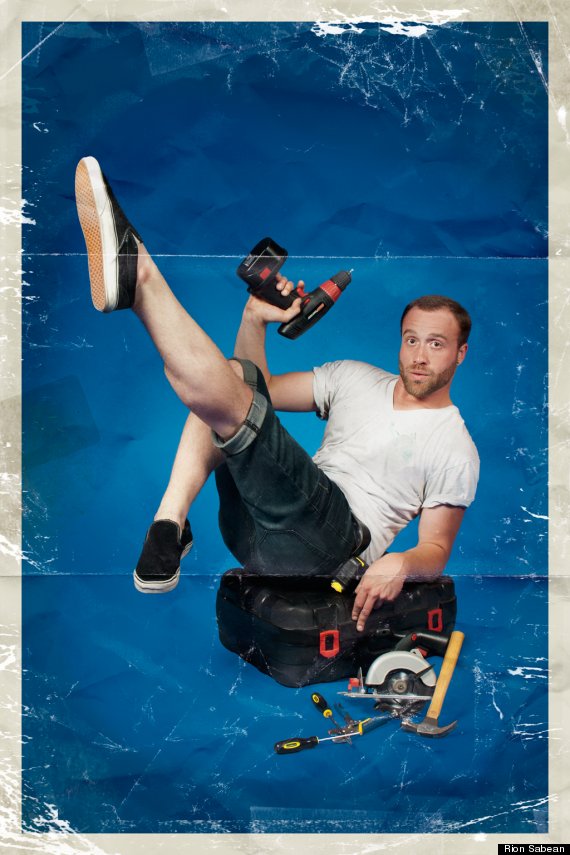 Pouting and posing suggestively in tiny shorts and unzipped overalls, this bevvy of beauties would look at home on any top shelf. If they weren't all blokes, that is.The images are aimed at reversing stereotypes and make up photographer Rion Sabean's project Men-Ups! Read the story here.
29/07/2013 14:15 BST
Scotland's Tallest Free Standing Structure Is Demolished
Hundreds of people turn out to see Scotland's tallest free standing structure be demolished. Spectators lined beaches and chartered boats to see Inverkip Chimney come crashing down.
29/07/2013 13:03 BST
Shane Show His Silly Side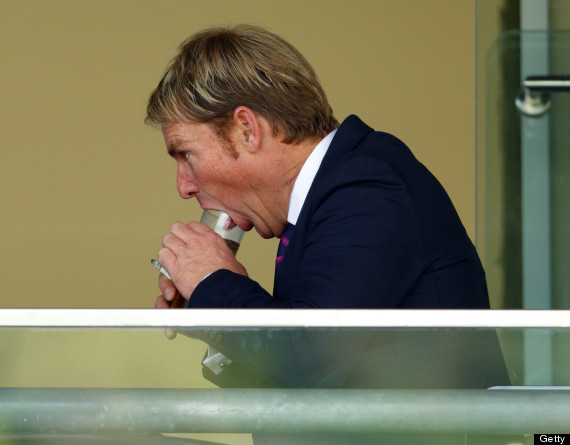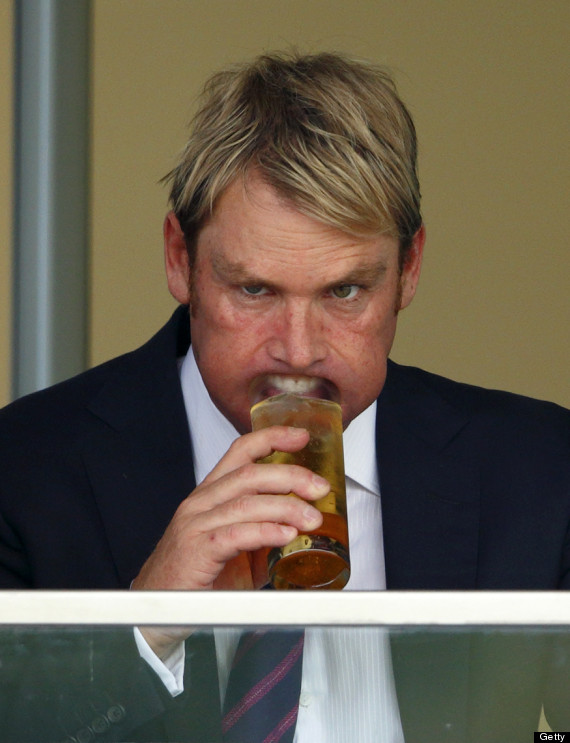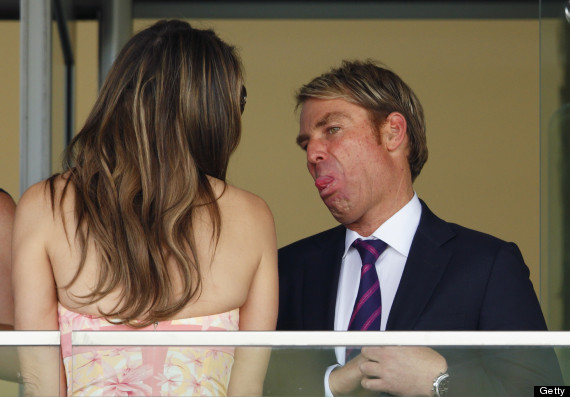 Shane Warne fools around with his glass of drink as he and Elizabeth Hurley attend the Betfair Weekend, featuring the King George VI and Queen Elizabeth Stakes, at Ascot Racecourse
29/07/2013 12:27 BST
A Feline Addition To Monopoly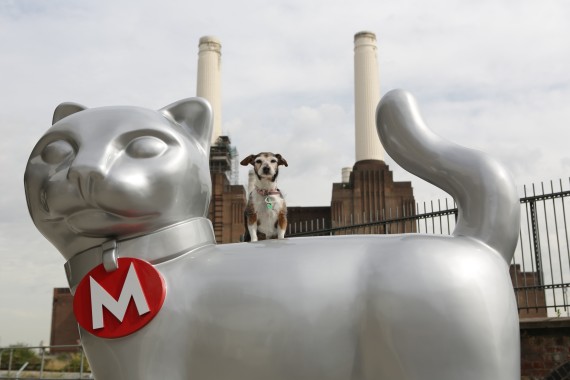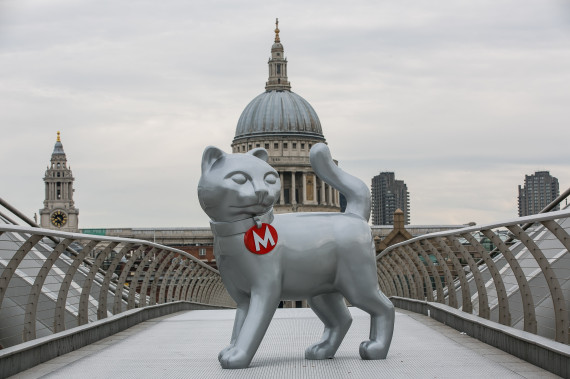 To celebrate the launch of the Monopoly Cat token, a larger than life Monopoly Cat has arrived in London - in a bid to show the Scottie Dog exactly who's really the top dog in the fast-dealing property turf war. The Cat's arrival follows a month of voting on Facebook earlier this year, and an overwhelming response from fans and organisations from 185 countries around the world. The cat has been chosen to replace the Iron and has become the newest addition to the classic game from Hasbro.
29/07/2013 12:25 BST
Prince George of Cambridge Teapot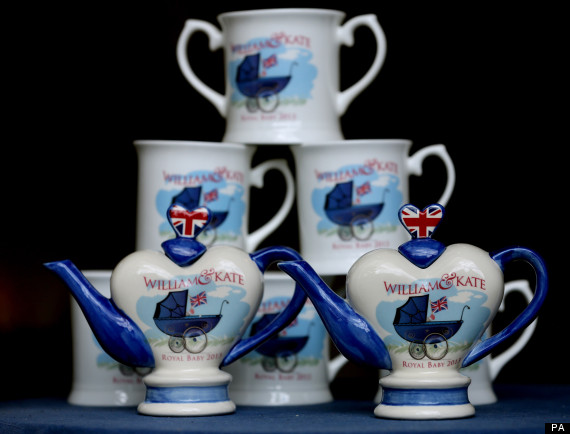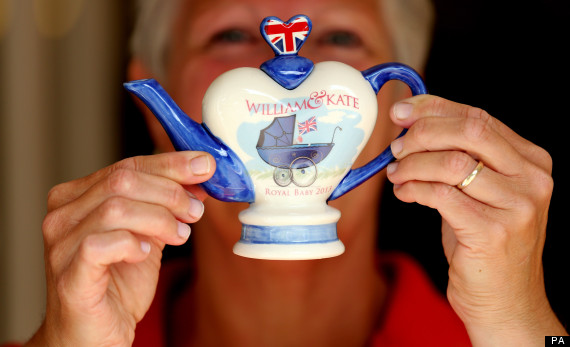 Commemorative teapots and mugs created to celebrate the birth of Prince George of Cambridge by Tony Carter Ceramic Designs in Debenham in Suffolk.
29/07/2013 12:15 BST
Nick Clegg Returns To Work... Deputy Prime Minister Nick Clegg and his wife Miriam take the riverboat from their home in Putney to Westminster on his first day back at work after their holiday in Spain
29/07/2013 11:12 BST
Baby Panda 'Rice Meatball' Pictured In Taipei Zoo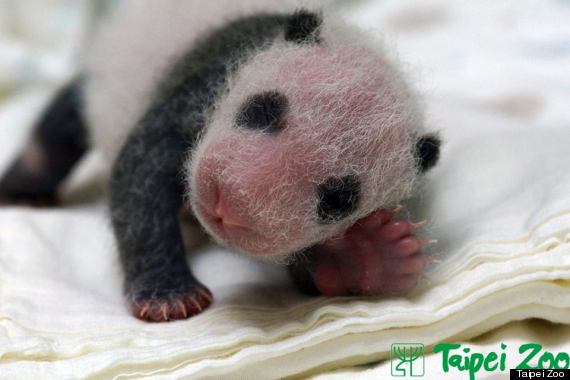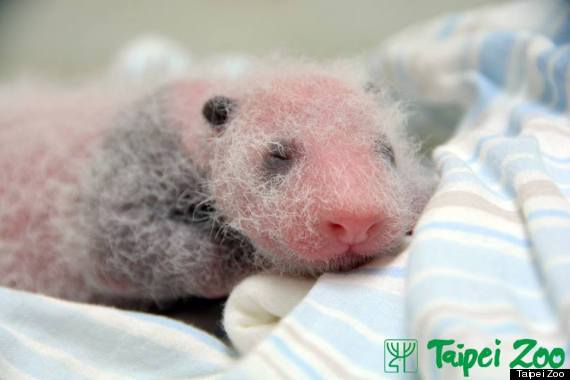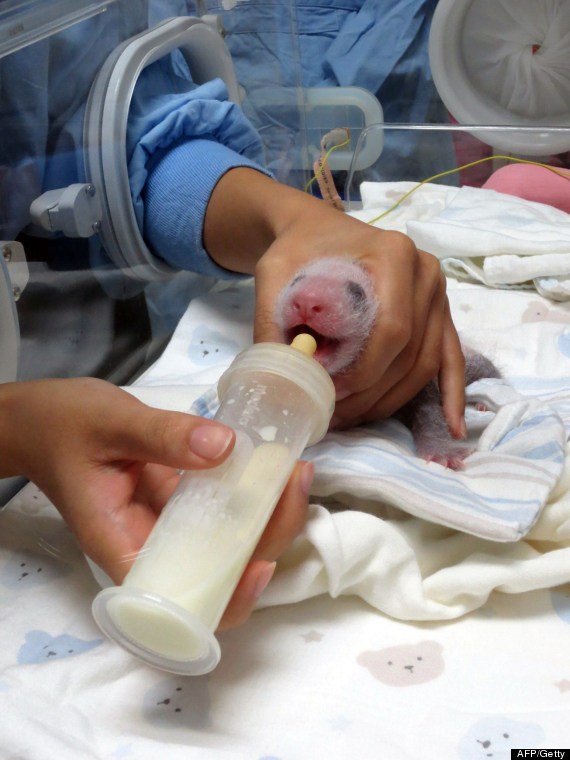 She's a month old and she could not be more gorgeous. Meet Taipei Zoo's newest addition, a female cub temporarily nicknamed 'Rice Meatball' thanks to her rotund appearance at birth. Read the full story here.
29/07/2013 11:11 BST
13-Year-Old Girl Fighting For Her Life After Stabbing In Moston, Manchester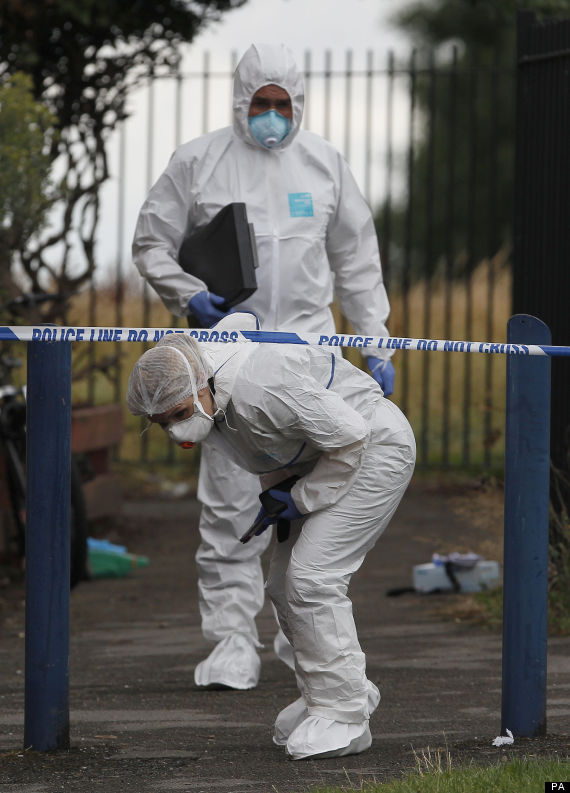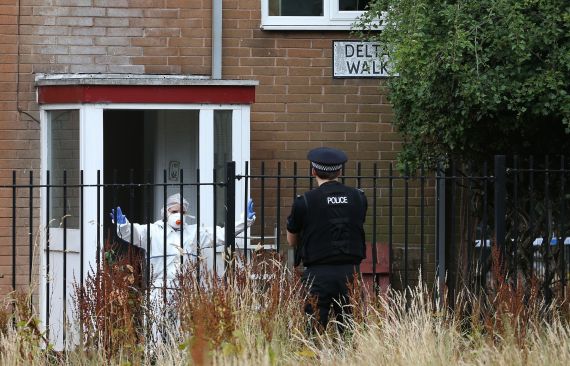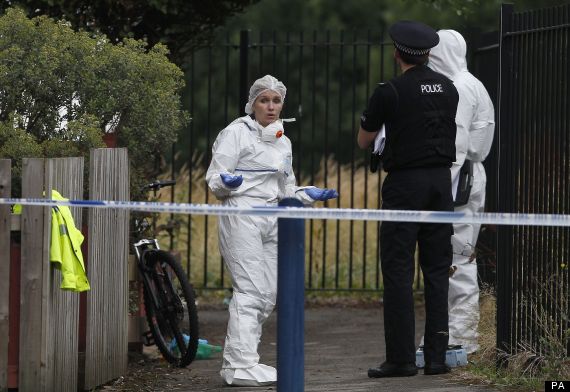 Police and forensic officers at the scene of a stabbing in Moston, Manchester. A 13 year old girl has been left fighting for her life after she was the victim of an attack which also claimed the life of a man believed to be her father. The man who is understood to have launched the knife attack also died of stab injuries a short time later.
29/07/2013 11:00 BST
Thunderbolt And Lightning This image provided by NASA taken by one of the crew members aboard the International Space Station photographed this night view of storm clouds over Southern California July 21, 2013. Early morning lightning can be seen as a white blotch just to the right of center. The yellow colored area, beneath the grey clouds, which almost shines because of night lights, is part of the highly populated area of Los Angeles and San Diego. (AP Photo/NASA)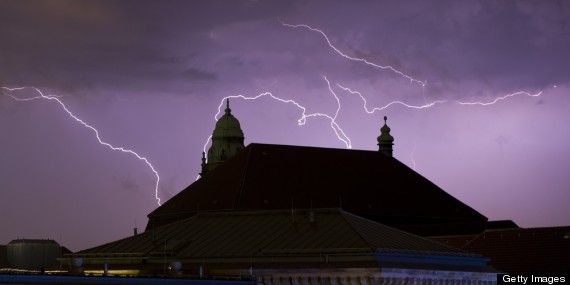 A lightning strikes in Berlin, on July 27, 2013. Meteorologists forecast windstorm for Eastern parts of Germany for the coming days Lightning strikes during a thunderstorm in Ludwigsburg, Germany, Saturday
SUBSCRIBE TO & FOLLOW UK DAILY BRIEF