Marverine Cole is one of the country's few female beer sommeliers and according to Visit Birmingham, is the city's only beer sommelier.
It takes more than putting in dedicated hours down the pub, however, and it's no mean feat to get as far as she has in such a male-dominated industry. She also balances her day job (working as a TV presenter) alongside her passion: beer. HuffPost UK Lifestyle caught up with her to find out more about her fascinating hobby.
What on earth is a beer sommelier?
To become a beer sommelier accredited by The Beer Academy I've taken several exams about beer, its ingredients, how flavour and aroma are achieved, the variety of beer styles on the market and also how it can be matched with food. During that process, if you're not already a huge fan of beer, you'll pretty much be converted.
In that capacity, being viewed as something of a beer 'expert' I'm often get asked by firms to host launch events for new beers, awards ceremonies and to devise beer and food matching venues for special occasions.I've just finished working with the St Pancras Renaissance hotel at Kings Cross - they commissioned their very own lager (St Pancras Beer brewed by Oldershaw Brewery in Lincolnshire).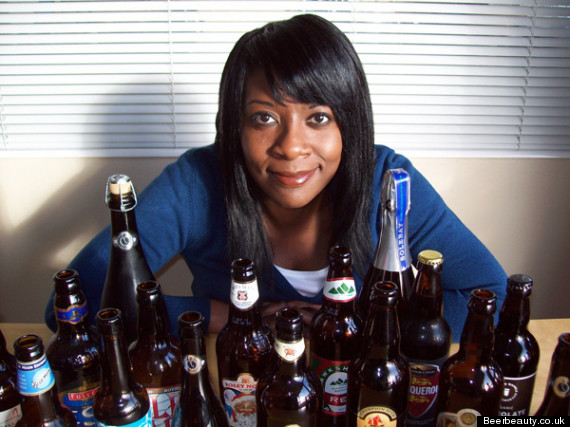 So I sat down and tasted all their bites and beers and decided on which I thought complimented each other well. I also created a beer cocktail for the event – which was a massive hit on the launch night.
How did you get into it?
I'm a television news journalist and producer by trade. I was looking for an exciting new story to get my teeth into. I saw the Cask Ale report which said more and more women were really enjoying cask ale.
Having my feet firmly in the red wine camp at that time, I didn't quite believe it but decided to investigate. I visited breweries and pubs and tried all manner of beers. And little did I know my beer-tasting research would bowl me over so much that I fell head over heels with beer. Beer is now my first drink of choice. That was three years ago.
I documented what I'd learned in my website – Beer Beauty where my mission is to spread the word about the beauty in beer. I also set myself a challenge to get 50 women in a room to sample some beers at a party to launch my website and I was oversubscribed.
Since then I've thrown the occasional Ladies Only beer party and have converted around 500 women to the virtues of beer.
MORE INSPIRATIONAL WOMEN ON HUFFPOST UK:

Brix Smith Start On Her Inspirational Women
Did you face a lot of weird looks and comments from guys?
I get looks of instant shock and surprise, which then develops into the utmost of admiration, respect and jealousy. 'I'd love your job' they say. I reply: 'It's not my day job, it's more of a hobby' and that always makes them even more envious.
Have any guys found it hard to take what you say seriously because you're a woman?
I've had a few snipey comments but not many. Most men I've met say they are so thrilled to see me 'championing' beer on TV and on the radio (I've appeared on The Alan Titchmarsh Show, This Morning, The Great British Food Revival and so on, conducting beer tastings and beer and food matching).
99.99% of the men I've met who are involved in the British beer and pub industry have been nothing but lovely to me. I think the industry is unique in that regard. It's a great world to be in and I don't think many people realise what a little firecracker of a manufacturing industry the UK has in its brewing industry.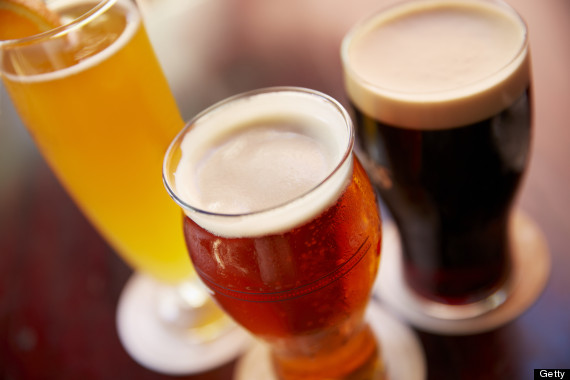 Do you need special training?
I had to study three courses with The Beer Academy in London, and then make an application to take the 90min viva voce Beer Sommelier exam. Without giving too much away about the final exam is a true test of your grasp of beer tasting and beer-and-food matching.
What is an average day for you?
There's no average day for me – as a TV news journalist, one day I might be preparing for interviews for a documentary I'm making, the next it's writing the script for a documentary feature I'm producing, the other day I might be anchoring TV News bulletins. All around it I fit in various beer events in London.
Do women drink beer or mostly wine?
Women still mainly drink wine and spirits but over 1.3million women say they now regularly enjoy drinking cask ale (real ale) at a pub. You only have to go to the new era of craft beer festivals that are popping up around the country to see the huge swathe of young women turning up and thoroughly enjoying trying new tasty, exciting, aromatic, flavoursome beers to recognise there's a huge renaissance afoot.
The recent Birmingham Beer Bash in my home town was amazing, we've got Urban Sessions going on right now in East London, the Craft Beer Social Pop-Up next month and Manchester's Indy Man Beer Con is coming up in October
What are your favourite things about your job?
Free beer being delivered to my house virtually every day, as brewers want me to try their new stuff. The countless invites to visit breweries and pubs.
Story continues below the slideshow:
Iconic Images Of Women Throughout History
Anne Hutchinson (1591-1643) was a reformer in the Massachusetts Bay Colony who accused Puritan ministers of making salvation dependent on good works rather than divine grace. She alleged that God communicated directly to her -- an allegation that resulted in her being put on trial, convicted for blasphemy and banished from the colony. In challenging the religious hierarchy, Hutchinson also challenged traditional gender roles.

Harriet Tubman (c1820-1913) was a former slave and "conductor" of the Underground Railroad who helped escort over 300 slaves to freedom.

Susan B. Anthony (1820 - 1906) was an early leader in the Women's Suffrage Movement and co-founder of the National Woman Suffrage Association. She played a pivotal role in women gaining the right to vote.

Tess Billington, a British suffragette, during a protest at the House of Commons.

Emmeline Pankhurst (1858 - 1928), a British suffragette, is arrested during a protest outside Buckingham Palace.

The women pictured are Annie Parram, 104, Anna Angales, 105, Elizabeth Berkeley, 125 and Sadie Thompson, 110. According to a Washington Post article, the 1916 convention was the fifty-fourth gathering of former slaves and ran from October 22nd to November 6th. President Wilson is listed among the invited speakers.

Gertrude Stein (1874 - 1946) was an American expatriate writer, famous both for her avante-garde prose and for her Parisian salons. She is photographed here with her partner Alice B Toklas (1877 - 1967).

Suffragettes in London march to protest the first arrest of a suffragette.

Margaret Sanger (1879 – 1966) was an early advocate of legalizing birth control. She was the founder of the first North American family planning center and was instrumental in the genesis of the first oral contraceptive, or "Magic Pill."

Amelia Earhart (1897 – disappeared July 2, 1937) was an American aviator and the first female pilot to fly solo across the Atlantic. She disappeared during an attempt to circumnavigate the globe in 1937.

Eleanor Roosevelt (1884 – 1962) was the wife of President Franklin D. Roosevelt ad the longest serving First Lady in U.S. history. During her time as First Lady, she broke precedent by giving speeches and writing a newspaper column. After FDR's death, she championed human and women's rights.

Hattie McDaniel became the first African American to win an Academy Award when she took the Best Supporting Actress statuette home for her portrayal of Mammy in Gone With The Wind.

Rosie the Riveter is a fictional icon created during World War II and meant to represent the women who took over factory work -- typically a male domain -- while men were fighting overseas.

Rosalind Franklin (1920 – 1958) was a British biophysicist and X-ray crystallographer who was instrumental in the discovery of DNA.

Rosa Parks (1913-2005) was an American Civil Rights activist, most famous for refusing to give up her seat on a bus to a white passenger in Montgomery, Alabama in 1955.

Ruby Bridges (born 1954) was the first African American child to desegregate an elementary school when she walked into William Frantz Elementary school in New Orleans, Louisiana in 1960.

Wilma Rudolph (1940 - 1994) was an American runner and Olympian. She became the first American woman to win three Gold medals at the 1960 Rome Olympics.

Rachel Carson (1907 - 1964) was a biologist, ecologist and writer. She authored Silent Spring which examined the effects of pesticides on the environment. She is credited with helping to launch the environmental movement.

Betty Friedan (1921 - 2006) was a leader in the second-wave feminist movement. She authored The Feminine Mystique in 1963 and founded the National Organization for Women (NOW) in 1966.

The Third World Women's Alliance was formed to highlight the problems faced by women of color, particularly the destructive connection between race, sex and exploitation.

Gloria Steinem (b. 1934) is a journalist, activist and feminist icon. She was a leader of the feminist movement of the late 1960s and 1970s and co-founded Ms. Magazine. CORRECTION: An earlier version of this caption listed Steinem's birth year as 1954. She was born in 1934.

Billie Jean King (b. 1943) ranked number one in the world in women's tennis for five years, wining six Wimbledon championships and four U.S. opens. She is perhaps most glorified for beating Bobby Riggs in the "Battle of the Sexes" in 9173.

Julia Child (1912 - 2004) was a chef, cookbook author and television host. She pioneered cooking shows on TV and brought French cooking into American kitchens.

When Sandra Day O'Connor (b. 1930) was appointed to the Supreme Court by President Ronald Reagan in 1981, she became the first female Justice. She served on the Court until 2006.

Maya Lin (born 1959) is an architect and artist, best-known for designing the Vietnam Memorial after she won a national competition at just 21.

Sally Ride (1951 – 2012) was an astronaut and broke barriers in 1983 when she became the first American woman to fly in space.

Maya Angelou (born 1928) is a poet and author. She recited her poem "On the Pulse of Morning" at Bill Clinton's inauguration in 1993.

When Ellen Degeneres (born 1958) came out to TIME Magazine in 1997, she made history by becoming the first openly gay star on TV.

Madeleine Albright (born 1937) became the first female Secretary of State when she joined the Clinton administration in 1997.

Condoleeza Rice (born 1954) served as the first female National Security Advisor and then the first African American woman Secretary of State during the George W. Bush administration.

In her 2008 candidacy for President, Hillary Clinton (born 1947 ) In the won more primaries and delegates than any other female candidate in history, though she ended up losing the primary to now-President Barack Obama. She went on to become Secretary of State.
Coolest moment or achievement?
Being the first ever woman to win a gold award at the British Guild of Beer Writers back in 2010. I couldn't believe the level of whooping and hollering in the room when it was announced.
I got given my prize by Fergus Fitzgerald the head brewer of Adnams: one of East Anglia's biggest and most prestigious breweries. It was a really honour and a privilege to be given the prize by him having been invited to the brewery in the Winter and seen their operations and their distillery, and given how much I admire the beers he produces.
How can more women get into this?
I urge many more women to try beer if they never have. It's a healthy drink – full of B vitamins and minerals, there's not fat or cholesterol in beer. A half pint of a 5% beer has less calories than half a cider of the same strength, or a 250ml glass of red or white win.
If you're looking for a way to reduce your alcoholic intake/change your drinking habits, beer could work for you. When I stopped drinking red wine as my first choice I stopped having dreadful hangovers and I actually drink less anyway. There's no obligation on anyone, male or female to drink pints.
What do you do to relax?
I watch TV. I'm a Coronation Street super-fan. I love shows with strong women – Scott & Bailey and Scandal are my top faves!