The Russian parliament could introduce a bill that makes it illegal for gay parents to retain custody of their own children.
Reported by the Associated Press, Russian lawmaker Alexei Zhuravlev has proposed legislation that would make relationships of a "non-traditional sexual orientation" subject to a denial of custody, similar to parents who suffer from alcoholism and drug dependency, or parents who abuse their children.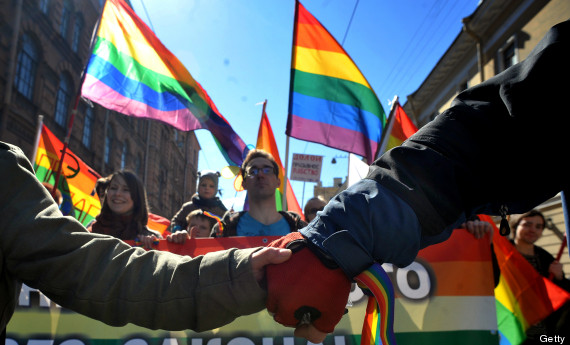 Gay rights activists march through St Petersburg in May
This latest assault on human rights in Russia follows enactment of the controversial anti-gay bill that made it illegal to disseminate "homosexual propaganda" to minors.
The Kremlin has maintained that the "propaganda" bill is designed to protect children however it has been used by the regime to block gay marches and protests, while allowing police to arrest members of the LGBT community on a whim.
Russia's increasing censure of the gay community has proved a populist move for Putin; Russia is a religiously conservative country dominated by the Orthodox Church and the anti-gay bill has been well-received by the older generation to whom Putin now looks for support.
SUBSCRIBE TO & FOLLOW UK DAILY BRIEF