Time to turn that Monday frown upside down.
Who would've thought that overcoming the obstacles of a Monday morning - finding a pair of matching socks or resisting the urge to fall asleep on the train - may just yield in the most productive work day of the week?
Researchers have found that we're at our peak of our productivity on Mondays bright and early at 10:01am, but by Tuesday afternoon all that energy begins to fade and the procrastination monster kicks in.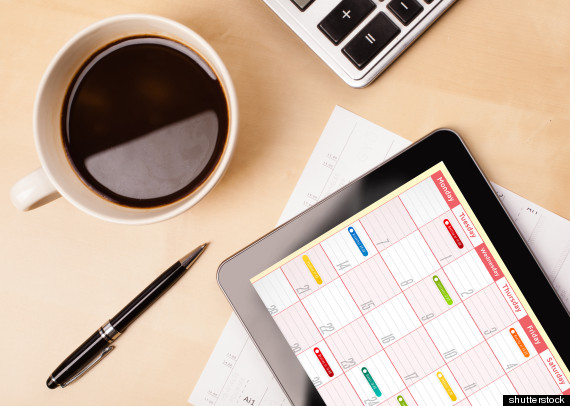 More often than not the noble intentions of Monday morning's to-do list have been thwarted: two thirds of people barely ever manage to complete everything they set out to, according to the Microsoft Office survey.
Our advice? Make the most of your energy and concentration while it lasts.
See Also:

15 Surprising Tips For Success At Work
As silly as it may sound, sometimes taking the smallest precautions - such as charging your devices or putting your keys on the table - before going to sleep can turn your mornings around.
All in all, you can make time for anything - just have to learn how to prioritise well and efficiently.
For fun apps that will keep your head straight and tasks on point, have a look at our gallery below.
Loading Slideshow
Clear

Called <a href="http://www.theverge.com/2012/11/7/3613664/clear-for-mac-review" target="_blank">"The iPhone's most beautiful to-do list app"</a> by The Verge, <a href="https://itunes.apple.com/us/app/clear/id493136154?mt=8" target="_blank">Clear</a> ($9.99 for Mac) is a productivity app for those who care about aesthetics just as much -- if not more -- than functionality. But it's also incredibly user-friendly: Just swipe to check an item off the list, and simply shake your phone for the option to email your list. The user can also create separate lists for work, shopping, personal goals and more. <a href="http://gizmodo.com/5885307/clear-app-cross-chores-off-your-to+do-list-with-a-swipe" target="_blank">Gizmodo</a> deems it "perfect for busy people."

Pocket

Formerly known as Read It Later, the free app <a href="https://itunes.apple.com/us/app/pocket-formerly-read-it-later/id309601447?mt=8" target="_blank">Pocket</a> can be used to save articles, videos and web pages that you don't have time to read but want to return to later. Like Evernote, the app syncs across platforms for easy access and streamlined link-saving. CNET gave the app a five-star review, <a href="http://reviews.cnet.com/software/pocket-android/4505-3513_7-35473909.html" target="_blank">writing</a>: "If you're looking for a bookmarking tool that syncs across devices, then look no further. Better than Instapaper and other competitors, Pocket is the app to beat in the category."

Evernote

Sync all your notes, clippings, to-do lists and reminders across devices with Evernote, the highly-rated productivity app that makes it to the top of many reviewers' lists. The <a href="https://itunes.apple.com/us/app/evernote/id281796108?mt=8" target="_blank">free app</a> conserves time and energy by saving all your files, photos, reminders, to-do lists, tweets and more in one app accessible from all your platforms. Email notes to yourself or others, and search within notes for easy access to any information. "Evernote is the last notebook you'll ever need," <a href="http://socialmediatoday.com/node/1524231" target="_blank">Social Media Today</a> wrote.

MindNode

Before you dismiss the idea of mind-mapping as something out of The Matrix, try the brainstorming tool <a href="https://itunes.apple.com/us/app/mindnode/id312220102?mt=8" target="_blank">MindNode</a> ($9.99). The iPhone and iPad app could lead you to some of your best ideas in less time by allowing you to organize projects and concepts in a vibrant graphic. "The theory is that these large, pictorial networks mirror the way our brains work, making it easier to spot connections and insert new ideas," <a href="http://www.forbes.com/sites/nextavenue/2013/02/08/5-best-apps-for-getting-and-staying-organized/2/" target="_blank">a Forbes article explains</a>.

Mailbox

If just looking at your overflowing Gmail inbox makes your pulse quicken, the free iPhone app <a href="https://itunes.apple.com/us/app/mailbox/id576502633?mt=8" target="_blank">Mailbox</a> is your new best friend. The app helps you tackle that mounting inbox -- with the goal of getting down to the elusive "inbox zero" -- with convenient labels for all your unread emails and a feature that allows you to instantly swipe messages to archive or trash. "Mailbox largely fixes a problem most of us have with email: quickly getting rid of the junk we don't want, and saving the stuff we do for later," <a href="http://www.businessinsider.com/mailbox-iphone-app-review-2013-2#ixzz2YUY5c7Yq" target="_blank">writes Business Insider</a>. "You'll want to give it a try."

CloudOn

<a href="http://mashable.com/2013/04/26/5-apps-boost-work-productivity/" target="_blank">Recommended by Mashable</a> for boosting work productivity, CloudOn (<a href="https://itunes.apple.com/us/app/cloudon/id474025452?mt=8" target="_blank">free in the App Store</a>) allows you to use Microsoft Word, Excel and PowerPoint to create documents on the go using your iPhone, iPad or Droid. Users can sync with Box, Dropbox, Google Drive and SkyDrive accounts, and also email files to contacts directly from mobile devices, so you don't have to wait until you get to a computer to add that attachment. "If you find yourself in a pinch needing to work with Microsoft Office files, the free CloudOn app might be just what you're looking for," <a href="http://techland.time.com/2013/04/15/50-must-have-ipad-apps/slide/cloudon/#ixzz2YUZao2Ru" target="_blank">writes TIME TechLand</a>.

Checkmark

You've written on at least five to-do lists that you need to pick up your dry cleaning, but can never seem to remember at the moment you're actually walking past the dry cleaner. Of course, there's an app for that. Try <a href="https://itunes.apple.com/us/app/checkmark/id524873453?mt=8" target="_blank">Checkmark</a>, which can set up reminders based on time and location. For $4.99, users can create repeat notifications, or snooze reminders to save for next time. "While Apple's built-in Reminders app does location-based tasks pretty well, Checkmark makes it dead simple," <a href="http://lifehacker.com/5963231/checkmark-is-still-the-best-location+based-reminders-app-around-is-99-today" target="_blank">LifeHacker raves</a>.