One of the major surveys about the sex lives of Brits has just been published, and one of the key findings is that we aren't having quite as much sex as we used to.
The National Survey of Sexual Attitudes and Lifestyles (Natsal), which is conducted every decade has found that people have sex three times every month on average. This means that our sexual activity is steadily declining.
The Daily Telegraph reported experts as saying that a key reason for the decline could be our addiction to tablets and smartphones. It reported Professor Kaye Wellings of the London School of Hygiene and Tropical Medicine, one of the study leaders, as saying the change could be in part down to the "blurring of the line in the home between the bedroom and outside".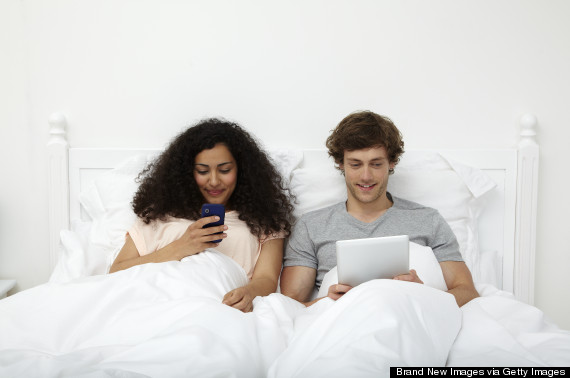 "People (are) taking laptops to bed, iPads, the fact work comes into our home now – there's no strict divide," she said.
Jo Hudson founder of Play Kinky and the Kinky Times agrees. Talking to HuffPost UK Lifestyle, she said: "Technology is clearly a rampant influence in today's society and naturally it pulls focus from actual people. People touch their smart phones more than they touch their partners. For our money, phone bans at bedtime are as crucial as technology embargoes at the dinner table."
Jo's company ran a survey earlier this year, and funnily enough it revealed that the biggest sexual desire within couples is "simply to have sex more often (48% of respondents agree) and that a more fulfilling sex life would improve not relationships (78% agree) but actually overall wellbeing (70% agree). Sexual satisfaction is an important need and should not be neglected."
Story continues below the slideshow:
Sex Secrets Everyone Should Know
Ironically, some of the best sex secrets are those men and women keep from each other, Dr. Joannides says. To have good sex, you need to talk about your likes and dislikes. "One of the most important things to do is to ask and to listen," says Joannides. "A lot of guys are terrified that some people may think they don't know all the answers. Also, some guys think they do know all the answers." It can be difficult to broach the subject of sex. But here are tips from Joannides that can clue you in to what your partner enjoys:

Don't ask about what she or he doesn't like or what doesn't feel good. That puts a negative spin on it. Instead, ask her or him what feels best.

For example, let her show you what she likes rather than tell you. "A really good thing to do is to say, 'Let's switch places here. I'd like you to kiss my chest just the way you'd like me to kiss yours,'" Joannides says. "Sit back and learn." Communication is a two-way street. Remember to let your partner know your likes and dislikes as well, including what gives you pleasure for maintaining an erection and having an orgasm.

"Try to get a book or two or three or four that you think your partner might enjoy," Joannides says. "Look through it with her and see what she's interested in. Sometimes it's easier that way because someone might not be comfortable telling you what they want to do, but they may see a photo and say, 'Hey, that looks interesting.'"

Remember that your brain is the most important sex organ in your body. Keep things fun and playful by talking over your fantasies with your partner. And don't feel like you should rid your mind of fantasies during sex — experts consider these fantasies an important way to kindle the desire that leads to erection and orgasm.

Try having sex in different places and at different times. Be playful and try out different positions. "Don't just do the same thing every night, every time," says Joannides. "It's easy to get into a rut and be really predictable. Sometimes with certain things predictability is good, and other times it isn't. It's a wise man who learns which is which."

"Sometimes guys feel that what a woman wants is for them to be porn stars," Joannides notes. "That's probably one of the worst models for lovemaking you could ever have. It's trying to live your life like you were a character on Star Trek. It's a nice fantasy to watch. It wouldn't work if you tried to act it out in real life."

Exercise has been shown to improve your sex life. For example, aerobic exercise improves blood flow, which is important in achieving an erection. It also can improve your sexual stamina and strength.
Mike Lousada, a psychosexual therapist says that we should take heed from the situation in Japan, where couples are existing in a disconnected society where sex just isn't very important.
"I think there is a shift on how we have relationships, partly based on technological developments. A 100 years ago people typically may only have met one or 200 people in their entire lives. Now, with social media, we can have hundreds of "friends" - but do we allow ourselves to have deeper relationships? It's as though we have more breadth but less depth in relationships. Intimate relationships require us to show ourselves, to be vulnerable and I think that people are finding this difficult. It's easy now if we fall out with one person, just to move on to the next, we have so much choice.
SEE ALSO:

Men, Stop Fretting About Penis Size - Worry About The Inches On Your Shirt Collar
"Sex can obviously be a very intimate experience, especially in an existing relationship. For many it is challenging to move beyond the superficial performance level of sex into something more real and meaningful. I think that many people avoid this because it can evoke uncomfortable feelings."
Michael Kallenbach, a relationship therapist and couples counsellor, isn't quite convinced, however.
"The fact that these days everyone is either on some sort of mobile or computer device has meant that there have been distractions, but sex can take place at any time of the day or night – there doesn't have to be a prescribed time for it to happen. Sometimes spontaneous and creative thinking needs to be part of the mix and couples need to be adventurous. For a start, they need to be able to talk about things. It seems to me that it's all too easy to blame everything on modern-day appliances, as seductive and obsessive as they may be."
The other thing to bear in mind is that while there can be comfort in knowing that other people are having the same sexual issues as you, don't be worried about what may or may not be 'normal'.
Suzi Godson, The Times sex columnist and HuffPost UK blogger has said that often these types of survey don't take into account the permutations of what may affect someone's sex life. "It is much easier for clinicians and researchers to raise questions about sex but it's much harder for them to deal with something as abstract as sexual pleasure.
"One of the most important functions of the Natsal research is to correct myths and misinformation about sexual behavior. What's very reassuring is that older people continue to have and enjoy sex and it mediates expectations by showing that people are not, as we have been lead to believe, having sex an average of three times a week."