Amazon claims it will experiment with delivering products via unmanned drones.
The news - timed nicely, and not coincidentally with the 'Cyber Monday' online shopping event - was made by Amazon CEO Jeff Bezos on American TV.
Bezos told 60 Minutes that the robots anticipated by Amazon could be able to deliver packages of up to 5 pounds in weight in less than half an hour. The drones would lift packages off conveyor belts, and be able to carry them a maximum distance of 10 miles.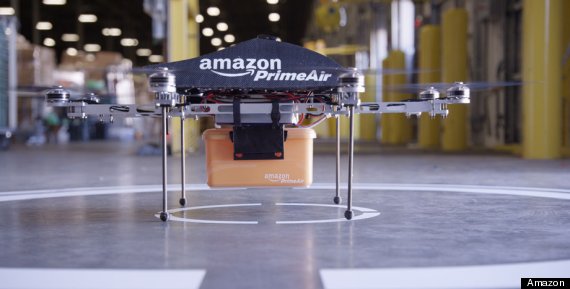 The system is named 'Prime Air', Bezos said, and would involve years of regulatory work, technical advancement and testing to actually implement. Amazon admitted Prime Air would not be ready until at least 2015, possibly much later.
"The hard part here is putting in all the redundancy," Bezos said. "All the reliability to say this can't land on somebody's head."
Luckily Amazon has a video for you right now of the cute little drones in action...
It also answered some questions on its website:
Q. Is this just a sci-fi fantasy?
It looks like science fiction, but it's real. From a technology point of view, we'll be ready to enter commercial operations as soon as the necessary regulations are in place. The Federal Aviation Administration (FAA) is actively working on rules for unmanned aerial vehicles.
Q: Will it be safe?
The FAA is actively working on rules and an approach for unmanned aerial vehicles that will prioritize public safety. Safety will be our top priority, and our vehicles will be built with multiple redundancies and designed to commercial aviation standards.
Meanwhile Waterstones has come up with its own ornithological response to Amazon's idea...
LIKE US ON FACEBOOK | FOLLOW US ON TWITTER
Loading Slideshow
Beer

Far friendlier than its bomb-dropping cousins, <a href="http://www.afp.com/en/node/1030884" target="_blank">Oppikoppi's drone "Manna" delivered free beer to concertgoers</a> who called for it with a smartphone app.

Tacos

The original delivery drone, <a href="http://www.huffingtonpost.com/2012/03/23/tacocopter-startup-delivers-tacos-by-unmanned-drone-helicopter_n_1375842.html" target="_blank">Star Simpson's Tacocopter</a> started as a proof of concept. A web page advertising taco delivery by drone gained publicity and was eventually dismissed as a "hoax," but Simpson insists she'll get the service up and running once the United States makes it legal.

Burritos

Inspired by Star Simpson's Tacocopter, the minds behind <a href="http://www.cnn.com/2013/06/21/tech/innovation/drone-burrito-bomber" target="_blank">California's</a> Darwin Aerospace created a working "<a href="http://www.darwinaerospace.com/burritobomber" target="_blank">Burrito Bomber</a>" and filmed it delivering its tasty payload. Darwin Aerospace's website now documents the making of the delivery drone and encourages the industrious to build their own bombers.

Pizza

In June, a Domino's franchise outside London <a href="http://www.nbcnews.com/technology/dominos-domicopter-drone-can-deliver-two-large-pepperonis-6C10182466" target="_blank">delivered two large, piping hot pepperoni pizzas via drone</a>. According to NBC news, Domino's is apparently "serious" about delivering pies with drones in the future, but the company must first jump regulatory hurdles to ensure the delivery is civilian-safe.

Dry Cleaning

This July, Harout Vartanian, owner of the Philadelphia-based Manayunk Cleaners, tried out a new marketing gimmick: <a href="http://www.nbcphiladelphia.com/entertainment/the-scene/Dry-Cleaning-Drone-Delivering-Clothes-to-Customers-214736141.html" target="_blank">dry cleaning delivery via drone</a>. The venture brought the establishment much-needed attention, and Vartanian says he eventually plans to make all his deliveries drone-borne.

Cake

<a href="http://www.popsci.com/technology/article/2013-07/shanghai-cake-company-claims-drone-delivery" target="_blank">China's Incake bakery debuted drones</a> that delivered cakes to the bakery's Shanghai customers. Incake had to suspend the airborne service after Chinese police said the drones were a threat to public safety.

Sushi

YO! Sushi has a high-tech reputation to maintain; the chain pioneered the practice of putting sushi on in-house conveyer belts, letting patrons pick out plates of what they liked best. <a href="http://newsfeed.time.com/2013/06/11/drone-delivers-flying-sushi-burgers-at-london-restaurant/" target="_blank">Now the franchise is experimenting again</a>: At YO! Sushi's London flagship, small quadcopters deliver rice bun "sushi burgers" to hungry patrons.

Medicine

Not all drone delivery schemes are frivolous or for foodies; Paola Santana and her co-founders at the Matternet <a href="http://www.huffingtonpost.com/2013/03/25/matternet-paola-santana-drones_n_2763088.html" target="_blank">plan on using drones</a> to deliver medicine and supplies to infrastructure-poor parts of the world.

Seeds & Pesticides

<a href="http://rmax.yamaha-motor.com.au/agricultural-use" target="_blank">Drones are already hard at work in Japan,</a> delivering seeds and pesticides to farms on steep hillsides <a href="http://news.nationalgeographic.com/news/2013/06/130606-drone-uav-surveillance-unmanned-domicopter-flight-civilian-helicopter" target="_blank">that are difficult to reach by tractor</a>.