It's time to place your World Cup bets – there's a new psychic animal in town.
A hamster to be precise.
Meet Mini-Merv, the resident psychic at Thatcher's Pet & Tackle Shop in Wells, Somerset.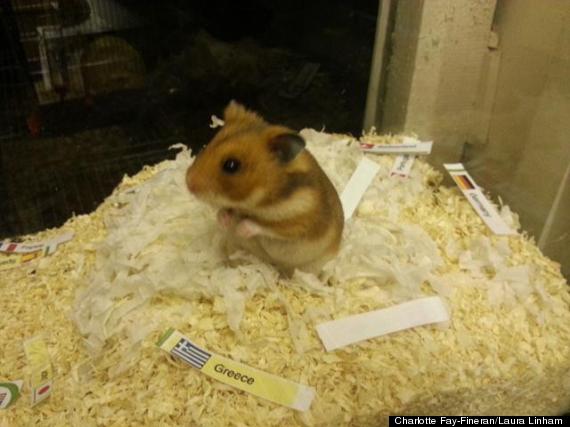 Psychic: Mini-Merv in her tank at Thatcher's Pet & Tackle Shop in Wells, Somerset
According to the clairvoyant creature, so christened by the Central Somerset Gazette, England will face Switzerland, Portugal and Iran in the first stage of the World Cup.
Mini-Merv was handed a selection of slips featuring team names and given privacy to make her predictions.
A spokesman for the pet shop told HuffPost UK: "She certainly took her time over it, the process took quite a while.
"We tried with a guinea pig at first but they were too timid."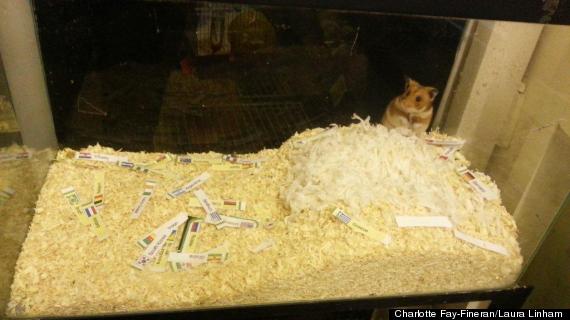 Soothsayer: Mini Merv says England will face Switzerland, Portugal and Iran in the first stage of the World Cup
We're hoping Mini-Merv's choices come good as she has some big shoes to fill. In 2010, a German octopus named Paul correctly predicted eight World Cup winners.
And in 2011 a cross-eyed opossom called Heidi achieved nearly a full sweep with her prophecy for the year's Oscar winners.
Let's not forget New Zealand's three-year-old psychic sheep Sonny Wool and his Rugby World Championship predictions of 2011, nor last year's "oracle hog" of the Ukraine.
No pressure then, Mini-Merve.
Oscar the Cat has sensed 50 deaths at the Steere House Nursing and Rehabilitation Center in Providence, Rhode Island. On a typical day, Oscar remains distanced from patients except for those few who face hours until death. The cat keeps vigil, remaining by their sides until they pass. Read an article about Oscar's psychic talents by Dr. David Dosa, geriatrician at the Center. Dr. Dosa published a book, "Making the Rounds With Oscar: The Extraordinary Gift of an Ordinary Cat."

As support dogs, dogs are trained to forecast epileptic seizures. The seizure alert dogs are trained to prepare their owners for impending attacks. Fifty minutes before a major seizure, a dog will fanatically lick his owner's hand as a warning sign. For minor seizures, a dog licks the hand three times. Toni Brown-Griffin calls her dog "mystical" and reports a 100 percent accuracy rate. Watch the story of Toni and her dog A-Jay.

When you think of animals that make predictions, most likely you think of groundhogs. On February 2nd, all eyes look to Punxsutawney Phil to see what season we face next. Celebrated for his psychic powers, there may be some truth to Phil as a furry forecaster. The animal notices the shift in light and temperature, which he uses to make his prediction.

Billy Gibbons believes that his chicken Lucky is clairvoyant. After trampling on Billy's calculator, Billy played the winning numbers that Lucky selected. Billy and Lucky won every number except the last one that Billy selected. Together, they would have won 9 million Pounds, instead they won a bit of fame.

It is popular belief that snakes can predict earthquakes and tsunamis by detecting the earth's vibrations and atmospheric changes. In 1975, scientists noticed that snakes retreated from hibernation in freezing Haicheng, China, which was an unusual occurrence. Believing the bizarre snake behavior (and the heightened foreshock activity) to be a signal of an impending earthquake, officials evacuated much of Haicheng the day before the earthquake and saved 150,000 people. The earthquake struck at a magnitude of 7.3.

In Harar, Ethiopia, hyenas are believed to be the protectors of the ancient 1,000-year-old city. Residents deem them to be the city's spiritual guardians who scare off devils and predict the future. To predict the promise of crops in the new year, the hyenas are given a porridge. If they eat half of the dish, the year will be successful. If all of the porridge is consumed, it will be a poor harvest.