The nation - well, the reality TV watching part of it, anyway - is in shock this morning with not one but two shock evictions last night from 'I'm A Celebrity... Get Me Out of Here!'
Joey Essex, the firm favourite for this year's title, was voted out of the jungle, and so was Amy Willerton, this year's bikini babelet, whose Machiavellian dealings had caused the distaste of her campmates but kept the audience tittering, particularly her flirting with Joey.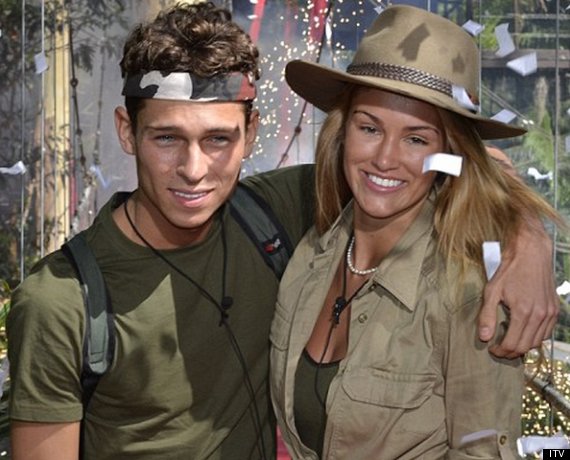 Joey and Amy went home last night, much to the shock of Tweeting fans
Joey's eviction was a particular shock, because his benign antics in the jungle had brought the TOWIE star a new legion of fans, hanging on his every Joeyism - 'I've never learnt to blow my nose, never needed to' - and creating his own hashtag on Twitter, #joeyofthejungle.
Both were happy in defeat. Amy told hosts Ant and Dec, "I never thought I'd make it this far. I'm shocked it's been the most amazing time - a blessing."
Joey commented, "It's like being in school - you learn so much. I've learned more in there than I would have in three years."
On the subject of Rebecca Adlington's tears about being compared with physically, Amy continued to be gracious, saying, "I just wanted to tell her, Becky, every woman in her life has not felt body confident.
I know exactly what that feels like.

"I hope my time in the jungle shows that looks are limited and that I'll have to show something else. I hope I've shown that I have brains and I have substance."
So now this popular pair have left the camp, the three people left in for this weekend's final are former Westlife singer Kian Egan, soap star Lucy Pargeter and dress designer David Emanuel.
'I'm A Celebrity' - Biggest Wimps
1. Helen Flanagan Queen of the jungle wimps has to go to Helen Flanagan who refused to even start some trials, no matter how hard Ant and Dec tried to convince her otherwise. Nice try, chaps.

Even all of that healthy eating couldn't stop Gillian McKeith from the most over the top fainting episode ever seen on live telly after she was chosen yet again to take part in the Bushtucker Trial in 2010.

2. Natalie Appleton Former All Saints star Natalie Appleton who was scared of EVERYTHING (even um, trees). Fast forward to the 4min 57sec point of the video to see her in all her (hilarious) glory.

4. Sinitta Sinitta had to play a game of (solo) pass the parcel during a live trial on the eleventh series. Well, we say solo, there were a few surprises underneath each layer. Cue Sinitta jumping around the camp like a crazy kangaroo.

5. Dean Gaffney Former 'EastEnder' Dean Gaffney hyperventialted his way through one particularly slimy Bushtucker Trial in 2006. Comedy gold.

6. Jan Leeming After being voted to do yet another Bushtucker Trial in 2006, former newsreader Jan Leeming asked; 'WHY do they keep voting for me? It's like poking a bear in a cage. Is it going to make good TV watching Jan Leeming break down and cry?'. Errrrm, that'll be a 'yes', Jan (fast forward to the 6min 40 second point on the video).

7. Paul Burrell More TV gold was created when Princess Diana's former butler Paul Burrell took part in the Hell Hole challenge in 2004. Unfortunately all traces of the video of him shreaking and squealing like a teenage girl appear to have mysteriously disappeared, but we still think this pic does the job nicely.
CLICK HERE TO WIN A HP PAVILION TOUCHSMART 15.6" LAPTOP WORTH £500!
MORE 'I'M A CELEBRITY'