One Direction singer Liam Payne is neither confirming nor denying that he is Batman following his daredevil feat of standing on a balcony ledge 34 floors up a building.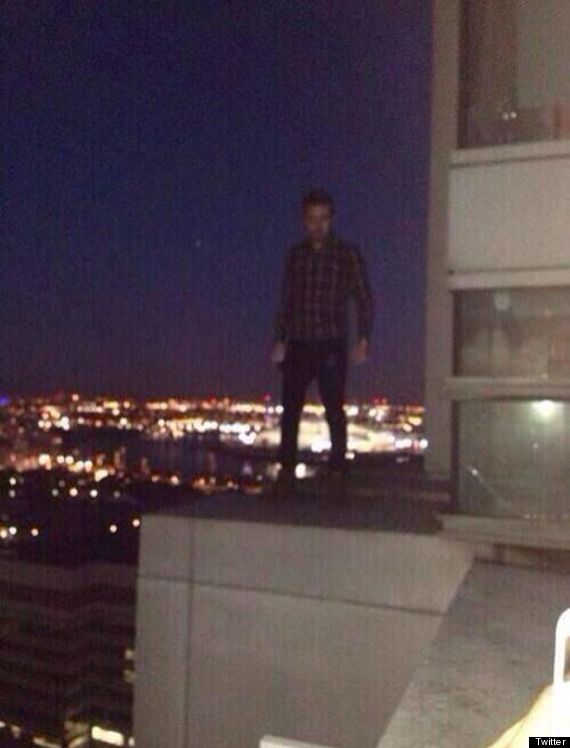 Is it a bird? Is It a plane? Is it the wrong reference? Payne on the balcony
Possibly realising his mistake at revealing his superhero powers in public, Payne tweeted:

@Real_Liam_Payne

Liam Payne
You may have seen a photo of me today taken on top of a building. I regret being there and having a photo taken.
Despite Payne's air of mystery, however, photographs have surfaced that appear to prove his identity as the caped crusader: The mask slips: Bruce Payne
As a result, thousands of girls have now gathered outside Payne's house with placards asking him to save Gotham City - causing him to plead on Twitter:

@Real_Liam_Payne

Liam Payne
I know my friends have tweeted a lot of pictures of my house the past few days but can people please stop coming and waiting outside
And ask fans to allow him to return to his quiet life as a singer in the world's biggest boyband:

@Real_Liam_Payne

Liam Payne
I'd just like to be able to walk outside as everyone does and enjoy time with my friends, not feel bad for not wanting to take a picture
ON OTHER PAGES:

"OMG! Liam's The Caped Crusader!!!": Fans React On Twitter
Mayor Of Gotham City Pleads With Liam To Help Save Boris Bike Scheme
Lee Ryan Neither Confirms Nor Denies He Was Once In A Boyband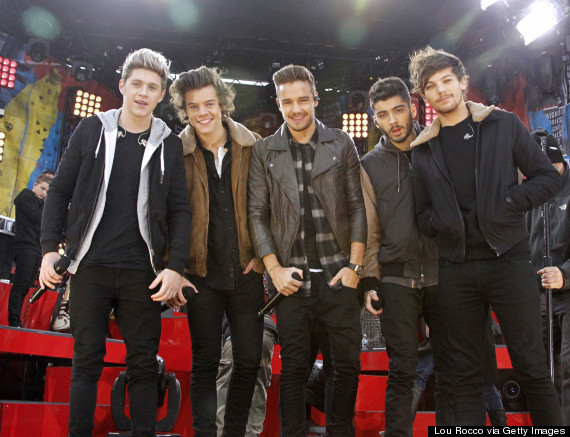 Liam (centre) with his One Direction bandmates The Penguin, The Joker, Robin and Bane
One Direction's Road To World Domination
(Pic: WENN)

(Pic: WENN)

(Pic: WENN)

(Pic: WENN)

(Pic: WENN)

(Pic: WENN)

(Pic: WENN)

(Pic: WENN)

(Pic: WENN)

(Pic: WENN)

(Pic: WENN)

(Pic: WENN)

(Pic: WENN)

(Pic: WENN)

(Pic: WENN)

(Pic: WENN)

(Pic: WENN)

(Pic: WENN)

(Pic: WENN)

(Pic: WENN)

(Pic: WENN)

(Pic: WENN)

(Pic: WENN)

(Pic: WENN)

(Pic: WENN)

(Pic: WENN)

(Pic: WENN)

(Pic: WENN)

(Pic: WENN)

(Pic: WENN)

(Pic: WENN)

(Pic: WENN)

(Pic: WENN)

(Pic: WENN)

(Pic: WENN)

(Pic: WENN)

(Pic: WENN)

(Pic: WENN)

(Pic: WENN)

(Pic: WENN)

(Pic: WENN)

(Pic: WENN)

(Pic: WENN)

(Pic: WENN)

(Pic: WENN)

(Pic: WENN)

(Pic: WENN)

(Pic: WENN)

(Pic: WENN)

(Pic: WENN)

(Pic: WENN)

(Pic: WENN)

(Pic: WENN)

(Pic: WENN)

(Pic: WENN)

(Pic: WENN)

(Pic: WENN)

(Pic: WENN)

(Pic: WENN)

(Pic: WENN)

(Pic: WENN)

(Pic: WENN)

(Pic: WENN)

(Pic: WENN)

(Pic: WENN)

(Pic: WENN)

(Pic: WENN)

(Pic: WENN)

(Pic: WENN)

(Pic: WENN)

(Pic: WENN)

(Pic: WENN)

(Pic: WENN)

(Pic: WENN)

(Pic: WENN)

(Pic: WENN)

(Pic: WENN)

(Pic: WENN)

(Pic: WENN)

(Pic: WENN)

(Pic: WENN)

(Pic: WENN)

(Pic: WENN)

(Pic: WENN)

(Pic: WENN)

(Pic: WENN)

(Pic: WENN)

(Pic: WENN)

(Pic: WENN)

(Pic: WENN)

(Pic: WENN)

(Pic: WENN)

(Pic: WENN)

(Pic: WENN)

(Pic: WENN)

(Pic: WENN)