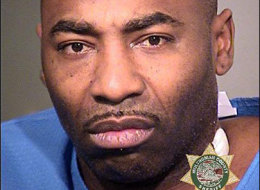 A robbery suspect who accidentally shot himself in the testicles has been arrested.
Joseph Johnson was charged with robbery, assault and felon in possession of a firearm, KGW.com reports.
Portland Police say Johnson was arrested on Tuesday night after his neighbour was shot during a robbery.
In a news statement reported by KATU.com, Sgt Pete Simpson said: "As Johnson ran from the scene, he shoved the gun into the front of his waistband and shot himself in the testicles."
Johnson was treated for his injuries before he was booked into Multnomah County Jail.
"The suspect's wound is consistent with somebody putting a gun in his pants," Sgt Simpson told the Oregonian.
The victim, who was shot in the leg, is recovering in hospital.
11 Of The Dumbest Criminals Ever (PHOTOS)
What these two Tennessee would-be robbers taught us by trying to "disguise" themselves by covering their face in black magic marker is that there is never, ever a good reason to apply black anything to a white face.

This headline. That's all.

In a scene that sounds like more like a Monty Python sketch than an actual news item, an Amish teen led a low-speed police chase on his horse and buggy.

Bad news: A Florida man was pulled over and arrested after the police searched his car and found marijuana and drug paraphernalia. Good news: In the process, the police found a bong that the man had been looking everywhere for -- and thanked the cops for their help.

If you're anything like a woman in Sweden arrested for drunk driving, you may think you can get out of the case by covering up one eye to avoid double vision, as she claimed in court. Unfortunately, it won't work (neither the method nor the excuse).

There's a reason that billboards don't say, "Drink. Drive. Go To Jail. Next time, get your 10-year-old son to drive instead." But one Tennessee man found out the hard way that it might not be a great idea after the car crashed (everyone is fine).

You gotta hand it to a Dallas man who tried to cash a fake check for $360 billion. Why not?

When a 14-year-old Tampa Bay boy dialed the wrong number, he quickly apologized, then offered to sell the person on the other end of the line some drugs. Unfortunately for him, that other person was a cop. As Maeby Bluth might say, "That was a freebie."

A Colorado man went to a video store and claimed that as a part of the "age verification unit" of the local police department, it was his duty to confiscate DVDs of pornography to ensure that all the actresses (and actors, presumably) were over 18. As foolproof as this plan was, he was arrested by the cops deployed from the Creepster Verification Unit. Apparently he had never even heard of the Internet.

Since when was it a crime to try to resuscitate a long-dead armadillo on the road? Who knows, but a drunk Pittsburgh man who tried was arrested anyway.

Here's a great way to get arrested: 1. Commit bank fraud; receive over $200,000 in credit. 2. Flee the country. 3. Brag about your new lifestyle on Facebook. 5. Accept friend request from DOJ official. 6. If you've made it this far, you don't need our help.