Adam Richman's Man V Food was sheer food porn for those of us who watched him chomping his way around America, marvelling at the amount of food he managed to pack away.
But unfortunately, as Adam found out, extreme eating challenges - from trying 15 dozen oysters to something terrifying called a Sasquatch Burger - comes with a price.
Fun as it may have looked on TV, Adam soon became worried about his health and dwindling love life. He also developed sleep apnoea - the condition which obstructs oxygen flow to the brain - and since shedding 60lbs, that has since stopped.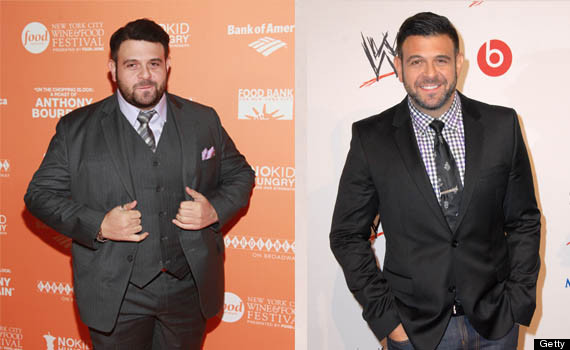 The 39-year-old spoke to People magazine, saying that the sight of his body in the mirror became shocking; it resembled the 'size of a Smart car.'
Luckily for Adam his show had reached a natural end after four years on air, and so he embarked on a healthy routine that made him shed the weight fairly quickly.
SEE ALSO:

The Secret To Weight Loss Is What You Eat On Weekdays

Cambridge Diet: Slimmer Explains How She Dropped 12 Dress Sizes
He eliminated white flour and dairy from his diet and threw out peanut butter and ice cream - his two favourites - instead buying healthy snacks. He favours eating small, 150-calorie meals every two hours, and now - rather than a ginormous burger, his favourite diet foods include almonds, Greek yogurt and salmon.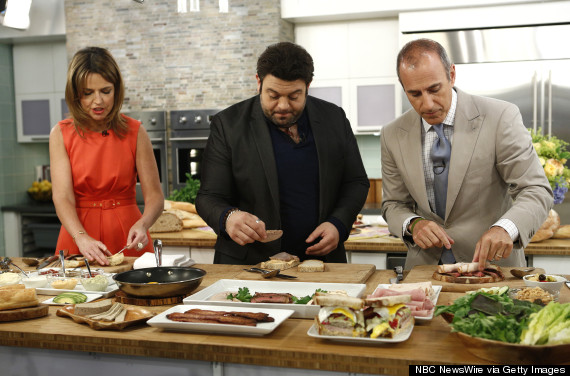 Alongside a diet change he also ramped up his exercise routine from a sedate 30-minute amble on the treadmill to weight training and football practice. He also makes sure he walks 10,000 steps each day.
Story continues below the slideshow:
Restaurant Food Challenges
Where: The Big Texan Steak Ranch (Amarillo, Texas) What: A 72-oz. steak To win: If eaten by one individual within an hour, the steak is free.

Where: Hwy 55 Burgers, Shakes & Fries (100+ locations, mostly in North Carolina and Virginia) What: Almost 50 oz. of meat on a burger bun, at least four toppings, a side of fries and 24 oz. soft drink To win: If eaten in 30 minutes or less, the meal is free

Where: Ferris Acres Creamery (Newtown, Connecticut) What: 12 scoops of ice cream, six toppings, whipped cream, hot fudge and cherries To win: Pride and bragging rights if finished in a group. If finished alone, the individual gets their picture on the wall.

Where: Pizza Party (Santa Clara, California) What: A 20" pizza To win: If eaten by one individual, they receive a refund of the $19.99 entry fee, one free XL pizza per month for the next 12 months, their picture and date/time on 'Wall of Fame,' and a free t-shirt and certificate.

Where: Fat Sal's Deli (Westwood, California) What: Cheesesteak, cheese burgers, pastrami, chicken fingers, bacon, mozzarella sticks, fried eggs, jalapeno poppers, fries, onion rings, chili, marinara and fat sauce on a 27 in. garlic hero To win: If one individual can finish it in 40 minutes or less, the sandwich (worth $49.95) is free and the winner is able to name their own 'fat sandwich.'

Where: Orochon Ramen (Los Angeles, CA) What: One bowl of the 'special 2' ramen (the restaurant's spiciest bowl) To win: If finished in 30 minutes, the individual wins a free Orochon Ramen t-shirt and their photo on the wall.

Where: Pho Garden (San Francisco, California) What: Two pounds of noodles and two pounds of combination beef To win: If one individual can finish within 60 minutes, the $22 meal is free.

Where: MAC 24/7 Bar + Restaurant (Waikiki Beach, Hawaii) What: Three 14" pancakes topped with either blueberries, walnuts and chocolate chucks; pineapple, coconut and macadamia nuts; or cinnamon streusel and vanilla glaze To win: If one individual finishes the pancakes within 90 minutes, the pancakes are free and the winner receives an official shirt and photo.

Where: Mama's On The Hill (St. Louis, Missouri) What: Bowl of spaghetti topped with giant homemade meatball and marinara sauce To win: If one person can finish the dish, they win a free meal and a Mama's shirt.

Where: Lucky's Sandwich Company (three locations in Chicago, Illinois) What: Three sandwiches (you choose from nine varieties) To win: If eaten within one hour, the individual wins the third sandwich free, a Lucky's T-shirt and photo on their Wall of Fame. If eaten within 30 minutes, the individual wins all three sandwiches free.

Where: Pinata's Mexican Grill (Bethpage, New York) What: Two monster burritos To win: If one individual finishes both burritos within one hour, the meal (worth $12.95-$13.95 each) is free.

Where: Batter Up Pancakes (Fresno, California) What: 10-egg scramble with four cups of toppings (choose from Bacon, Sausage, Ham, Sauteed Spinach, Sauteed Mushrooms, Onions, Bell Peppers, Muffuletta Olives, Jalapenos, Tomatoes, Avocado), two cups of country potatoes, one cup of cheese on top of a 25 OZ. buttermilk pancake. To win: If finished within 45 minutes by one individual, they win their money back, a t-shirt, coffee mug, and photo on the wall.
Adam now has a new show called Fandemonium which is about fan gatherings around particular events (one includes testicle festivals), but doesn't regret his time on Man V Food.
"When I watch old episodes , I see my doughy face. But I'm not filled with regret. Man v. Food was the biggest career-defining opportunity. I went from anonymity to someone of note with access to amazing eateries."
(H/T: Mail Online)