Ray Quinn has stripped off to show off his impressive new body after losing two stone in just eight weeks as he prepared to take part in the latest series of 'Dancing On Ice'.
But Ray's new body did come at a price as the star had to ditch his favourite takeaways, carbs and booze for a 'Caveman' diet high in protein and fresh fruit and veg.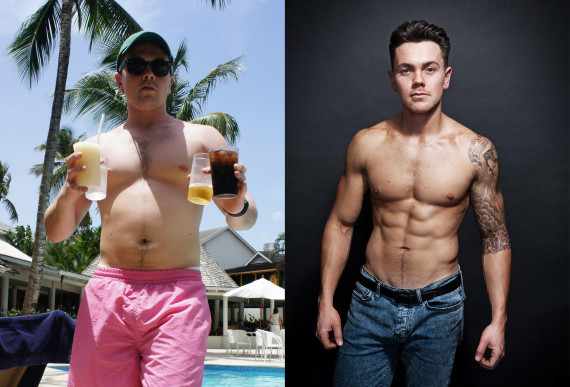 Before and after: Ray Quinn lost two stone in eight weeks
As well as eating little and often, the 25-year old star also took Forza T5 Super Strength fat burner supplements every day before hitting the gym five times a week.
And Ray's hard work and new regime has paid off - as he has consistently topped the judge's leader board on this year's 'Dancing On Ice'
"When I got the call from ITV asking me to take part in Dancing On Ice I knew I had to take action," he said.
"I had 10-12 weeks to lose two stone, and I was so determined I reached my target in eight weeks.
"Dancing on Ice was the kick start I needed," he said. "The training is gruelling enough– up to 12 hours a day – so I wouldn't have got through the first day had not got fit beforehand."
The former 'X Factor' star admitted his busy work schedule meant he was eating convenience foods as he toured theatres across the UK.
"I'd have a bacon sarnie everyday for breakfast, or a full fry up," he said. "Then a mayo heavy pre-packed sandwich, with crisps and full-fat coke for lunch.
"I couldn't get enough of pizza, chips, KFC or Chinese meals after each show. I'd like a drink or two, easily washing down six cans of lager a night. That's a lot! It really bloated me out."
He added: "It hasn't been easy. I don't even have milk in my tea anymore! But I'm keeping it off this time, there's no going back. I feel and look so much better."
From Wimp To Wow! 13 Stars Who have Buffed Up
SUBSCRIBE AND FOLLOW
Get top stories and blog posts emailed to me each day. Newsletters may offer personalized content or advertisements.
Learn more