Metallica have been targeted by animal rights activists, who have launched a petition campaigning for the band to be removed from the Glastonbury Festival line-up.
Metallica frontman James Hetfield has been associated with bear hunting in the USA and he's set to narrate an upcoming documentary 'The Hunt', enraging fans of the festival, which is well-known for its "hippy" vibe.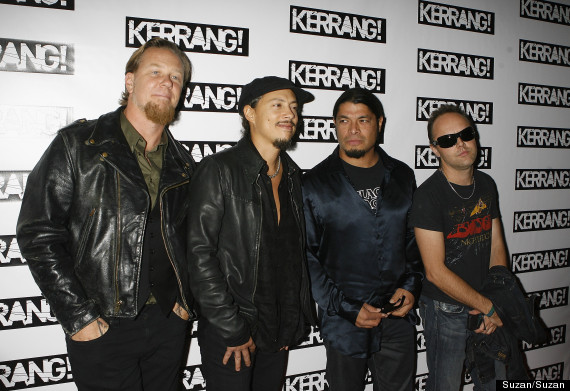 Metallica, James Hetfield is on the left
'The Hunt' will air on the History Channel and will follow a group of hunters in Alaska, as they hunt the Kodiak brown bear.
While the Facebook page for the campaign has been met with criticism from Metallica fans - who point out that not all of the band hunt - over 20,000 people have signed the petition.
The page's description reads: "Metallica's lead singer James Hetfield is a big game hunter and promoter. This is incompatible with Glastonbury Festivals ideals".
A number of Twitter users have voiced their views on the matter, with one posting: "I cannot express my hatred for people who hunt animals as a sport. It'd make my year to see Metallica get taken off the Glasto lineup".
However, not everyone agrees that the band should be dropped.
"This Metallica hunting thing is just stupid. There is probably a number of acts playing this year who hunt or have hunted.ban them as well?" asks another Twitter user.
Glastonbury Festival raises money for a number of charities including Oxfam and Greenpeace and their charitable efforts are documented on the official website.
"For a few days a year, Glastonbury becomes the most fabulous place on the planet. But back in the real world, some pretty dreadful things take place on an almost daily basis. We work year-round to do something about it," reads the website. "We can't be everywhere, we can't fix everything but with your help and the support of those amazing people who run Glastonbury Festival, we can make a difference."
SUBSCRIBE TO & FOLLOW UK ENTERTAINMENT