Picture the scene: A 12-year-old boy creeps into a long-abandoned, dusty house on a lazy Sunday afternoon.
Tiptoeing around (perhaps for a dare?), he opens the wardrobe – and finds himself face-to-face with the mummified corpse of a man, hanging by a belt.
No, it's not the next horror film set to hit the big screens- this actually happened in Dayton, Ohio, KFOR reports.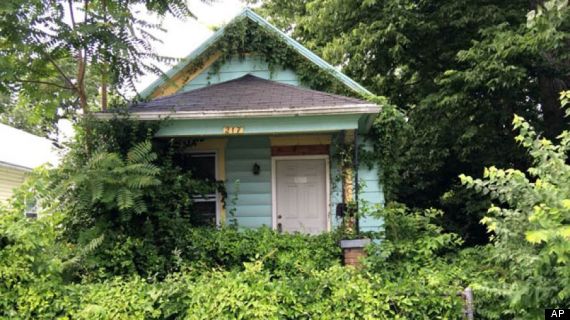 Edward Brunton is believed to have hanged himself in 2009 and remained in the house ever since
The man has been identified as 53-year-old Edward Brunton and authorities say he may have hung there for five years.
"Because of the location where he was found, it was relatively protected, sunlight protected, temperature protected and low humidity," coroner Kent Harshbarger told CNN affiliate WDTN.
Kent Betz, director of the Montgomery County coroner's office in Dayton told the Associated Press Brunton had been homeless before inheriting money from his mother to buy the house in October 2009 and probably died soon after that.
Brunton's death was ruled a suicide caused by hanging by the neck.
The property had been engulfed in vegetation and no one had seen anyone coming or going for years.
Meanwhile the mother of the boy who discovered the body's says her son was unnerved by the discovery.
Michelle McGrath told KFOR: "When he first came across it, he thought it was a dummy, or a mannequin or something.
"My son came home and said that he had gone into an abandoned house and he found a body."
This mummy, known as "Mumab," is only 15 years old but it was done in the ancient Egyptian style by Dr. Bob Brier and Ronn Wade, who used the cadaver of a Baltimore man who died in his seventies of heart failure, and donated his body to science.

The ancient Egyptians used to remove the vital organs of the people they mummified and would place them in airtight canopic jars.

This Peruvian child mummy, known as the "Detmold Child," has been radiocarbon dated to 4504-4457 B.C. -- more than 3,000 years before the birth of King Tut. The child, which was about 10 months old when it died, naturally mummified in the hot, arid desert environment.

Michael Orlovits and his wife, Veronica, and son Johannes, are part of a group of 18th century mummies discovered in a long, forgotten church crypt in the town of Vac, Hungary, in 1994. Born in 1765, Michael died in 1806 at the age of 41. He worked as a miller, grinding grain into flour and is wearing a replica of the original clothing in which he was buried.

This young woman with long, black hair was naturally mummified in the warm desert air, seated in the burial position typical in Chile before 1400 A.D. She was wrapped in fabric after her death, the impression of which is still visible on her chin and cheeks. She has unusual tattoos; an oval with a dot inside on both breasts and beneath the left corner of her mouth. Little is known about the meaning of these mysterious tattoos.

This howler monkey is from the site of Grand Chaco, in Argentina, South America. It has not been radiocarbon dated, but it is likely that the monkey was naturally preserved in the warm, dry environment of the area and prepared for display, with a rhea feather skirt and feather wreath around its head and neck.

This Egyptian mummy is an adult man who was unwrapped long after his mummification. Analysis of a CT scan data shows that the man was around 45 to 50 years old and around 5 feet, 4 inches tall when he died. The body still has the remains of the gold that was applied to his face and hands during the mummification process. His fingernails are dark red, although it is not yet known if this was caused by disease or was cosmetic.