The Labour Press Team has announced a new vote-winning policy that could have a momentous effect on the 2015 General Elections.
Owls. Owls for everybody.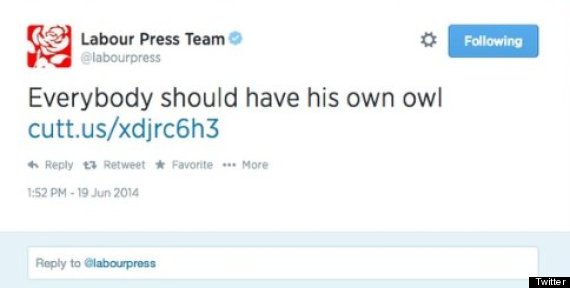 Either it's a head-turning policy that could give flight to Labour's polling chances, or it's tweet by someone in the press department who simply doesn't give a hoot (sorry.)
The internet, of course, responded in glorious fashion...
First they ignore you, then they ridicule you, then they fight you. Then you offer them an owl.
I support Labour's plan to give every Brit an owl. Hedwig served Harry nobly, and now Royal Mail's been privatised this can save on postage.
They're paying for all these owls with the bankers bonus tax, aren't they?
But what about owls for women? Labour has since been accused of owl-based sexism. Why only "his"? Miliband has vital answers to question.
Can't believe people are overlooking fact Labour's new owl policy is sexist. Maybe that's what Harman & Alexander were arguing over...
Some people are never happy…
SUBSCRIBE TO & FOLLOW UK POLITICS