An American man has been charged with torturing animals after the decapitated and dismembered bodies of five dogs were found in his motel room.
Jason Brown, 24, is believed to have bought at least two of the animals off the listings website, Craiglist and taken them to the Super 8 Motel in south Reno.
A maid who entered the room found when Brown was absent found a dog's head in the bath and limbs and blood all over the floor, as well as drug paraphernalia.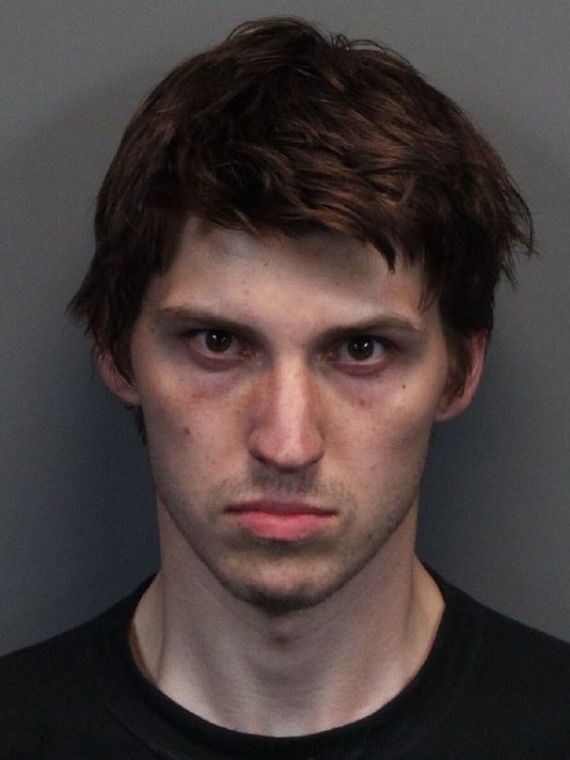 Jason Brown
Police later found four more heads in the refrigerator.
Brown returned to the motel to find he his bizarre crimes had been discovered and fled. He was apprehended on Wednesday afternoon.
He had been staying at the motel for a few days without letting cleaners into his room.
Kevin Schiller, Washoe County Regional Animal Services assistant manager and department head, said: "We haven't had any cases like this before.
"This is probably the second major case we've had dealing with animal abuse. They're not that common, at least at this level."
The two dogs Brown bought of Craigslist are reported to have been Chihuahuas.
A woman reported to know Brown's family say he told her last month that he had killed a friend's dog and that killing dogs was "good for now."
Bob Harmon, of the Washoe County Sheriff's Office, said: "We recognise that this is a community that cares deeply for our animals.
"So this is a hard story for everyone, and it's a difficult investigation, and we're going to continue investigating until this goes to court."
Brown's bail has been set at $60,000 (£35,035).
20 Moving Encounters Between Grown Men And Dogs
"This firefighter saved this dog from her burning home." (Via Imgur)

Greg Cook hugs his dog Coco after finding her inside his destroyed home in the East Limestone, Ala. on Friday, March 2, 2012. (AP Photo/The Decatur Daily, Gary Cosby Jr.)

A man and his best friend. (Via Imgur)

Don't be scared.

An Indiana man enjoyed a tearful reunion with his dog Bandit five years after the beloved pet went missing in 2007, the New York Daily News reported in December. "This is my little buddy," he said at an adoption center in Indianapolis. "I've been missing him for five years."

In June 2010, a Fresno, Calif., family unable to afford emergency care turned their injured dog over to the SPCA to be euthanized. A staffer, however, was so touched by their heartfelt goodbye that the organization helped save the dog's life, resulting in a tearful reunion.

"This photo captures the moment when this man was reunited with his dog after a fire gutted their home and firefighters saved the dog's life." (Via Facebook)

"Keith Allison is out of work and struggling to support his family. Despite his own struggles he went out of his way to save Caleb, a dog left abandoned and neglected, when no one else would. For three weeks he took care of Caleb and searched for help to get Caleb safely captured." (Via Facebook)

"A boy and his dog reunited after Sandy."

"The first and last night with my pup... Rest in peace" (via Imgur)

We'll make it, I swear.

"My husband's dog greeted him at the airport in the morning," Redditor VonIsengard wrote. "This dog is Daddy's princess. He wouldn't have forgiven me if I didn't bring her to the airport!" (Via Imgur)

After Kissimmee firefighters -- reportedly all animal lovers -- rescued two dogs from a fire, Engineer Gary LaTour revived one with mouth to snout resuscitation, according to a Facebook post.

"This is my friend singing to his dog before he passed away." (Via Facebook)

"What a difference 8 weeks makes." (via Imgur)

"My dad recently adopted a flunked guide dog. I think they like each other." (via Imgur)

"Our sweet Levi the day we got him in 1997 and the day we said goodbye in 2012." (Via Facebook)

A puppy stampede of love.

A cute puppy reduces a man to tears with his affection.

The video that started it all. His transformation from man to small child is adorable, but his reaction is all the more touching considering the family lost their beloved dog a short time ago.