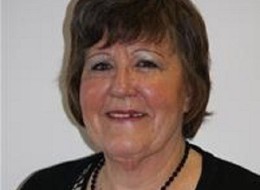 A Ukip councillor has been fired for 'jaw-dropping' comments made in a TV interview.
Rozanne Duncan was forced out "without hesitation" for bringing the party into disrepute.
A spokesman told Kent Online: "Ukip is expelling Cllr Rozanne Duncan under rule 15 of its constitution for bringing the party into disrepute. She has 28 days to appeal."
Unfortunately we can currently only speculate as to what they were as the party has not disclosed them and the programme in which they were uttered has yet to be aired.
Suffice to say, in a week when Nigel Farage defended the use of the word "chinky" by parliamentary candidate Kerry Smith, Duncan must have said something pretty horrific.
Duncan was elected to Thanet council for Cliftonville East ward in 2013.
She had previously stood as a Tory candidate before defecting.
9 People Who Think Casual Racism Is Ok
When one of Ukip's candidates had to stand down after using the word "chinky", they blamed it on the side effects of his medication. The media made fun of it and moved on, as usual. But that didn't stop perennial self-parody Nigel Farage from bringing it up again on LBC, defending the casual racism. The Ukip leader claimed that such terms were acceptable if you grew up on a council estate. Right.

Seemingly stuck in 1945 when his behaviour would be considered a bloody good romp, Jeremy Clarkson was at the centre of two race rows this year after using the term "Slope" in an episode of Top Gear and singing a not-so-politically-correct version of eeny-meeny during filming.

Former Cardiff City manager Malky Mackay was at the centre of a fairly big storm as his private texts were revealed, in which he managed to offend pretty much everyone.Malky's defence for his casual racism? "It's all just banter, really."

Wigan boss Dave Whelan came under fire for hiring Malky Mackay as the team's manager due to Mackay's history of casual racism. But it turns out, Whelan was just as bad. While defending his appointment of Malky, Whelan managed to offend Chinese and Jewish people, while also making it clear that he didn't really understand why anyone was pissed off.He even used the phrase "some of my best friends are Jewish and Chinese" during a shoddy attempt at apologising.

Media mogul Murdoch, who owns 20th Century Fox, stuck his foot in it while defending Ridley Scott's decision to make a film about Egypt using an entirely white cast. When accused of white-washing history, he tried to justify it by saying "all the Egyptians I know are white". Infallible logic there, Rupe.

Trouble-magnet Mario was charged by the FA after posting an incredibly offensive joke on Instagram.Balo thought it would be OK because he's black and his mum is jewish, but it turns out it wasn't OK. Because people still found it offensive. Funny, that.

Somehow this England Women's international footballer never got the memo about blacking up being totally not OK.

Someone at LSE accidentally sent out a test email to thousands of students - 30% of whom are Asian - addressing them as Kung Fu Panda.

Tom & Jerry cartoons now carry a racism warning on Amazon due to the portrayal black domestic maid Mammy Two Shoes.Amazon said: "Such depictions were wrong then and are wrong today."