It's mightily impressive yet simultaneously stomach-churning - this
McDonalds burger and fries are six years old.
In fact they're a little bit more historic than that for they are the last ones ever sold in Iceland.
Back in 2009 the ubiquitous burger chain packed up and left the country after the financial crisis made its business untenable.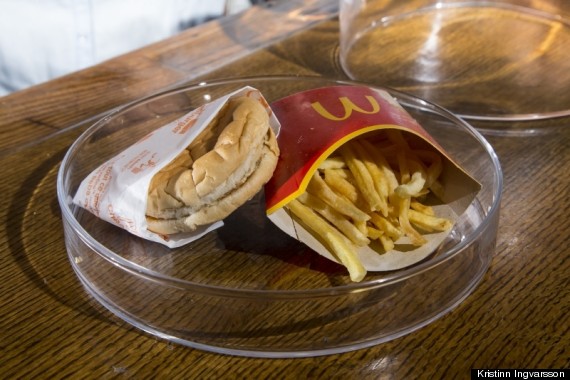 Gross
On that fateful day Hjör­tur Smára­son purchased the last cheeseburger to grace Iceland and decided that instead of eating it he'd keep it and see what happened."
He said: "I had heard something about Mc­Don­ald's never de­cay­ing so I just wanted to find out for myself whether this was true or not.
And it turns out it was. After a stint in the Na­tional Mu­seum of Ice­land the dubious delicacy is now housed at the Reykjavík Bus Hostel in Skó­garhlíð.
It's reminiscent of a similar experiment carried out by the staff at Vaughn Chiropractic in Michigan, USA.
They purchased a McDonald's cheeseburger and fries two years ago, along with a chicken soft taco from Taco Bell with the intention of showing patients what they were putting in their bodies.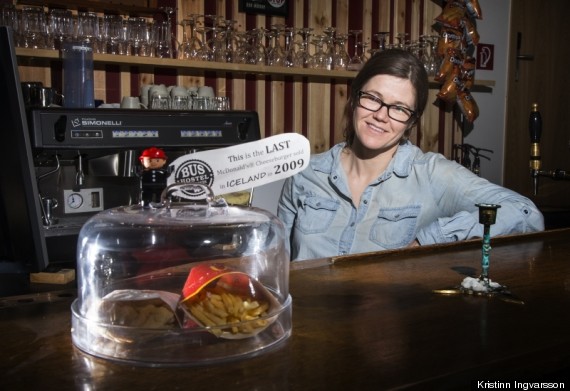 A remarkable bit of Icelandic cultural history. Maybe.
This isn't the first time fast food has stayed intact for the long haul.
A man from Utah is the proud owner of 'fast food's oldest McDonald's cheeseburger', which he has safeguarded since 1999. Worryingly, despite being almost 15 years old, the burger looks "almost new".
Last year, to combat speculation about their use of preservatives, McDonald's released a video to prove that their food does actually rot. We're pretty sure this is the first time a company as had to boast about their produce rotting, but hey - there's a first time for everything.
10 Things The Fast Food Industry Doesn't Want You To Know
McDonald's had higher sales growth in 2008 than in 2006 or 2007, opening nearly 600 stores that year, according to Slate. The chain was able to take advantage of Americans' recession tastes: Cheap, convenient food.

One Reddit user claiming to be an ex-McDonald's worker said he once left a bag of chicken nuggets out on the counter for too long and "they melted. Into a pool of liquid." That didn't stop him from loving the nuggets, "still delicious," he wrote.

More than 60 percent of low-wage workers are employed by big corporations, according to a July analysis by the National Employment Law Project. And more than 90 percent of those companies were profitable last year.

Fast food workers in New York City make an average of $9 per hour, according to the Village Voice. That comes to about $18,500 per year for full-time workers.

For 40 percent of private sector workers, taking a sick day and still getting paid isn't an option, according to the Baltimore Sun. Fast food workers are especially likely to be part of that 40 percent.

Many fast food workers saw their health benefits put at risk this year, if they even had them at all. Papa John's CEO John Schnatter said he would likely reduce some of his workers hours so that he wouldn't have to cover them in response to Obamacare. Jimmy John's founder, Jimmy John Liautaud told Fox News in October that he would "have to" cut workers' hours so that he wasn't forced to cover them under Obamacare.

The average hourly pay at McDonald's, Wendy's, Burger King and Taco Bell is less than $8 an hour, according to salary data cited by CNBC.

As more workers fight for limited jobs, many older employees are gravitating towards the fast food industry. The median age of a fast food worker is 28, according to Bureau of Labor Statistics data cited by the Atlantic. For women, who make up two-thirds of the industry's employees, that age is 32.

Fast food worker's went on strike in late November in New York City, showcasing a rare effort to organize the industry's workers. Labor leaders often don't make an effort to organize these workers because the high turnover makes the challenge daunting.

For all their work, fast food workers get very little dough. The lowest paid job category in New York City is "Combined Food Service and Preparation Workers, Including Fast Food," according to Bureau of Labor Department Statistics cited by Salon.