Most people know Lorraine Pascale as the celebrity chef with a string of cookbooks and cookery programmes under her belt, few will know she once worked as a (very) successful model.
The 42-year-old was the first British black model to appear on the cover of US Elle magazine and landed various jobs with top fashion houses including Chanel, Versace and DKNY.
But, realising that that a modelling career wasn't necessarily forever, Pascale set out to find something that she could do for the rest of her life. After dabbling in various courses, including one on hypnotherapy, she enrolled in Leith's Cookery School and instantly fell in love with cooking. The rest is history.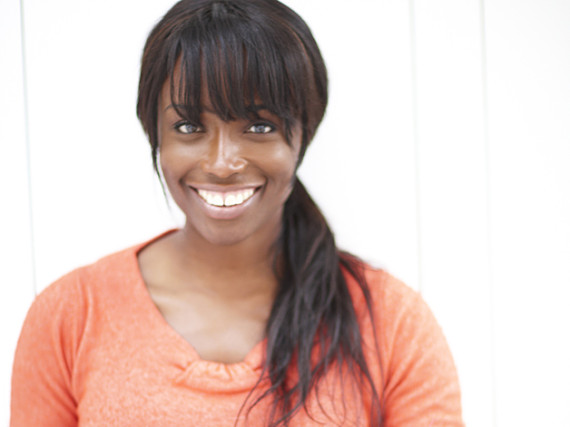 For someone who has built a brand around baking delicious cakes and has a serious sweet tooth, Pascale says she has "to work her bottom off" to keep in shape.
"I can't really have naughty food in the house, whether that's a mint chocolate aero or finger of fudge, because I just have to eat it," she tells HuffPost UK Lifestyle.
She says she is now much healthier than when she was younger: "I used to eat croissants and drink loads of diet coke – I'm not sure if I actually consumed that much veg in my late teens at all!"
Now, a typical day includes four to five meals and lots of protein, vegetables and wholegrain carbs.
"I will have poached eggs on rye for breakfast with harissa and rocket," she says. "Then the next 4 meals each consist of 30g of protein - either white fish, salmon, chicken, turkey or steak - and lots of mixed veg along with some brown rice, quinoa or lentils. This is the goal, but not every day do I succeed in eating like this."
But a healthy diet isn't her only secret, Pascale also works out five times per week.
"If I do not work out regularly my weight goes up about 5-6 kg," she says. "When you are taller [Pascale is 5ft 10] it may not look like 5kg but every woman knows, no matter how tall or small, how frustrating it is when you can no longer fit into your jeans or the waistband on the skirt is just too tight."
Typically you can find her in the gym lifting weights, which she prefers to cardio, with 80s hits cranked up on her headphones. "I find lifting weights empowering," she tells HuffPost UK Lifestyle.
Pascale's healthy living awakening came after the birth of her daughter Ella, now 18.
"I had postnatal depression and I had put so much weight on after the birth of my daughter," she says. "I put on 4 stone and was really out of shape."
"So exercise became my medicine."
Pascale, who meditates before breakfast, says she uses exercise to help her de-stress.
"I can vent out any anger or frustrations I may have and it really helps to clear my mind also," she says. "It is a good place for me to escape."
This April we're running a Fitspiration campaign, where we're championing fitness as a positive addition to life rather than always being about weight loss. From inspirational interviews to easy-to-follow exercise tips, we hope to inspire everyone to get out there and have fun. Trust us, your body will thank you for it. If you'd like to contribute email uklifestyle@huffingtonpost.com or tag us on social media using the hashtag #HPFitness
SUBSCRIBE AND FOLLOW
Get top stories and blog posts emailed to me each day. Newsletters may offer personalized content or advertisements.
Learn more