We're not sure who actually has space in the day for the Kim Kardashian style contour, apart from the lady herself, but the benefits seem too good to pass up on.
Through the art of essentially drawing a whole new face on top of your already existing face, you too can look like a genuine celebrity (probably).
But if you can't find time to expertly shade in a tiny nose, or have a wall of roses installed at every party you throw, there is a simple solution...
Step in, strobing.
It's time to surrender your bronzer! According to the beauty elite, strobing is in and contouring is out.
The new way to define facial features and create a gorgeous glow, strobing is about highlighting the face using light and only light.
The technique borrows its name from actual strobe lights, as it really does look as flattering as a pop of the ring-flash (also used by Kimmy to light her infamous selfies).
But it's more than just a lazy girl's alternative to the classic contour.
Whereas contouring looks great in front of a camera, the harsh lines can often look all sorts of crazy in person. Plus, strobing is perfect warm-weather makeup as caked on layers don't sit well as the temperature rises.
The trend, like many in makeup, started with MAC cosmetics and their brilliant and wildly affordable Strobe Cream (trust us, a little goes a long way - this stuff lasts forever).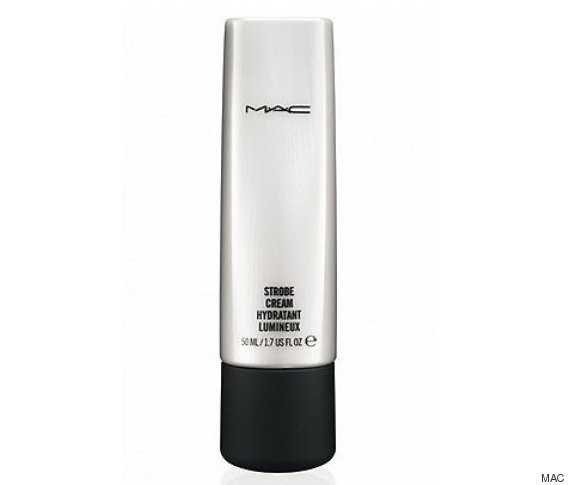 MAC senior makeup artist Rebecca Butterworth told HuffPost UK Style how to use their signature product for that lit-from-within glow.
"Use a pea size amount of Strobe Cream on top of moisturizer and primer. Using your middle and ring finger tap a small amount of from under your eye, below the pupil outwards and upwards along the cheek bone, aiming towards the temple, curve round and apply under the brow bone too.
"Add a small amount onto the bridge of the nose, in between your eyes, on the tear ducts and a little bit on your chin. (You can add a little bit to the centre of the forehead too, but if you get shiny, you may want to skip this area to avoid oil slick territory!).
"Now, grab a damp sponge and sponge your foundation on over the top.
"You will be glowing and luminescent in all the right places, and the gleam looks as though it comes from within because it's nestled under your foundation."
If you're in a rush, try mixing your Strobe Cream or highlighter with your moisturiser or foundation for an extra glow-getting boost.
You can also switch up the cleavage contouring for leg strobing! Apply down the center of shins to make pins look longer and leaner.
SEE ALSO:

MAC Unveil New Collection With Giambattista Valli

How To Look Like A Victoria's Secret Angel

The Colour Of Your Lipstick May Reveal More About You Than You Realise
I don't like how lipsticks tend to crust on my lips or smudge when it gets hot. Instead, try a lip tint with a sheer gloss to really make your lips look shiny and beautiful.

While I love peach and pink blush, sometimes I use a powder bronzer on my cheeks, chin, tip of my nose, and forehead to give that sunkissed look.

To avoid running mascara, use a blowdryer to warm an eyelash curler for five seconds. Curl your lashes. Then brush them with clear mascara. This a great natural look for the beach and will look perfect the whole day.

If you can't go out without your eyeliner, try a liquid eyeliner or dip a wet slanted brush into powder eye shadow and use that as your eyeliner.

Replace your heavy foundation with a light-tinted moisturizer. If you insist on keeping your foundation, try one that is water-based instead of oil-based so it does not melt under the summer sun.